Dreaming about vacations in the Mexican Caribbean? Spectacular coastline, ancient Mayan ruins, magical underwater rivers… All these things make Tulum one of the most desirable destinations in Mexico!
Visiting historical attractions, and discovering the Mesoamerican Barrier Reef and the magical world of the cenotes are the main reasons why so many visitors choose Tulum as their vacation destination year after year.
If you are keen on water activities, read on to find out where are the best spots to snorkel in Tulum!
Shore snorkeling in Tulum
The Tulum coral reef is not too distant from the shore (about 250-300 meters).
If you are a strong, confident swimmer, you will think it is possible to swim out to the reef. Be advised that while this is possible on calm days, you must always be very wary of the current which can often be deceptively strong.
However, the biggest risk is boats. Particularly on the northern stretch of the public beach, there is a lot of boat traffic, and this makes it very dangerous for swimmers. For this reason, we do not recommend swimming from the shore to the reef.
On the southern end, there are fewer boats, but you must make sure to have good gear including a buoy & long fins. That said, it is always best to contract the services of the fishermen on the beach who take you on a quick trip out as far as the reef.
Beach areas near Tulum are ideal for snorkeling thanks to the shallow depth of its waters and the protection provided by the reef that runs along the entire coast of the Mexican state of Quintana Roo, Belize, Guatemala, and Honduras.
Among the species, you can spot are Barracuda, surgeonfish, butterflyfish, parrotfish, sergeant majors, and blue tangs, and if you are lucky, you might even spot an eagle ray, stingray, or even a sea turtle, that also regularly visits the shallow, protected waters.
Although most of the flora and fauna of the reef are harmless, some species of coral can sting or scratch you (Stathern coral, fire coral, sea urchin) and do not try and touch the fish as some of them can bite or carry venom darts (barracuda, lionfish, stingray).
These organisms do not represent a hazard to swimmers if you are respectful of them and alert to the life around you. Please do not touch them, just admire them and swim slowly without splashing or moving too quickly.
Be very careful not to stand or rest on any part of the reef. It is an extremely delicate ecosystem that we must respect and protect. This way, you will also see more animal life, as the fauna will not hide or swim away if you move slowly and keep your distance.
Another important consideration is to reduce the number of chemicals or products you put on your skin before entering the water. We recommend the use of a rash vest or swimsuit that protects the body from the sun, rather than using excessive sunscreen.
Biodegradable sunscreen is available too and is better for the environment.
Never put on insect repellant before swimming, and don't use makeup, deodorant, or perfume before swimming as these products are also toxic to the underwater environment. Have a shower, and rinse off before entering the sea, cenote, lake, or lagoon.
For novice snorkelers, it is highly recommended to sign up for a Tulum snorkeling tour that is often combined with a trip to the Tulum ruins or cave exploration and swimming in a cenote!
Cenote snorkeling near Tulum
Did you know that there is an underwater aquifer in the Yucatan Peninsula? This hidden hydraulic system consists of caves, sunken labyrinths, and tunnels flooded with freshwater which create the largest explored underground river network in the world.
Two of the largest rivers are flowing right under your feet in Tulum, named Sac Aktun and Ox Bel Ha. Although discovered in the 80s, endless sunken corridors are still being explored and mapped today.
Hundreds of cenotes have been discovered as forming entranceways into the river, allowing access not only to cave divers but to the fauna of the forest who visit cenotes to drink freshwater or hunt for other animals nearby.
The abundance of freshwater means that many other species, like tropical birds and reptiles, are also regularly seen nearby. Some of these cenotes are spectacular underground caverns or chambers, while others are beautiful open-air sinkholes surrounded by lush jungles.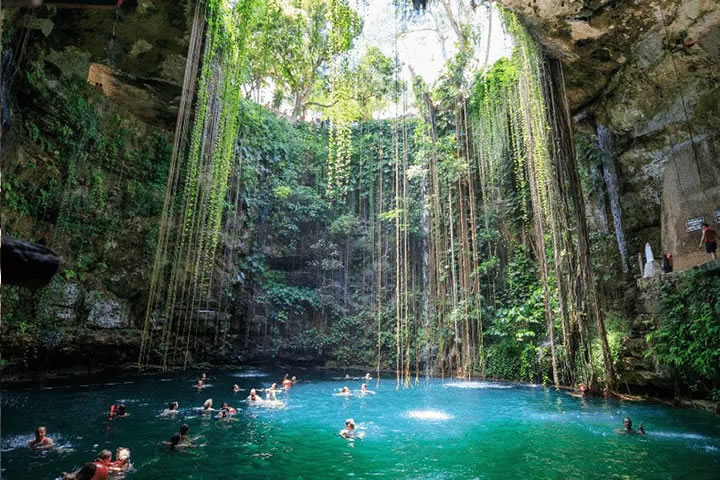 Swimming and snorkeling in a cenote is an absolute must when visiting Tulum or the Yucatan.
All in all, there are thousands of cenotes registered in the region, and while it is impossible to visit them all, the nearby Sac Aktun system contains some of the most spectacular cenotes that exist in the peninsula.
They are flooded with rainwater which makes them so special: the color and clarity of the water are phenomenal, creating reflections, light effects and even a mystical feeling that you will agree is completely unique.
You will agree that these are very special with an incomparable atmosphere, explaining why the Maya culture chose the caves as sacred spaces to perform rituals and ceremonies, often celebrating fertility, evolution & life.
Cenote snorkeling in Tulum is a must-do experience that gives you the opportunity to discover some of the most unique cave systems on the planet, as well as observe rare freshwater fish species and sometimes even turtles.
The best thing about the cenotes? Each one is unique. You will never find two alike.