Mobile development starts with key actions, one of them is the design stage. It doesn't matter whether you want to develop your local shop app or an eCommerce app, you need to follow some principles.
As you might know, apps with bad design won't be successful in this crowded digital world. However, you might even have some downloads for a while, after a little time people refuse to use these kinds of apps.
Remember that design works well alongside a good UX so, try to put a balance between these two sides to get your customers satisfied. So what are these five tips?
Keep it simple
Keeping things simple is among the most challenging things to do. Keeping things simple does not necessarily imply going for a minimalistic look. It means that a first-time customer can use the software without having to go into a lengthy set of instructions and tutorial videos. With a simple user interface, a user can perform a variety of tasks in just a few steps.
A homepage or a landing page packed with numerous pictures, text columns, video files, and menu bar seems to be a frequent picture of today's eCommerce mobile applications design.
As a result, it should come as no surprise that the first step is to simplify your application's user interface. This one is especially true for newbies to your online store.
The first impression they get is priceless, therefore make sure your home page or main menu is simple yet appealing.
Simple, on the other hand, should not be mistaken for primitive. Consider which material is important for a mobile edition and which may be omitted while developing your eCommerce app.
By now you might have noticed the difficulty of making things simple in the correct form, but don't feel stressed! You can get help from an android app development company that has a great history in making smooth mobile apps.
Do not underestimate the power of colors
Color is among the most essential aspects of design, and when it comes to developing apps, the colors or color theme you pick is crucial.
The core of a well-designed mobile app would be choosing a fantastic color palette. Colors have a direct influence on our emotions, and they elicit varied responses in people depending on their culture and societal implications.
If you're going to use a color theme in your application, make sure it goes with your brand. It's a good idea to choose a color scheme that complements or matches the company's tone.
This gives your mobile app the appearance of being an extension of your webpage. Applying too many colors, dark colors, textures, and mixture tricks throughout your mobile app can detract from a positive user experience. Provide a high-quality, interactive experience for your users. The contrasts you use are also crucial. What do you think would have happened if you suddenly decided to use all kinds of color schemes and every font available? You might have a hard time reading and comprehending it. As a result, choose a color scheme with high contrast to make the entire design and content stand out.
To begin, it's probably best to stick with the color palettes recommended in the system resources. You can then expand your exploration once you've gained some confidence.
Consider multiple screen sizes
When a visitor becomes a fan of your app, it's very likely that they'll use it on multiple devices and in various situations. Remember to bring precautionary measures and set up a layout that can adapt to different screens and has multiple points of view in circumstances where the views or display change.
The interface ought to be designed with responsive view controllers in mind. You don't simply develop one user interface for your mobile application design today.
Your Design process will also need to adapt to a variety of display resolutions as mobile phones and tablets of various shapes and sizes become more common.
If you keep this in mind, you won't be surprised by any unpleasant surprises while testing your app on several devices.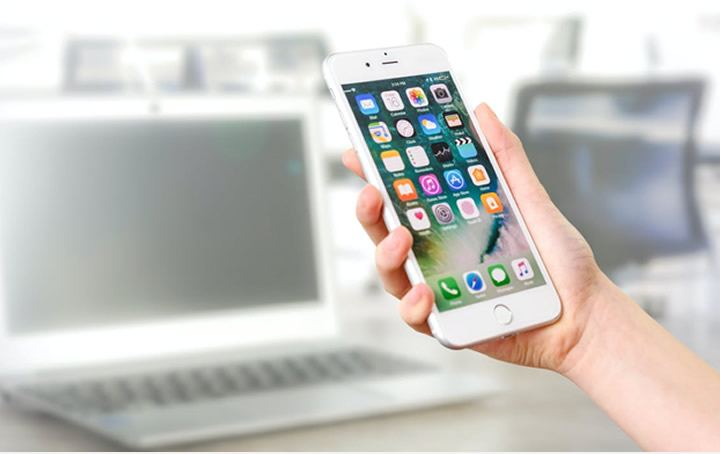 Smooth navigation
It is simple to use. Customer satisfaction and user experience can both benefit from improved UI design. This is a source of concern for UI designers because mobile users do not have access to a mouse or a touchpad to assist them with their shopping needs.
As a result, touch optimization is a must-have. To begin, redesign all menu options, buttons, and spaces so that they are easy to touch and scroll. Second, make all of the product pictures zoomable to enhance your mobile clients' UX. Web users, unlike those who visit your store in person, are unable to contact and try on the items they like.
As a result, a zoom feature is essential for simplifying UI design because it gives online shoppers access to product details such as appearance, color, material, size, and more.
Among UI/UX design essentials there are some factors you should focus on. These 5 are the principles of UI design you should think of first when it comes to developing your app. Now let's look at the last one.
Test it by users
The greatest approach to enhance your user interface is to test it on as many different devices as possible. This allows you to discover and repair issues that you may not have seen otherwise.
You should also put in some analysis time. Run your app on a smartphone and keep it with you for a whole week.
You'll quickly discover methods to improve UX via improved mobile UI design.
Even though you are receiving feedback from your close family member, try asking them a good amount about how they enjoyed the interface. Have they always been misguided by what was next to happen? Have they ever ended up where they wanted? How simple was the app generally to use?
This type of feedback may help you enhance your user interface design and boost your app UX enormously.
You should also beta test the design. An important component is beta testing. This ensures that your app works smoothly and consistently.
You should delegate testing to a third party who isn't involved in the development or marketing of your app. When it comes to the modifications that need to be made in your app, this provides you with a fair perspective.
***
In today's world, mobile consumers have high expectations of apps: they want them to load quickly, be simple to use, and have a pleasant interface.
These essential tips are some easy actions that you can change your apps by. If you haven't done any of these before, let's go through some serious changes!
Author Bio:
Ayla Anderson is an enthusiastic blogger and marketing expert whose current interest is website and app development, digital marketing, mostly SEO. Therefore, she works part-time as a writer for 10 top web design companies. She spends her spare time reading books and traveling.