UkeySoft iPhone Unlocker is a desktop program, one-click to unlock iPhone and iPad passcode for a locked, disabled, broken screen. Remove Apple ID without password.
If you forgot the passcode on your iPhone and iPad, your iPhone is disabled/locked, or you just don't know the password on a second-hand iPhone/iPad device. Fortunately, there are many tools that can help you remove the iPhone lock screen passcode. UkeySoft iPhone Unlocker is one such tool you can easily unlock your iPhone or iPad devices after connecting them to a Mac or a Windows PC. In this article, we have provided a review of the entire product.
What is UkeySoft iPhone Unlocker?
This iPhone/iPad unlocking tool has the ability to unlock iPhone, iPad lock screen with a few clicks, helping you use your iPhone or iPad again when you forgot the passcode. To satisfy users' needs, UkeySoft Unlocker supports remove Apple ID lock on iOS devices without password. Users can regain all iCloud services and Apple ID features by logging into a new account. UkeySoft Unlocker is a great iOS unlocking tool and Apple ID unlocker, it can unlock any activated iOS devices and fully compatible with the latest iOS 14 and iPad OS 14, but before unlocking your iPhone/iPad with UkeySoft Unlocker, make sure your device was activated before, which means you have already disabled "Find My Device" before, and you can access your device settings.
Features of UkeySoft iPhone Unlocker
Unlocks the iPhone or iPad Screen Passcode Effectively and Safely
Forgot iPhone/iPad/iPod Touch passcode after recent change? Your iPhone has been disabled due to entering the wrong password for multiple unsuccessful attempts? You may have tried to use iTunes to unlock your iPhone but failed, in this case, you need to use a professional iPhone unlock tool.
The UkeySoft iPhone Unlocker is a reliable iTunes alternative to unlock iPhone without passcode. It is just a few clicks, you can remove the passcode on your iPhone safely and quickly so that you can access and use your iPhone devices again. It works on a 3-step only, that is Connect the iPhone to Computer under Recovery Mode, Download the Firmware and Unlock the iPhone. There is nothing more to do than that.
Remove Four Types of Lock Screen
You may have set 4/6-digit Passcode, Touch ID, or Face ID to prevent others from using your device. If you forgot the screen lock passcode or the Touch ID/Face ID is not available due to a broken screen, your iPhone/iPad locked?
Don't worry, UkeySoft Unlocker enables you to unlock iPhone/iPad lock screens in different situations, this software can remove all types of lock screens – Four Digit Passcode, Six Digit Passcode, Face Identity Passcode, or Touch Identity Passcode. Even if your iPhone screen was broken or the phone screen is unresponsive, just put your iPhone into recovery mode and connect your device to the computer, then use the UkeySoft Unlocker to download a matching firmware package and unlock it, so easy!
Attention: This tool can unlock iPhone without a passcode, but all the data will be wiped after the unlocking. Honestly, there is no solution to unlock iPhone/iPad without data loss for the moment in the market. If you have backed up data to iTunes or iCloud before, you can restore them after unlocking successfully.
Unlock Apple ID from Any Activated Devices
Do you forget your Apple ID or password? Your Apple ID has been disabled or locked? Do you want to remove the Apple ID from iPhone so that you are able to register a new Apple ID or use another one?
UkeySoft Unlocker not only can remove the iPhone lock screen passcode, but also can help you remove Apple ID from iPhone/iPad without entering the password, then you can log in to a new Apple ID to use all Apple service again.
Attention: The 1-click Apple ID unlocking feature applies to the iOS devices of iOS 14.2 or earlier, but make sure you have already disabled "Find My Device", and you can access your device settings. Otherwise, this software cannot remove the Apple ID.
Support Unlock All Activated iDevice – iOS 14 Supported
If your device was activated before, you can use this iOS unlocking tool to remove the locked screen and remove Apple ID easily. UkeySoft Unlockder full compatible with all iPhone/iPad, and it works well with iOS 14 and iPadOS 14, including iPhone 12 Pro Max, iPhone 12 Pro, iPhone 12, iPhone 12 mini, iPhone 11, iPhone XR, iPhone XS, iPhone X, iPhone SE, iPhone 8/7/6S/6/5S/5, iPad Pro, iPad Air, iPad mini, iPod Touch 4, iPod Touch 5 and iPod Touch 6, etc.
The good news, the UkeySoft Unlockder – 2.0.0 version has been updated, what's new in the 2.0 version? For different models of iPhone or iPad, users can select different iOS firmware package to download, which means you can update or downgrade your iOS device with UkeySoft Unlockder, as well as fixing all kinds of iOS system issues – recovery mode, white Apple logo, black screen, etc.
Attention: The UkeySoft Unlocker – 2.0.0 needs to works with the latest version of iTunes.
How to Unlock iPhone Lock Screen with UkeySoft Unlocker?
Using UkeySoft Unlocker to remove iPhone lock screen passcode such as tasting a cup of tea. What you need to do is connect your iPhone to your PC, use the software to download the firmware package to start the iPhone unlocking process, and then follow the on-screen instructions:
Step 1. Download and install the latest version of UkeySoft Unlocker on your PC or Mac and launch it. After that, click on the "Unlock Screen Passcode" mode.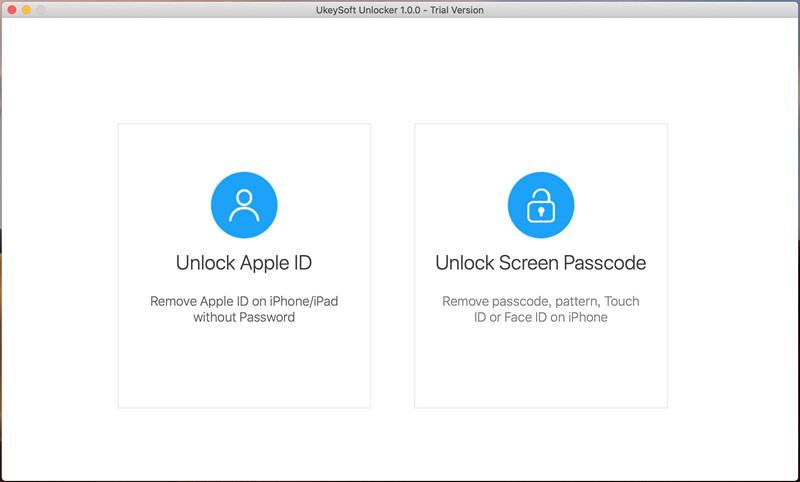 Step 2. Connect your iPhone to the computer via USB cable, then put your iPhone into recovery mode, the software can detect the device automatically, please select a matching firmware package and click the "Download" button.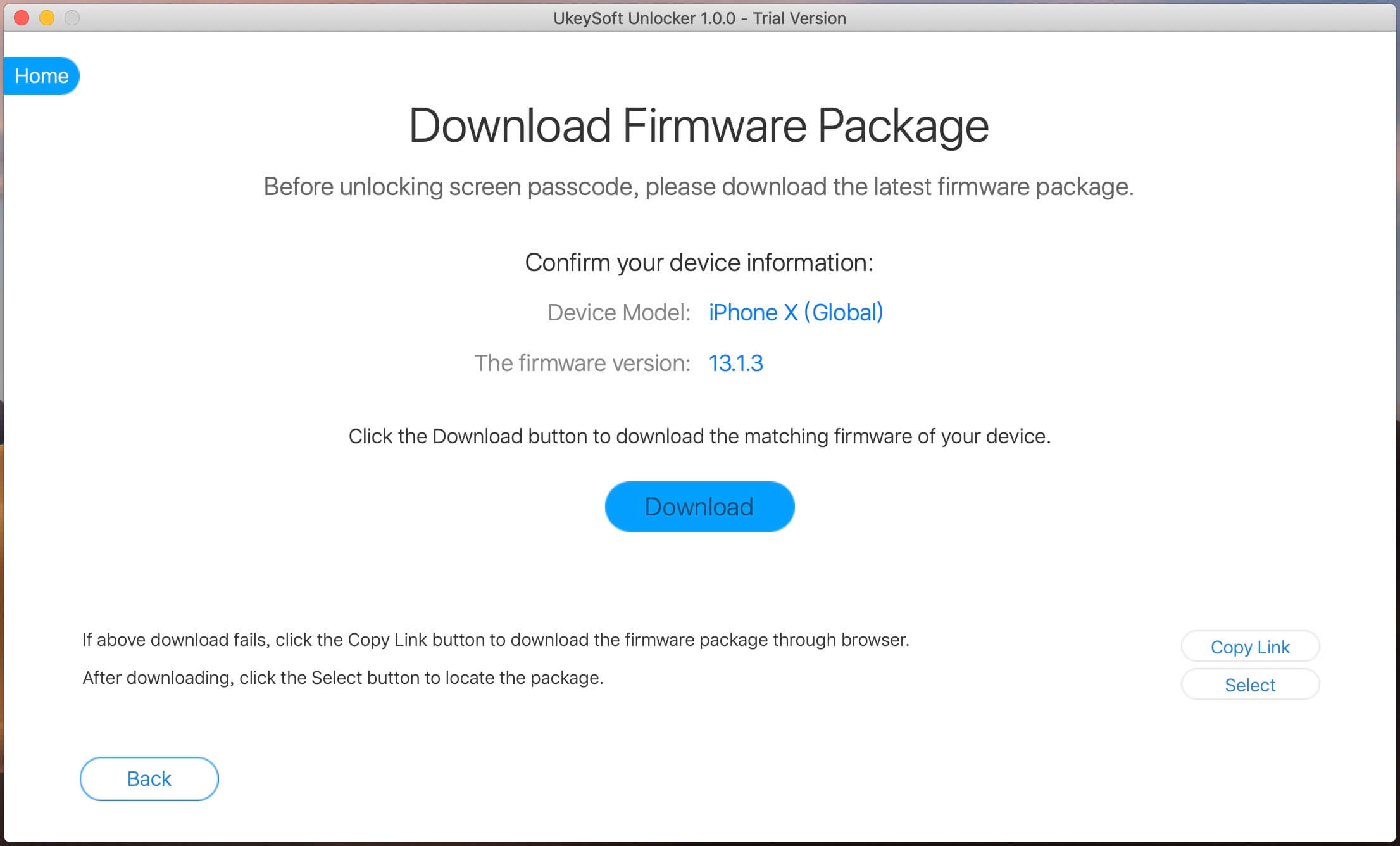 Step 3. Once the firmware package downloading completed, click the "Start Unlock" button, the software start removing the iPhone screen passcode, Touch ID, or Face ID. When your iPhone restarts, the screen password has been removed successfully.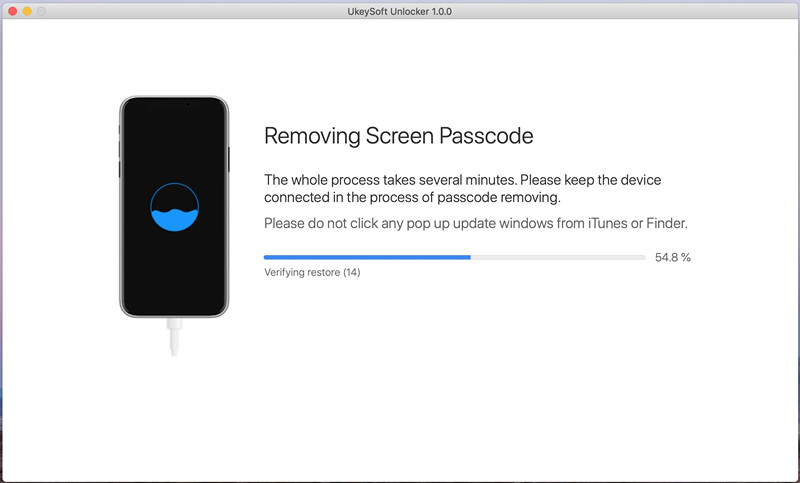 Attention: Don't disconnect your iPhone from the computer, and don't click any pop-up in iTunes during the unlocking process.
After the iPhone unlocking process is complete, you can see that your device restart normally, please set up and access the device. If you have already have backed up the data in the iCloud or iTunes, you can restore data from iTunes backup, or restore your data from iCloud backups, you have done a really great job.
Price:
UkeySoft Unlocker is a worth trying tool, which is special designed for those who forgot the iPhone/iPad passcode, the trial version allows you free download a matching firmware package. If you want to unlock the functions, you can purchase a license code to activate the software.
The UkeySoft Unlocker can be purchased for $59.95 for a single PC running on a Windows or Mac platform, you can use it on 1 PC/Mac to unlock unlimited devices. Only $59.95, you can unlock as many as iPhone and iPad you want, which is a very cheap price as compared with other mobile phone unlocking software.
Conclusion
This was a review of the UkeySoft iPhone Unlocker which is indeed a powerful and useful tool for Apple users who have forgotten the passcode. If you forget the Apple ID or password, you can also try to remove Apple ID with this software, how to unlock Apple ID from all activated devices? Please go to UkeySoft's official website to find the solution.
The terment of Ukeysoft: Any illegal removal for business purposes is prohibited. If you have any questions about unlocking iPhone/iPad or Apple ID, you can also contact with UkeySoft support team. If your iPhone is locked, disabled, broken screen, or black screen, I hope this software can help you unlock the devices and fix iOS to normal status, wish you good luck!