What does a Title look like?
A car title is a document that details your ownership of a vehicle. It typically has the type, makes, model, year, and color of your car. That sounds simple enough, but there are variations in state requirements.
Requirements for online Car Title Loans in Alabama are not the same in comparison with California. An example of a car title is below.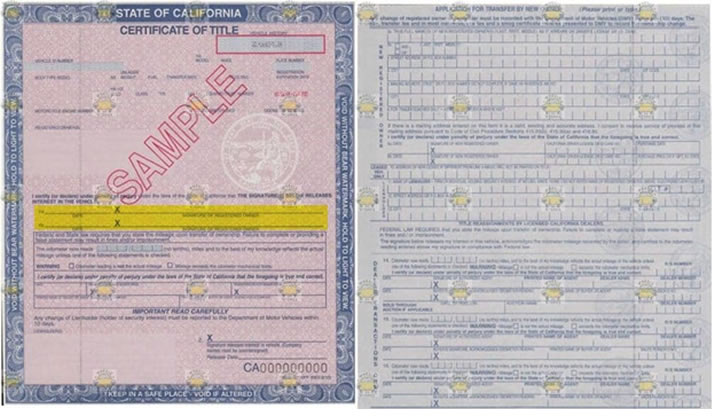 What Should It Look Like?
It should look something like this: The new car title will be a legal and notarized document including the seal of the issuing state. The printed information on the title will vary by state, but most should include certain basic facts.
Standardized information included on a standard title are the following:
identifying information such as the vehicle's VIN, make, model, year, and color;
owner's name and address;
the date of issue;
odometer reading and when it was updated.
Additional information not found on a standard title includes outstanding liens, which are usually the lender's, and signatures of (1) buyer, (2) seller, and (3) statewide representative.
These details appear on your title after you take out a Car Title Loan to receive some instant cash for urgent expenses.

Example of a Car Title – Car Title Image
An example of a Car Title depends on your state but many of them share similarities.
What does Vehicle Registration Look Like?
Vehicle registration is the process of linking a car to its owner. There are consequences to not registering your car within your state's DMV (or transportation agency, depending on which state you live in).
You could be fined or have your vehicle impounded, so don't drop the ball on this!
What is the Title Number of a Car?
The title number is an 8-digit code that identifies your vehicle's title. The state assigns the title document number for tracking purposes so that it can be identified and used for related legal purposes.
The title number by itself does not convey any information about the vehicle.
Where is the Title Number Located?
It's an 8-digit code that is to identify the title. It can be found in a variety of places, such as on the title document, on the car registration, or in the VIN number.
How to Get a Title for the Car?
If you want to buy a car, it's a good idea to get a car title. The seller will send the paperwork to your local Department of Motor Vehicles, or state transportation or revenue agency. Once the sale has been processed, you'll be sent a certificate of title.
Other Reasons You May Need a Car Title?
In case you are in need of emergency cash and you own a lien-free car title, you can use it as collateral to apply for online Title Loan. It will provide you with $1,000 – $10,000 instant cash for any personal needs.
You may keep driving your vehicle while repaying the loan. And you get the Title back as soon as all the amount plus interest is paid off.
Can You Get a Title Loan Without a Title?
Title loans are a type of loan that doesn't always require a credit check or proof of income. If you have a clear title for your car, meaning the car is definitively yours, you can use it as collateral in the loan application process.
The maximum loan amount will vary depending on the value of the car.
You'll be able to get a title loan to pay the bills without having a car title to use as collateral as long as it has a fair market value.