Looking for the right fabric for your custom canopy tent? Purchasing a custom 10*10 tent isn't that tough. However, you need to choose your fabric wisely depending on what type of atmosphere and environment the tent's going to deal with.
What Is A Custom Canopy Tent?
These are custom-made digitally printed tents that are excellent for indoor and outdoor events. These come in different sizes, colors, and, most importantly, in different fabrics. Canopy tents are a diverse product because people can use them however they like.
Some may use it to throw parties, while others may use it to open a small stall in it. Whatever the case is, it is a known fact that these tents are used in our everyday life for a number of reasons, and you should definitely consider ordering one.
What Factors Do I Need To Consider?
Now there are a number of things that you need to think about before ordering fabric for the custom canopy tent.
Durability
Water resistance
UV protection
Fire Resistance, etc
If you are thinking about setting up the custom 10*10 tent in an area that is subjected to heavy rainfall, the waterproof fabric should be your priority. A tent set up in a warm and sunny environment will require its fabric to be UV and fire protectant.
If you're looking into getting your hands on the best custom canopy tents out there, visit Signleaders Display that offers high-quality custom 10*10 tents that will fulfill all the above-mentioned factors.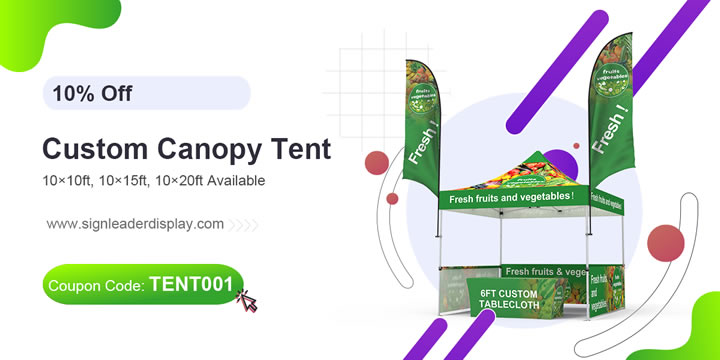 Options You Have for A Custom Canopy Tent
There are usually three main options available, namely polyester, polyethylene, and vinyl, for a custom tent.
1. Polyester Canopy Tops: These tops are very common in custom canopy tents. These are commonly used due to their durability and water-resisting properties. However, there is a big difference between the terms "water-resistant" and "waterproof."
Water-resistant tops have the ability to keep water at bay for just some time. A time will come when the water will start to seep in. It's also good in UV protection, but that is also in a minimal range.
2. Polyethylene Canopy Tops: These custom canopy tops are high in demand for carports and various semi-permanent structures. This is because polyethylene canopy tops are waterproof and protect from ultraviolet rays.
This material is given priority for various long-term frames and structures because we don't need to open and close them regularly. This fabric wears out quickly when used in frames that will undergo constant opening and closing.
3. Vinyl Canopy Tops: These are no different from polyester fabrics. The only thing that makes it vary from them is that these fabrics are coated with vinyl. This coating helps in creating a high-quality UV-resistant custom canopy top.
It's also waterproof and a flame retardant fabric. In recent years, customers have ignored using vinyl canopy tops due to the fact that these are very heavy. This drawback has led to the downfall of these tops.
Conclusion
If you are researching the best fabric for your 10×10 custom tent, consider your environment and the purpose of using it. This will help you narrow down your options effectively.