A printer cutter is a machine that performs two functions. First, it uses inkjet technology to print any design onto white media. Next, the material rolls back, and the printer uses blades to contour cut copies of the design. It is among the most sought-after machines for designers, artists, self-employed entrepreneurs, large-scale manufacturers, and other businesses.
The Roland Printer Cutter is one of the top models available in the market. It is a computer-controlled model that enables you to print and cut a variety of exciting designs and transfer them onto jackets, bags, bottles, cars, and mugs, among other things.
How does a printer cutter work?
A printer cutter goes beyond the functions of a regular vinyl cutter. Numerous companies are investing in printer cutters nowadays, and for good reason. It empowers creative people with the freedom to design all kinds of graphics and print them on varied objects. But as high-tech and sophisticated as the machine sounds, a printer cutter is pretty easy to use.
First, connect the machine to your computer, which will enable you to control and use the printer with ease. Then, as per instructions, the printer will use inkjet technology to print the design you want on printable vinyl material. Once this is done, the cutter takes over.
The cutter, also controlled by the computer, follows the vector path of the design, and the contour cuts around it precisely. It can easily cut designs with long lengths as it prints on vinyl rolls rather than sheets.
After the designs are cut, you will need to weed out the extra material from them. Then, the design can be transferred from the carrier sheet onto the desired surface, such as a t-shirt, backpack, or any other item.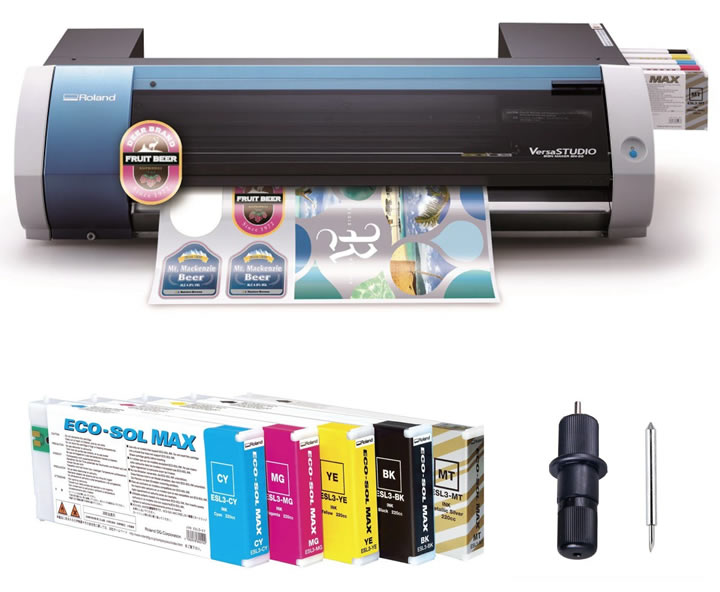 What can a vinyl printer cutter be used for?
Vinyl printer cutters are majorly used in the signage and garment industries. However, they aren't limited only to these. Even individuals working out of their homes buy a home-based version of these machines to make stunning works of art that can be transferred onto personal and gift items.
Here are some incredible things you can make with a vinyl printer cutter.
Custom t-shirts: Apparel manufacturers invest in this machine as it can help them make custom-designed t-shirts. They create unique designs and mass-produce them by using the heat transferring technology of the device to imprint the designs on not just clothing but also bags, sportswear, hats, safety garments, etc.
Signs: You can make all kinds of signage with the printer cutter, such as safety signs, designs for walls, customized pictures, and promotional posters, among other things.
Labels: It is an excellent way to create innovative label designs for promotions or other purposes and is cost-effective. You can transfer the labels onto mugs, laptops, doors, and even windows. To make the labels stand out, you can add clear ink varnish or use metallic colours.
Stickers: Many businesses need to produce stickers for promotion, branding, warning, or instructional purposes. A printer cutter can help you design different stickers and easily transfer them onto a wide range of surfaces. You can stick them on mugs, tables, office doors, walls, and other things.
Banners: You can make banners without a hassle for a school program, an office event, or official rallies. You can also create information-based banners that can be hung at an angle that provides a convenient view to passers-by.
Car decals: People love having all kinds of interesting decals on their cars. For instance, families with children typically have car decals of famous cartoons and other characters loved by their kids. Others might prefer attractive logos or symbols. The printer cutter can help you make a variety of these designs and stick them on cars easily. Small businesses can make these in vast amounts for a considerable profit.
You can use it to make designs for aircraft carriers, motorbikes, and other vehicles as well.
Decorative covers: You can create stunning decorative designs that add an element of style to a variety of products. For instance, you can create full-colour pictures and use them on walls, apparel, vehicles, or even backpacks. Unless they are mass-produced, these designs remain one-of-a-kind creations owned by just one person.
Removable graphics: These kinds of designs are primarily meant for promotional purposes and used as indoor displays. They can be transferred onto walls, shop windows, or even car windows as a form of short-term marketing strategy. The high-quality substrate enables you to remove the design without leaving behind any trace of glue.
Difference between a Roland Printer Cutter and a Cricut
Both of these are computer-controlled machines used by various businesses. However, they are not the same in all aspects.
The significant difference between these two machines is that a Cricut functions only as a cutter. You can use it to cut various sheet products such as vinyl, paper, fabric, or matboards. Some Cricut machines can also cut wood and leather. To begin, you have to select a design and send it over to the Cricut machine. After receiving the design, the machine will cut it out using small, precision blades.
On the other hand, a Roland Printer Cutter functions as a printer as well as a cutter. It can use 20" vinyl rolls to print and cut various full-colour designs using state-of-the-art inkjet technology. And unlike a regular cutter, wherein you need to print colours separately, this machine allows you to print multi-colour designs simultaneously. It saves you the exhaustive trouble of printing and cutting designs individually and assembling them later.
Also, you can load the cutter with a variety of vinyl types, making it an incredibly economical choice. This printer cutter machine is ideal for people who own all types of design-oriented businesses and start-ups.
What is the cost of a Roland BN-20 printer cutter?
Since it is among the most reliable and popular printer cutters in the market, the Roland BN-20 Printer Cutter may be more expensive than other printers. However, it is worth the investment owing to its features and user-friendly functionality. It has a high printing speed, an integrated cutting technology, and supreme image quality, among other things.
At the time of writing this article, the printer cutter is priced at $5,995. If the cost exceeds your budget, you can consider financing options for the printer cutter.