Microsoft is home to the state of the art ERP solution Dynamics 365 Business Central. It's been hailed as the one-stop-shop business management solution for small to medium sized businesses. This ERP software has been specifically engineered to replace NAV and work alongside other Microsoft cloud services. While this alone would be enough to highlight it's potential for small to medium businesses (SMBs), it boasts a multitude of other benefits that demonstrate its potential for these types of businesses and how it can to drive their growth further than ever before. Let's take a look at just why it's dominating the market.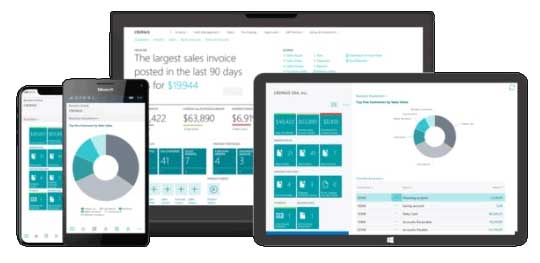 Business Central Enables Growth Through Scalability And The Cloud
Business Central comes with a completely cloud based option for implementation. This means that your staff will have the opportunity to share and receive information wherever they are, regardless of whether they're in the office or working from home.
Right now, during what can only be described as a totally unexpected situation, the vast majority of workers have been required to move their office from their usual location to their home. Whether they have an office space or not is irrelevant because as long as they have an internet connection and of course Microsoft Dynamics 365 Business Central, business can carry on as usual.
During COVID-19, regardless of where your employees may be, you can still monitor work carried out, transactions carried out, inventory, stock supply and you'll still receive the usual notifications telling you as and when stock will need replenishing along with everything else you usually do.
Now more than ever, you'll also benefit from the data you'll receive. These won't just show you business as usual, they'll show you the effect COVID-19 is having on your business. By utilising the data given to you from Microsoft Dynamics 365 Business Central, you can make data led decisions to not only manage but move forward during incredibly uncertain times. Add to this the fact that Business Central is fully scalable and allows you to increase add-ons from the likes of Power Apps and Power BI as your business requires them and it's the ideal solution for everyone from start-ups to those who are fully established.
Integration With Microsoft Apps
Microsoft Dynamics 365 Business Central offers full integration with other Microsoft offerings such as Power BI,  Power Automate, Power Apps and Office 365. This means users can do a multitude of things without having to leave the application. A good example of this is the fact that users can send an email from Outlook to include a sales quote from another area without actually leaving the app. All applications work seamlessly and in harmony.
Manage Resources With Ease
When it comes to project management, tracking resources and their price is key. Dynamics 365 Business Central takes care of this for you. It will even organise your current resources into different categories too to ensure they're assigned and appointed to the correct category when needed.
Making Data Easy
One of the biggest bonuses for SMB's is the fact that Microsoft Dynamics 365 Business Central integrates smart and very extensive accounting and finance platforms. What's more, they're incredibly easy to use. With such easy access to data and easier interpretation of what the data actually means, it allows many SMB's to also make more data-driven decisions.
Configure Your Project
Last but not least, Business Central allows for a fuss-free approach to project management. From resource scheduling, job allocation and even project processes, the Business Central dashboard will allow SMB's a complete 360 view of every project and its progress.

Contact D365 experts Today
If you'd like more information on Microsoft Dynamics 365 Business Central and how it can help you and your business, whether you're currently working from home or the office, we recommend speaking to D365 experts today. Call +44 (0)1268 724 005 or email them at talktous@d365experts.co.uk.