Mobile phone stabilizers have made video content creation on smartphones a lot easier and effective with their numerous features and the facilitation of extra-smooth video recording. DJI and ZHIYUN, which dominated the mobile gimbal industry, keep pushing the boundaries of innovation to develop high-quality products.
Two additions to both brands capable of causing a purchase conundrum for buyers are the ZHIYUN Smooth Q3 and DJI Osmo 4. Therefore, in this post, we would be doing an in-depth analysis and comparison of the two products so that buyers can make well-informed purchase decisions.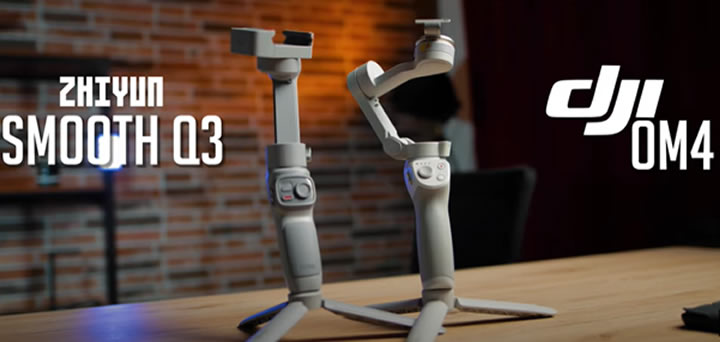 Design and Build
At first glance, the Smooth Q3 and Osmo 4 come in muted grey color options giving them a nice minimalistic look. Both gimbals are foldable, making it easier to work without occupying too much space in any compartment. Both gimbals give off a premium and sturdy build.
ZHIYUN, which used aluminum alloy in the past to produce their gimbals, opted for plastic this time around. And this is how they were significantly able to reduce the weight of the ZHIYUN Smooth Q3 (340 grams).
The Zhiyun Smooth Q3, in particular, has a slightly shorter handle that improves the ergonomics, with a button layout that makes it more suitable for single-handed operations. In addition, ZHIYUN Smooth Q3 comes with a mini tripod stand that is attachable to the gimbal's handle, which makes it perfect for stationary video formats.
Functionality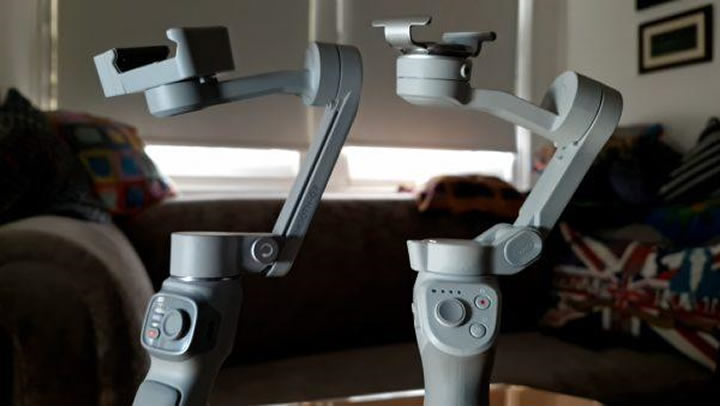 The two gimbals are feature-packed. Yet a close comparison reveals that the ZHIYUN Smooth Q3 packs a stronger punch with fringe features, such as a diffuser light at the top that is adjustable to various levels of brightness by touch.
It is also worth noting that despite being lighter in weight, ZHIYUN Smooth Q3 supports a higher payload of 280 grams maximum, which makes it ideal for just about any mobile device in the market.
Going back to the basics, both devices come with a USB-C port for fast charging speeds, and although specs sheets indicate a larger battery capacity (2450mAh as against 1300 mAh) for the Osmo 4, both devices seem to hold up for 15 hours of use.
The robust functionalities of these devices are not limited to hardware components that come along. The software aspect is not left out with the ZHIYUN Smooth Q3's support for Smartfollow 3, an application upgrade that allows the user to track movement and gestures, all from the app to make for a better user experience.
Specifications
Here are some important specifications for both gimbals:
Specifications
DJI Osmo 4
ZHIYUN Smooth Q3
Weight
430 grams
340 grams
Price
$149 (base version)
$89 (base version)
Dimensions
163*99.5*46.5 mm
 45*154*180mm (Folded)
Battery Capacity
2450mAh
1300mAh
Battery life
15 hours
15 hours
Rotation range
-161.2°-171.95° panorama, -136.7°-198° roll, -106.54°-235.5° tilt
300° Panorama,

-170 to 170° Roll,

: -260 to 80° Tilt,

App platform
DJI Mimo app
ZY Cami
Max payload
230 grams
280 grams
ZHIYUN Smooth Q3 Vs. DJI Osmo 4: Which one should you choose?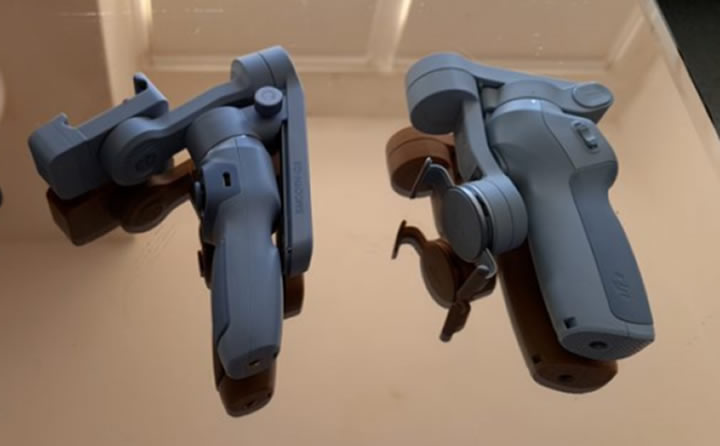 Both devices are well-built, packed with many features and functionalities in the hardware and software department, but our verdict goes to ZHIYUN Smooth Q3. Besides the lower starting price point of $89, the ZHIYUN smooth Q3 has the edge in vital areas like the lower weight, which makes it more comfortable to hold while supporting a higher payload.
So, whether you are shooting with the tiny pixel 4a or the ginormous iPhone 12 max, you are not worried about stabilization issues.
The inclusion of the adjustable diffuser light on the ZHIYUN Smooth Q3 also addresses the challenges of shooting videos under low-light situations, making it more versatile than its counterpart.
ZHIYUN Tech, which specializes in manufacturing camera and smartphone stabilizers for global use, keeps leading the race. ZHIYUN has various products like the iconic best-selling ZHIYUN Crane that has set the standard for DSLR video stabilizers in the industry.
For more information, visit https://www.zhiyun-tech.com/en