Are you planning to propose to your partner? A perfect engagement ring is what you need to seal the relationship. Diamond cut or shape is crucial to accentuate your engagement ring style.
DenverDiamondSource is an online store with the most mesmerizing collection of the best engagement ring Denver.

10 Best Diamond Shapes & Cuts For Your Engagement Ring
A custom engagement ring with the diamond of your choice is the ultimate gift for your partner. But are you confused about the diamond shape? Here, we guide you on the diamond cuts and shapes to pick the perfect engagement ring.
Round Shape
Perhaps, the most-sought diamonds in the world are the round cut diamonds. How then would you justify that 75% of all the world's diamonds are round-shaped? The round brilliant-cut has 58 facets and perfectly reflects the light like a shining bright star. The round-cut diamond is costlier than the other cuts since a sizeable amount of the rough stone is lost when shaping the diamond round. Hence, the cost is 25-30% costlier than a fancy cut with a similar specification.
Here are some of the celebrities who have flaunted the round-cut diamond engagement rings.
Miranda Kerr (by Evan Spiegel)- Round brilliant-cut diamond with baguettes at either end.
Emily Blunt (by John Krasinski)- 3-carat round-cut diamond
Emerald-Cut
A unique step-cut diamond, the emerald-cut has facets that resemble small rectangular steps. The cut of the facet subdues the sparkle and brilliance. But they are high in fashion because it looks bigger than others. A few emerald-cut diamonds are also square. No wonder then, it is preferred by celebrities.
Jennifer Lopez (by Alex Rodriguez)- 16-carat emerald-cut diamond
Paris Hilton (by Carter Reum)- $2 million emerald-cut diamond
Demi Lovato (by Max Ehrich)- $1 million emerald-cut diamond
Amal Clooney (by George Clooney)- Ethically-mined 7-carat emerald-cut diamond
Elizabeth Taylor (by Michael Todd)- $3.7 million worth 30-carat emerald cut diamond
Anne Hathaway (by Adam Shulman)- 6-carat emerald-cut diamond
Beyonce (by Jay Z)- $5 million worth 18-carat emerald-cut diamond
All these have sported priceless emerald-cut engagement rings.
Cushion Shape
The third-most-popular diamond shape, the cushion-cut diamond, resembles a pillow. It is square or rectangular and rounded at the edges. It is less brilliant than the round-cut diamonds but has more fire and so is preferred by celebrities.
Kim Kardashian (by Kanye West)- $2 million worth 15-carat flawless cushion-cut diamond
Sofia Vergara (by Joe Manganiello)- 7-carat cushion-cut diamond
Leighton Meester (by Adam Brody)- A 4-carat cushion-cut diamond
Gabrielle Union (by Dwyane Wade)- A 8.5-carat cushion-cut diamond
Ivanka Trump (by Jared Kushner)- 6-carat cushion-cut diamond
Miley Cyrus (by Liam Hemsworth)- 3.5-carat cushion-cut diamond
Oval Shape
The oval-cut diamond was created from a deformed diamond piece by the famous Russian diamond cutter Lazare Kaplan. It looks larger than a round-shaped diamond. Celebrities prefer the halo setting with the oval-cut diamond flanked by brilliant round-cut diamonds.
Hailey Baldwin (by Justin Bieber)- 6-carat oval-cut diamond
Scarlett Johansson (by Colin Jost)- an oval-shaped diamond
Blake Lively (by Ryan Reynolds)- $2 million worth 12-carat oval-cut diamond
Katie Holmes (by Tom Cruise)- 6-carat oval cut halo diamond
Serena Williams (by Alexis Ohanian)- 3 stone oval-cut diamond ring
Christina Aguilera (by Matt Rutler)- Oval-cut diamond in halo setting
Miranda Kerr (by Orlando Bloom)- Oval & round-cut diamonds in floral pattern
Pear Shape
The pear-cut diamond, also called the teardrop, is known for its high sparkle. It combines the best features of round and marquise-cut diamonds. The pear-shaped diamond makes the finger look longer and thinner. This diamond cut is hard to find and if you sight one, be sure to grab it before someone else decides to please their partner.
Now, here's the list of celebrities who have received the pear-cut diamond engagement ring from their partners.
Cardi B (by Offset)- 8-carat pear-shaped diamond
Ariana Grande (by Pete Davidson)- $1 million 3-carat pear-shaped diamond
Emily Ratajkowski (by Sebastian Bear-McClard)- Pear & princess-cut diamonds
Mia Farrow (by Frank Sinatra)- Pear-shaped diamond
Marquise-Cut
Also called boat-shaped or eye-shaped diamonds, the marquise-cut diamonds are classic. It captures hearts because it closely resembles a smile. It looks royal but is not a preferred engagement ring. There are only a handful of celebrities who have opted for the marquise-cut as their diamond engagement rings.
Victoria Beckham (by David Beckham)- original engagement ring had a marquise-cut diamond
Portia de Rossi (by Ellen DeGeneres)- Marquise-cut diamond with pink accent diamonds
Princess-Cut
The princess-cut diamond is the second most purchased after the round brilliant-cut. These square-shaped diamonds have sharp edges and are brilliant-cut with up to 76 facets reducing the visibility of flaws and inclusions. They resemble a pyramid when turned upside down. But instead of big solitaires, the small ones are preferred in wedding bands. Some of the celebrities who have the princess-cut diamond solitaires are-
Meghan Markle (by Prince Harry)- A three-stone engagement ring with a princess-cut in the center
Hilary Duff (by Mike Comrie)- $ 1million worth 14-carat princess-cut diamond
Emily Ratajkowski (by Sebastian Bear-McClard)- Pear & princess-cut diamonds
Heart Shape
What do we say about the heart-shaped diamond? Isn't it the perfect sign of romance? The heart shape requires a premium cut that is possible only by a skilled cutter. Usually, an oval-cut diamond is selected to shape into a heart diamond. Even though it is priced below the round-cut diamond, it has a niche demand in the market. It has 56 to 58 facets and a pointed 'French tip' end to magnify its brilliance. Some of the celebrities who were spotted with the heart-shaped diamond rings are-
Lady Gaga (by Taylor Kinney)- 6-carat heart-shaped diamond was her previous engagement ring.
Nicki Minaj (by Meek Mill)- A massive heart-shaped sparkling diamond ring as a gift.
Gwen Stefani (by Gavin Rossdale)- Heart-shaped diamond ring on a silver band after her wedding.
Asscher Cut
The Asscher-cut finely captures the features of the princess and emerald cuts. It has steps like the emerald cut with X-shaped facets that emerge from the four corners and merge in the center culet. The Asscher-cut diamonds have an Art Deco appeal and are preferred by celebrities who love the vintage look for their diamond engagement rings.
Pippa Middleton (by James Matthews)- A large Asscher-cut diamond in a halo setting
Gwyneth Paltrow (by Chris Martin)- Asscher-cut diamond
Jessica Alba (by Cash Warren)- 5-carat Asscher-cut diamond
Kate Hudson (by Chris Robinson)- Asscher-cut diamond with an Art Deco style
Radiant Cut
The radiant-cut diamond, first designed in 1977, is a brilliant cut with 70 facets. They have the outline of emerald-cut diamonds but have higher brilliance. It comes in square and rectangular shapes and appears larger than a round brilliant of the same carat weight. The radiant-cut is the best choice for those who do not want the classic round diamond but still want the sparkle of brilliance. Here is the list of celebrities who have radiant cut diamond rings.
Jennifer Aniston (by Justin Theroux)- A 8-carat radiant-cut diamond
Drew Barrymore (by Will Kopelman)- 4-carat radiant cut diamond
Jennifer Lopez (by Ben Affleck)- $2.5 million worth pink radiant-cut diamond
Khloe Kardashian (by Lamar Odom)- 12.5-carat radiant-cut diamond
Megan Fox (by Brian Austin Green)- A 3-carat radiant cut diamond with halo setting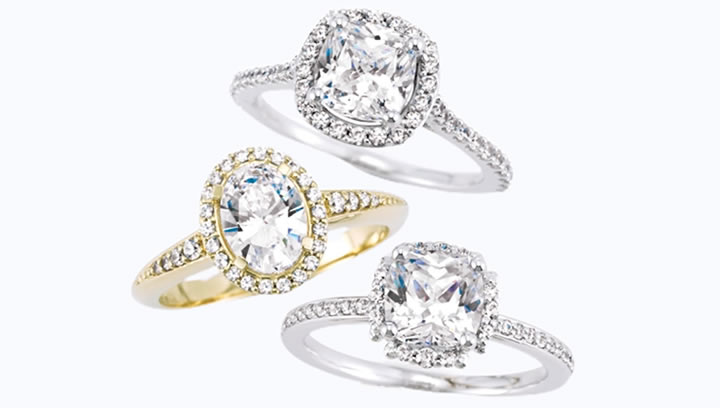 Perfect engagement diamond rings in Denver
You can walk into a reliable jeweler and ask for their collections for customer engagement. The diamond jewelry store in Denver is the best to know about the current and contemporary engagement ring styles.
While selecting the perfect engagement ring, go with what your heart says. Round, princess, oval, or cushion, it is your love that bonds you to your partner.