Built-in font libraries may be enough to get you through basic design tasks, but as soon as you start entering the intermediate league, basic kits stop being enough. To get out of the situation, designers download professional font set that offers a wide selection of rare fonts.
We made the list of our favorite fon kits – and we think they should become your favorites as well. All of these are either free or reasonably affordable, and they offer typefaces for all occasions.
1.  Adobe Typekit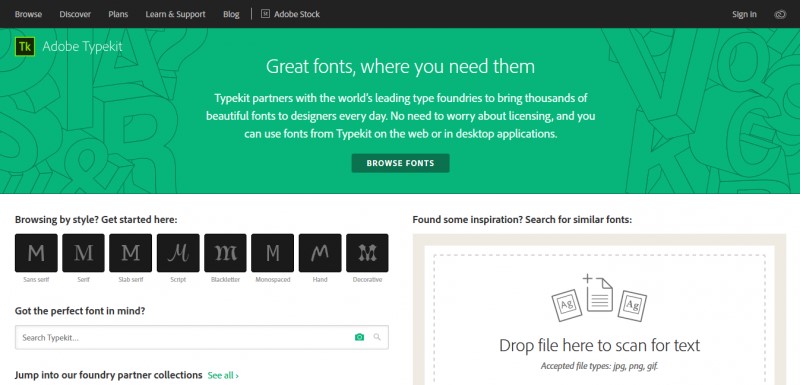 Of course, we just had to star with this one – the set became favorite among many designers, and for many good reasons. Adobe went the extra mile to optimize the experience of designers to use their Adobe Suite and developed an entire typography platform that unites multiple libraries into a single service.
Here, you can download fonts primarily for business purposes. The platform has some fun fonts to play around with, but it's still rather official. In other fonts, if you want something specific – say, to download Disney fonts for a custom art – take a look at other, less formal platforms on the list.
The service supports a customized font search  – you can look for typefaces by their names or even describe the desired characteristics. It's the right place to go when you don't have a formed creative vision yet and need to browse through possible alternatives.
Our favorite feature of this platform is integration with the entire Adobe Suite. You can connect it to your Photoshop and Illustrator – this comes handy in almost any design work. On top of that, you can use this platform to connect to the best font foundries, including Monotype and Dalton Maag.
2. Font Freak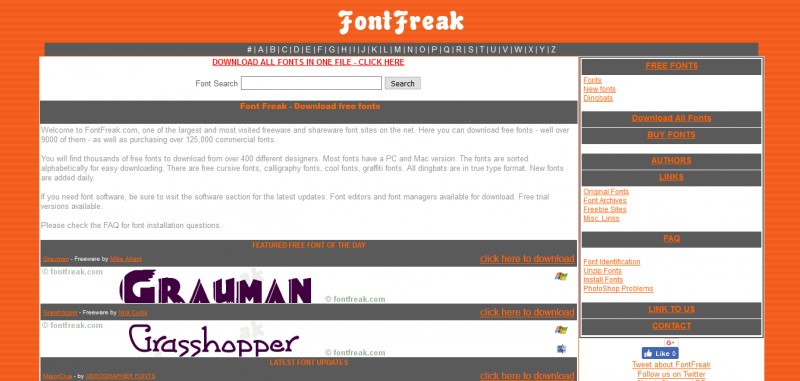 This is one of the richest font collections with more than 9000 fonts available. The platform offers the majority of typeface for free, but also provides with the rich choice of paid options. Some fonts are available only for noncommercial use, so read the license details carefully.
Unlike many other similar platforms, TypeFonts also allows users to upload their won fonts and edit them in that same working space. Once the font is ready, you can share it with other users, both for free or even as a paid product.
Naturally, such conditions attract a lot of designers, and the library of fonts grows continuously. It's also an excellent place for font designers to earn some money from their creativity. For as long as your font will be selling in the store, you'll receive passive income – and what's not to love about that?
Last but not least, the fonts are optimized to desktop and mobile versions and are supported by all popular browsers – Chrome, Mozilla, Opera, Microsoft Edge, and even Internet Explorer.
3. Fontspace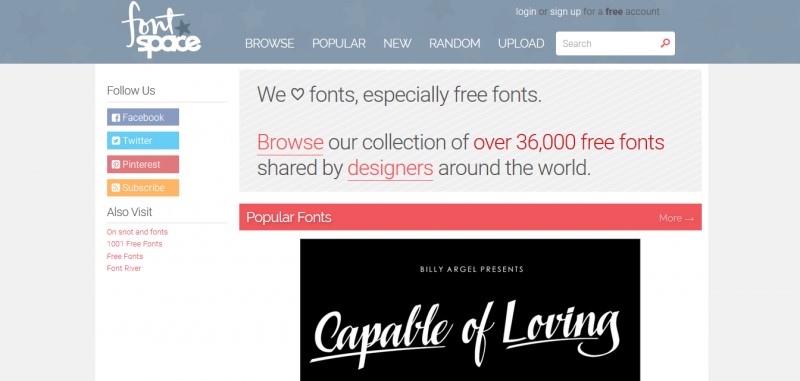 It's one of the universal font platforms out there, and 99% of all published typefaces are available for free. The service has an efficient organization of fonts by categories and sub-groups – you can pick the theme, script or handwritten fonts, choose between bold, italic, thin, medium, and others.
The reason why the service managed to become so successful in such a short time is that FontSpace signs contract with 2000 designers who are exclusively designing the fonts for the platform regularly. If you are interested in the collaboration, you have to contact the platform's team in contact.
Our favorite feature of the platform is commercial/non-commercial usage filters. You can choose to see only fonts that are available for business purposes, so you don't break the license agreements by mistake.
4. Linotype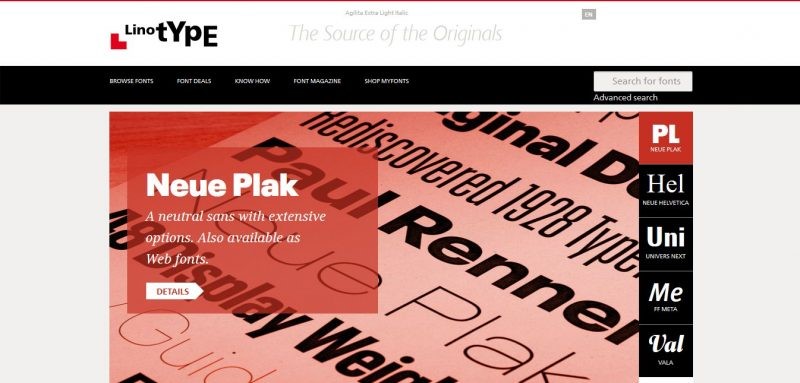 This is a truly legendary typeface kit that brought us some widely used fonts like Univerns, Helvetica, and Frutiger families. Now, the website continues to be one of the most reliable sources of fonts for commercial and non-commercial use.
Whenever you need a rare font, you should start your search with Linotype. It's one of the most significant and most affordable collections out there. It's like the Walmart of typefaces – you can find almost anything here, and it's cheap.
5. Creative Market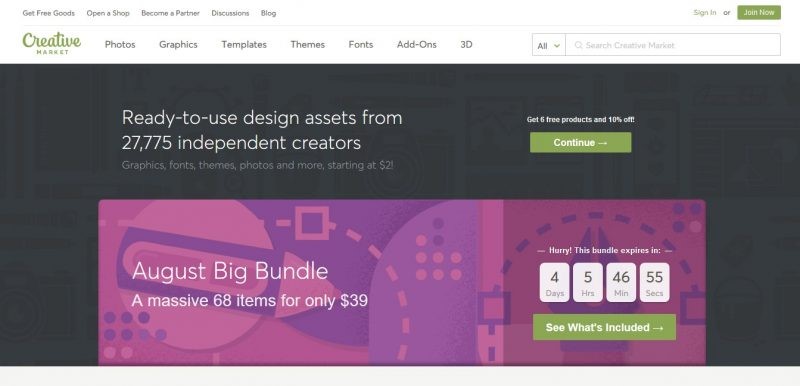 Creative Market changes its font collections o a weekly basis, offering its users new variants every seven days. You don't have to scroll through the same repeatable options over and over again. It's a great place to visit if you had been on other big platforms and didn't find anything that would will the bill.
We love to use this platform for mood boards and creative inspiration. Because the platform is to determined about pushing new fonts, it's a beautiful playground flowing modern design trends and spotting new tendencies before anyone else did. Also, Creative Market is used by 23, 000 designers who contribute to fonts and share their insights and experience.
Additionally, users can download graphics, themes, and pictures that are suitable for the chosen font – like we said, perfect for a mood board.
6. Behance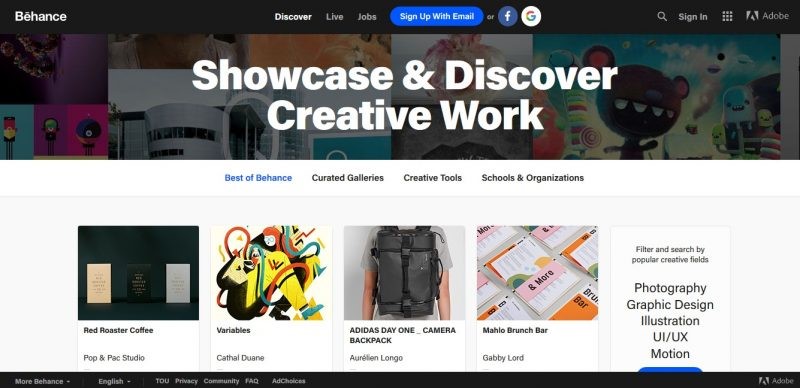 Although it's not a font library per se, Behance is still the leading destination for creative design ideas and exploring artistic trends. The portfolio platform attracts dozens of thousands of designers all over the world, and some of them contribute to the free library of fonts.
Also, it's a great place to flaunt your work if you need more exposure. It's a must-use platform for designers with an active community.
7. Fontshop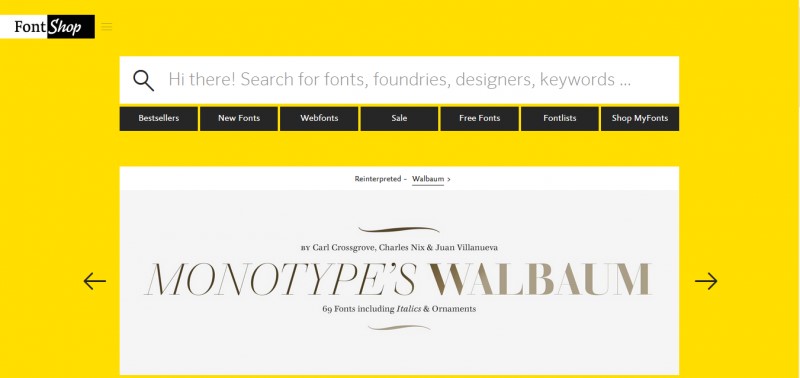 FontShop is the first font reseller – the platform was founded in 1989. Now, it's not the most popular font destination, but it has a lot of rare old fonts that you hardly see being used anymore.
The collection supports fonts for personal and professional uses. You can filter fonts by the type of license to see what kind of right you are allowed on the platform.
8. The Northern Block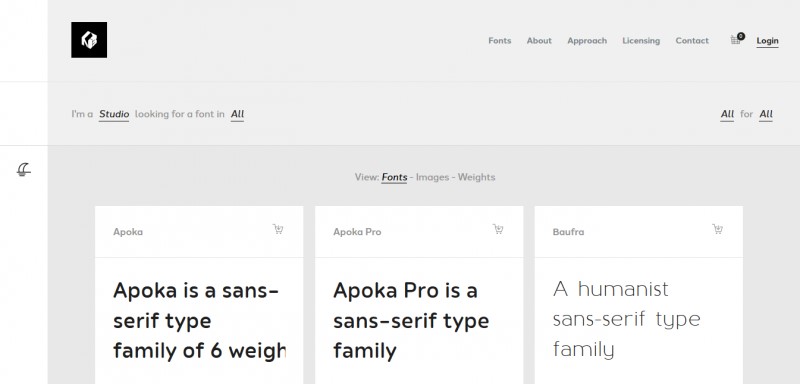 A free font library with typefaces of different styles and formats. The website is well structured – you have dozens of categories in your disposal as well as a customized search. The fonts are stores by keywords, categories, date of addition, and topics.
What makes this library truly special is the community of designers that are uploading fonts here regularly. The moderation checks the expertise of community members, welcoming award-winning creators and people with an established name in the industry.
9. Fontasy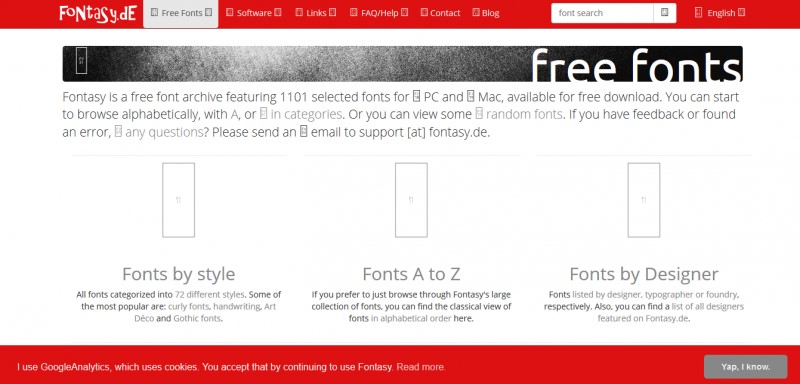 The collection assembles more than 1000 fonts for free download. These free fonts are available for commercial use as well as for personal projects.
Even though you technically can use the published typefaces for commercial purposes, it's best to contact the creator before you use the font. You need to obtain personal permission – to avoid any problems with copyright in the future.
The library is structured into mini-collections for different styles and formats. You can enter your field and requirements to the font, and the service will automatically assemble a suitable collection.
10. My Fonts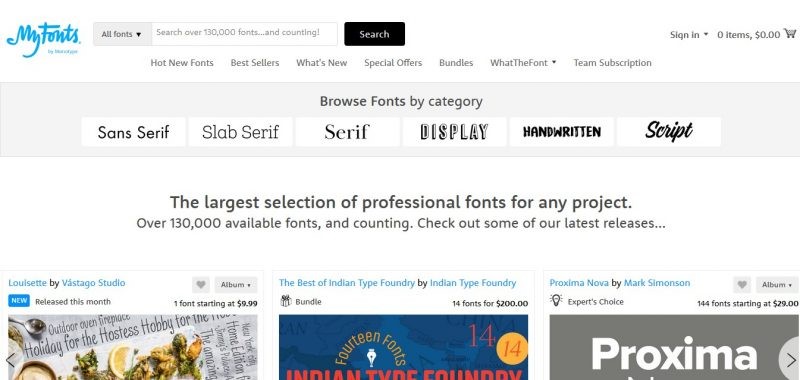 Acquired by Monotype, it's one of the richest mixtures of typefaces out there. The platform is intuitive and straightforward- you have flexible filters and a nice gallery. The platform is well adapted to the mobile version – you can easily open the platform on your iPhone or Android smartphone.
The majority of MyFonts typefaces are quite rare, and you practically stand no chance of finding them elsewhere. This is excellent news since you won't see the unique font of your business or creative project all over the Internet – which is excellent for branding purposes.
11. Fontstruct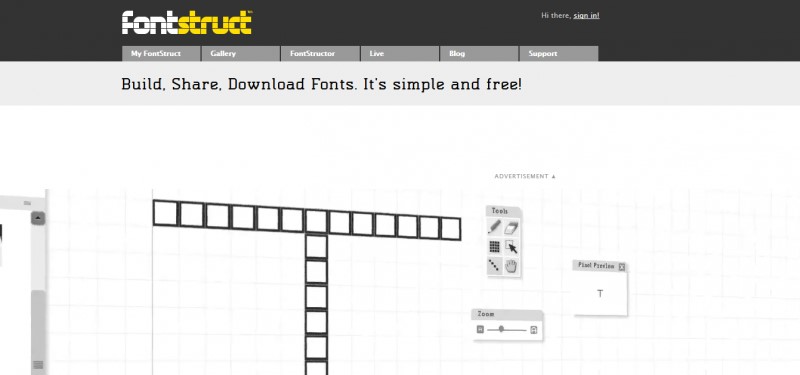 The Fonsturst provides its users with built-in tools for tool customization. Users can pick a font from the rich typeface library, and edit it straight up in the platform. The edited version is saved as a new typeface and even can be published on the platform.
You can also use the service to improve the quality of your custom font. The software allows uploading own font files and editing them right there. If you want to, you can choose to share your font with the community.
Conclusions
When you are looking for the font for your business or personal project, start exploring custom libraries right away. You want your font to be a powerful branding tool, which means, standing out even here is a requirement. With the growing number of brands, especially in the digital space, it's crucial to add a unique touch to every aspect of your online presence.
By unifying your text, headlines, and logo under the same (preferably rare) font, you make sure that users will remember your company. All libraries that are reviewed here provide users with unique fonts – so it's unlikely that you'll catch your competitors using the same typeface. Plus, you can buy the font out, just in case. The possibilities are endless.