Whether you planning a long trip or it is just a weekend, planning and packing as a hijabi can be a difficult job to accomplish. Whether you are traveling on a train, a plane or your car, traveling alone or with family – packing needs to be done meticulously as hijabi because you have extra items that others do not carry.
The secret of successful packing is to carry multipurpose attires and also 2 or 3 hijab scarf (of various colors) that work fine with any outfit. Spare some space for shopping too. Pack light yet smart for a stress-free vacation.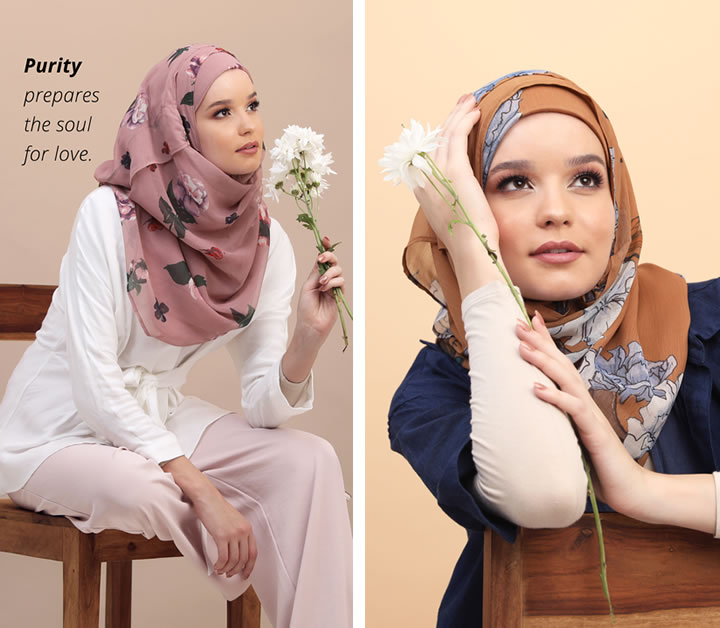 Packing for travel as a hijabi
Being a hijab-wearer, plan your trip and pack accordingly. Check your options and spice up your wardrobe with multicolor tops. Be sure not to carry anything that you are not comfortable in wearing.
Check the weather forecast before you begin packing. If you are headed to a cold place, pack 1 or 2 warm jackets or an overall coats that can be paired up with jeans. Always remember to pack matching hijabs that are perfect with jacket or coat. If the forecast predicts that you are going to catch a rainy day ahead, pack your outfit accordingly.
#1 Comfortable Hijabi Outfit
For a comfortable look, get a pinless hijab and use it with any plain top and top the look with designer jeans. This simple look is effortlessly stylish and will help you stay comfortable and beat the heat.
You can check Bokitta's website collection for some amazing pinless and floral headscarves that would be great for a summer look. If you choose a bright-colored hijab, decide your top and accessories with a lighter color tone but with a hint of hijab's color. This will lend you a unified look.
#2 Inspiring Hijabi Look
Purple is a color that looks great throughout the year, regardless of the season. It is a top favorite hijab outfit that can be used with any darker outfit. You can use a purple floral hijab with any dark or light-colored hijab and any designer jeans. Complete the whole look with a comfortable pair of sneakers and skin-toned bag so that you can travel comfortably.
#3 Chic Hijabi Outfit Idea
Choose any floral hijab from Bokitta that will look effortlessly chic with the dark colored dress and work wonders with light colored outfits too. Find out the base color of your headscarf and choose a top that goes well with that base color.
Pair up a trouser (and jacket, if weather demands). You can use various variants of this outfit. The latest collection from Bokitta has some irresistible floral patterns. Complete the look with a light pair of shoes to stay comfortable while traveling.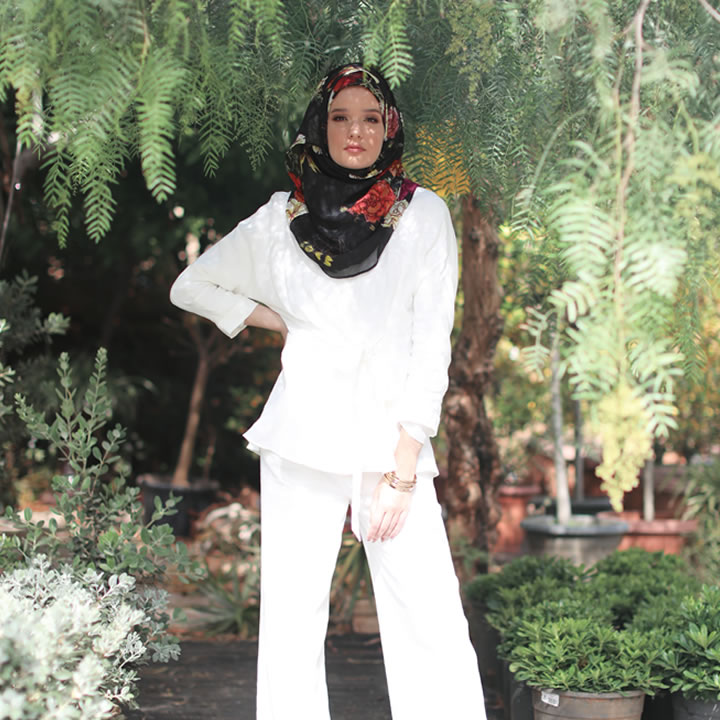 2 essential packing tips for hijabis
Packing can be tricky for hijabis. Stay organized and keep related items of an outfit together so that you do not have to look through the entire luggage to find pieces of same attire. Here are 2 packing essentials you should never forget as a hijabi:
Hijab Pins – If you are opting for a pinless hijab, you can totally skip this point. If you are using regular hijab, carry some hijab pins to keep your hijab in place. Carry some extra hijab pins in case you are unable to find them in the usual spot. Carry them in two plastic boxes; one in handbag and one in a travel bag.
Prayer clothes and prayer mat – Carry clean clothes for offering prayer. Carry separate prayer clothes and never forget the prayer rug. If suitable, carry some easy flip flop shoes to perform wazu or ablution.
Stay travel all hijabis!