When it comes to wilderness safaris in Africa, Uganda should be one of the musts to visit destinations before you die! This relatively small country in East Africa is one of the best destinations where you can experience a true African safari.
With its abundant wildlife species, exceptional landscapes, mountains, rivers, lakes, national parks, fertile soils, waterfalls, tropical rainforests culture, and people gifted with hospitality, Uganda is undeniably one of the most remarkable safari destinations you must visit to explore its untouched attractions.
From the rare mountain gorillas to game viewing in small groups, Uganda has it all. No wonder, Sir Winston Churchill described it as the "Pearl of Africa" during his expeditions into Africa in the early 1900s.
Uganda is incredibly blessed with natural wonders that are worth exploring while on safari. African safaris in Uganda offer lifetime experiences, mostly with breathtaking adventures from gorilla tracking, chimpanzee watching, mountaineering, white rafting, bungee jumping, cultural encounters, scenic views, and many others.
If you are searching for lifetime adventures, search no further than Uganda! Nearly, all areas are worth visiting but the choice lies in visitor interest in the destination.
For the best and memorable safari in Uganda, below are some of the exceptional places that should visit.
Murchison Falls National Park
The Murchison Falls National Park is exceptionally Uganda's biggest protected area hosting a great diversity of flora and fauna, the park extends to more than 3840 square kilometers of protected land. It is credited for its amazing big game and the mighty Murchison falls where it derived its name.
This park offers refuge to a lot of wildlife some of which include the African lions, African elephants, buffaloes, and leopards, that make up the big four in the park and not to forget giraffes, hippos, Nile crocodiles variety of antelope family, birds-both water and on land bird species which all support game drives, boat cruise, bird watching, and many more safaris.
While on safari, never forget to head towards the top of the mighty Nile to view one of the powerful waterfalls (Murchison falls) as it squeezes itself into a narrow gorge of about 7 meters, and while at this point you will be thrilled by its powerful roar.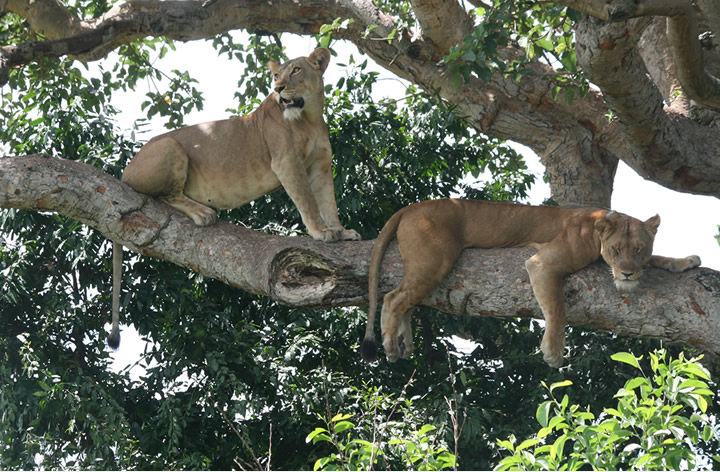 Lake Mburo National Park
If you are looking for the nearest protected areas to visit for a safari in Uganda, look no further than Lake Mburo National Park. This park is a haven of about 350 distinct avian species, abundant wildlife including the 69 mammals such as the zebras, impalas, leopards, jackals, and hyenas that all contribute to the most thrilling wildlife viewing tours in the country.
Lake Mburo National Park is 4 hours drive from Kampala city center. Besides the 13 other Lakes around the areas, Lake Mburo makes part of the 50 kilometers long wetland system linked by a swamp. Over five Lakes are found within the protected area making it one of the spectacular areas to take a safari in Uganda.
The park has mainly been identified by its diversity of antelopes but besides this diversity; its landscapes, walking safaris, mountain biking safaris, and the boat cruise are some of the things that make so exceptional
Queen Elizabeth National Park
Named after the Queen Elizabeth II of England, this is Uganda's second largest safari destination in Uganda.
The popular and famous Queen Elizabeth National Park extends to over 764 sq meters of varied habitats that include savanna grasslands, acacia woodland, closed forests,s, and vast wetlands. It enjoys a great location and lies on the floor of Albertine Rift Valley.
It supports an impressive 95 mammal species and itis credited for thrilling game drives through varied savanna grasslands and woodlands.
During your safari, you should not miss a boat cruise along the Kazinga Channel, a 4okm water gateway that connects two lakes; Edward and George. The boat cruise is supplemented with sights of abundant wildlife species including thousands of hippos and birds.
Queen Elizabeth National Park is home to a number of the big game especially the African elephants, Lions including the rare tree-climbing lions at Ishasha sector, buffaloes, leopards as well as hippos, crocodiles, etc. The Kazinga Channel also hosts several water birds that represent part of the 620 avian species in the park.
For primate lovers, the park also offers chimpanzee tracking in two different locations. The wild chimpanzees thrive in the Kyambura Gorge and Kalinzu Forest. With relatively cheaper permits; Kalinzu forest seems a better option for anyone that has not been spell stung by Kibale forest national park.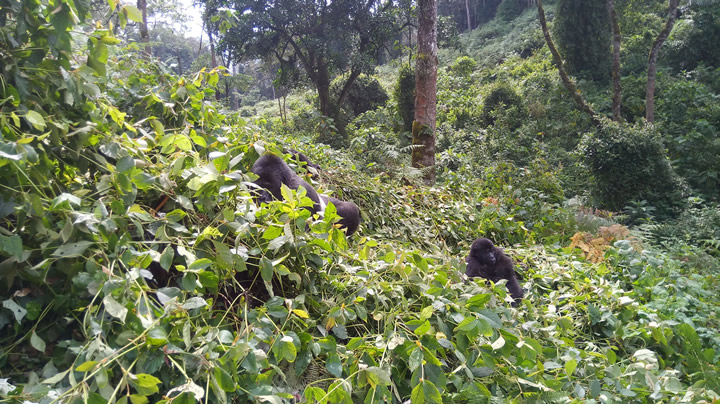 Kidepo Valley National Park
Located on the Sudan border, Kidepo Valley National Park is Uganda's third largest conservation area covering over 1442 square kilometers. It is located in the farthest corner of wild Karamoja and lies at an elevation of about 900 to 2750 meters above sea level.
Rated among Africa's most magnificent wildernesses, it features the most stunning savanna landscapes, mountains, arid vegetation, seasonal swamps, and abundant wildlife.
Big game favorites within the park include African lions, African elephants, Cape Buffaloes, Leopards, bat-eared fox, cheetah, giraffes, elands, black-backed and side stripped jackal, Jackson's hartebeest, etc.
The park hosts some wildlife that is rare or absent in other Ugandan parks such as the Aardwolf, bat-eared fox, cheetahs, striped hyenas, and the Ostrich.
Are you a bird lover? The park hosts birdlife that makes up over 470 species. Kidepo National Park was ranked as the 3rd best-protected area to visit by CNN in 2017.
Pian Upe Game Reserve
Not known to many travelers, Pian Upe Game Reserve is one of the off-the-beaten-path game parks that you should not miss in Uganda. Set strategically in the Karamoja region in northeastern Uganda, Pian Upe Wildlife Reserve is of kind safari destination that still offers authentic African experiences.
This game park hosts an incredible list of large mammals. Diverse wildlife species to see in the park include zebras, buffaloes, leopards, lions, giraffes, greater Kudus, Topis, Oribis, Hartebeests, dik-dik, roan antelopes, jackals, aardvark, cheetahs, spotted hyenas, elands, hedgehogs, birds such as Ostriches, etc.
The largest part of Pian Upe is still undisturbed grassland and wood grassland. If you are looking for a destination that is less explored, you should not miss visiting the Pian Upe Wildlife reserve. Its strategic location makes it very possible to hike Mount Morungole, among other Eastern Uganda summits.
Conclusion
In conclusion, most visitors on African safaris in Uganda mainly visit the remotest protected areas in Uganda. These are areas far away from the capital whose typically African life has not so much been eroded by western civilization.
If you are planning your safari to Uganda, it is better you inquire more details from your respective tour operator or checkout for more interesting places that you can include in your travel plans.
With the above-listed places, we believe you can now make the best choice for your safari holiday.