Moving to a new house or a new apartment? Congratulations! You're about to embark on a whole new journey in life. But it won't be effortless. You'll need to hire movers, pay a security deposit, and make an initial rent payment. All those expenses make moving pretty costly! When it's time to move, there is one thing, however, that you can get for free:
Moving boxes.
Everyone needs boxes for packing when they move. Luckily, boxes are one of the few things in life that do come for free.
If you're getting ready to move, here are five places to find free moving boxes for your apartment transition.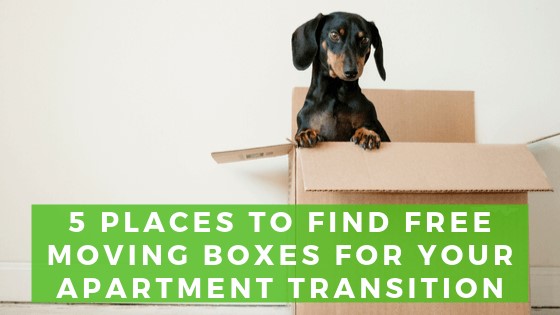 #1 Local Retailers
Every store in every neighborhood receives deliveries. That means that retailers usually have a ton of cardboard boxes in their warehouses.
Grocery stores and liquor stores are a great place to start. Just walk into your local retailer, and politely ask a customer service associate they have any extra boxes you can have. They're likely to say yes!
They'll be doing you a favor, but you'll be doing them one in return. The more boxes they can unload on customers like you, the less time they'll have to spend breaking them down and putting them in the recycling bin.
Do you know someone who works at a retail store? If so, start there. Ask them what day and time they usually receive their shipments. Stop by shortly after and load the boxes into your car.
If the grocery store or liquor store in your neighborhood is out of boxes, swing by the bookshop or pharmacy. They usually have a ton lying around!
#2 Local Websites
You can find lots of free stuff on Craigslist, including moving boxes. Check your local Craigslist page and you're sure to find free boxes of all shapes and sizes.
U-Haul Customer Connect is another great place to look. This service connects people who have just moved with people who are looking for moving boxes. And they have plenty of free cartons to unload!
You can also check sites like LetGo and OfferUp. A lot of people use those sites to offload free items. Facebook community groups are another great source for free boxes and other packing supplies.
#3 Recycling Centers
Many people drop off extra cardboard at their local recycling centers. So, check with the one in your town. You'll probably be able to find more than a few free cartons to use for your move.
Just keep in mind:
At a recycling center, there's a good chance that the boxes will already be broken down. So you may need to re-assemble them and tape them up before you start loading them with heavy books and dishes.
#4 Friends and Neighbors
While you could run around town asking every store and business if they have free boxes, you can also save yourself a heap of time by asking your neighbors first.
Almost everyone shops online, so your friends and neighbors probably have a few empty Amazon boxes around the house.
Retail stores and recycling centers are a great way to get a lot of free boxes at one time. Your neighbors, on the other hand, may only be able to give you one or two at a time. But if you put the word out a few weeks before your move, you can probably amass enough by the time you're ready to start packing.
If you live in an apartment complex, slip a little note under each neighbor's door asking for boxes. Let them know that they can leave their cardboard outside of their door. At the end of the day, you can just go from floor to floor, collecting whatever empties they've left.
Not friends with your neighbors? Don't feel comfortable asking for freebies? Check the recycling bin at your complex at the end of each day and gather them yourself!
#5 Office Buildings
With the exception of paperless tech companies, almost every business on earth buys printer paper. And those deliveries come in boxes. By the end of each day, nearly every office in your town has at least a few hanging around.
Boxes that hold printer paper are ideal for packing heavy items, and they usually have those handy removable lids that don't even need taping.
Ask your friends and relatives to grab as many as they can from their office, then spend an hour or two on a Saturday morning picking them up.
If you work in a large office building or an industrial complex, start there. Ask the other businesses on your floor if you can stop by at the end of each day to pick up their empty cartons.
As long as you ask politely, there's a good chance they will say yes!
Conclusion
Moving is expensive, so it's important to save money wherever you can. And that means never paying for boxes.
Check local retailers, freebie websites, and recycling centers. Visit office buildings in your area or ask friends, neighbors, and coworkers for their empties.
Brand new boxes don't come cheap. Even if you buy them in bulk, large ones cost between $2 and $4 apiece. So, save yourself some money and start collecting as many free ones as you can.
Be polite, ask nicely, and you'll probably be able to collect more boxes than you need. When you're all unpacked and settled into your new place, return the favor and pass those free boxes onto someone else!
Client bio:
Prime Place KSU develops student housing within walking distance to campus. We offer Studio through 4 bedroom apartments and do roommate matching. All our apartments have solid surface floors, granite countertops, and washer/dryer in unit.