On the surface, starting a multi-vendor store seems straightforward. Once you set up your store, you're pretty much good to go, and you'll start seeing the cash flowing in, right? Well, not exactly.
While running a multi-vendor store can be a lucrative business, launching one requires considering many factors, such as your target market, the right eCommerce platform, etc. to ensure you get good returns on your investment and efforts.
The good news is, we're here to help. In this guide, we'll go over five steps to launch a multi-vendor store to help you build a winning marketplace.
1. Know your target market
Finding the best marketplace software is a crucial aspect of launching a multi-vendor store.
After all, a reliable marketplace solution can easily consolidate service or product offerings from various vendors, helping you sort through a wide selection easily and serve a large target audience.
However, before you can do that, you need to get to know the market better, including what potential users look for, what they need, and their preferred solutions.
An excellent approach is to focus on one specific niche. With this, buyers can easily see the unique value and what they can expect from vendors is clear, giving them a reason to shop from your store.
Below are a few other tips to help you get to know your market and find a niche.
Assess the market. The more you learn about the market, the better you can narrow down on a niche that will most likely attract your users. You can also research competitors in your chosen niche to know what they're doing right or wrong and build your approach.
Identify potential solutions. Knowing the kind of user problems you want to solve helps you choose the right niche for your multi-vendor marketplace. This could be anything, such as providing a convenient place for vendors to sell and buyers to purchase pet products.
Outline a solution according to the purpose you came up with and establish strategies that will help your marketplace stand out from your competitors.      
Understand your target market to help you find a specific niche and give users (vendors and buyers) a clear idea of what your marketplace is exactly about. This allows you to run your store more effectively.
2. Determine your revenue model
If you want to sustain your multi-vendor store for the long term, you need to make it profitable. This requires setting a structure and strategy for profitability from the get-go through a revenue model.
Some of the common multi-vendor marketplace business models include:
Subscriptions. 53% of all software revenue will be generated from a subscription model by 2022. That's just one example of why it continues to be an effective way to earn recurring revenue since you get regular monthly, quarterly, or annual payments, depending on the plan. Ensure the value vendors get from your marketplace is greater than the costs of subscribing to your store.
Sign-up fees. Flat payments or sign-up fees mean charging vendors when they register to join your multi-vendor marketplace. To make this a success, make the value of selling on your store clear to vendors to make it worth paying the sign-up fee upfront.
Amazon does this well by providing an overview of their plan and the selling plan features, so vendors know what's in it for them.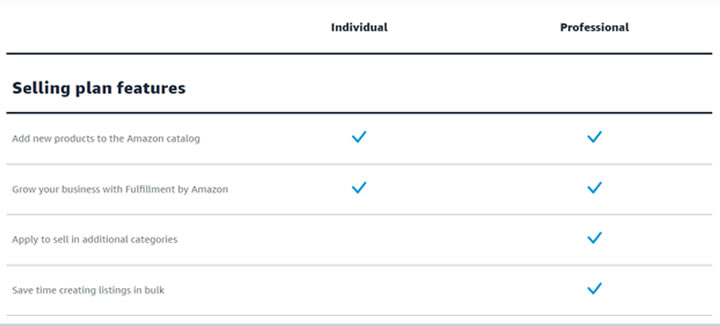 Selling fees. With this model, you can charge vendors when their earnings reach a threshold amount, or for every successful order, they process.
Listing fees. You collect flat or various listing fees (depending on the product's category, price, etc.) from vendors when they list their products for sale in your store.
Know which revenue model works best for you since this will shape your marketing strategies, which ERP system you'll procure, the qualifications of the people you'll hire, etc.
Having a clear understanding of your revenue model can make or break your business. Take the time to solidify your understanding and be committed to the model you chose.
3. Outline necessary marketplace features
Most beginners running a multi-vendor store are better off launching a Minimum Viable Product (MVP), starting with the basic functionalities in place.
Doing so helps you avoid wasting resources on building features users don't need, and as their expectations and requirements from your marketplace become clearer, you can add features as your marketplace grows.
Like how modern physical stores leverage essential amenities such as a computerized cash register, you'll also need to include advanced features for your store, such as social media chatbots to boost your marketing efforts.
Cater to both your vendors and buyers by including these features and functionalities in your multi-vendor store:
Smooth onboarding. Ensure your marketplace offers features that streamline the onboarding process so vendors can join. Set clear terms, include helpful articles, make the sign-up process quick and easy, and provide a way for vendors to efficiently manage and import their product catalog.
Easy navigation and use. 88% of online shoppers are less likely to return to a website after a bad experience which is why you need to provide an intuitive user interface to make logging in, navigating, and performing actions on your store a no-brainer.
Buyers should be able to search products and browse catalogs and categories seamlessly.
Offer an online shopping cart. Include an Add to Cart or Wishlist feature so shoppers can easily go back to items they're not ready to buy yet. This can also benefit vendors since they can send notifications to shoppers who have their products in their carts and entice them to complete the purchase.
For instance, Magento allows configuring the shopping cart to help shoppers retain their carts' contents and modify the display by choosing cross-selling items (among others).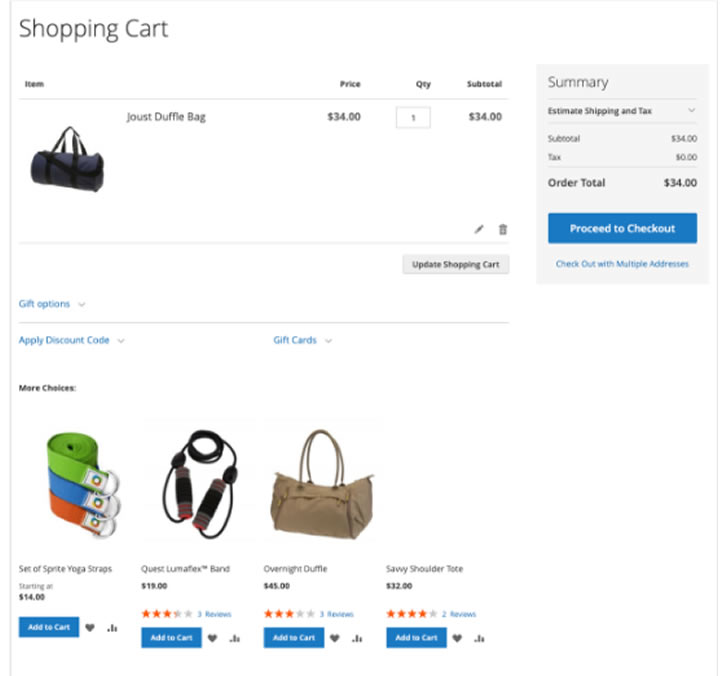 Communication options. Provide features that let buyers send queries to vendors about their orders or leave feedback. This can help improve buyer experiences in your marketplace.
4. Choose the right platform
Choose a platform with built-in and easily customizable eCommerce features but ultimately, find one that will best facilitate running your multi-vendor store.
For instance, on-premise or Licensed eCommerce platforms are generally recommended for beginners because they offer more control and flexibility.
However, if you have a limited budget, Software as a Service (SaaS) can be a better option since these are relatively more affordable.
Ensure your chosen platform can help you monitor, control, and manage all that happens on your marketplace. It should also allow you to customize your website's storefront without coding.
Check app integrations, such as eCommerce CRM software, to manage customer relationships efficiently.
5. Find suppliers
To build your inventory, you'll need suppliers.
You would need to convince vendors to list their products on your multi-vendor marketplace, and some of the best ways to do that are offering a compelling message and doing some research.
Research online catalogs, similar marketplaces, professional forums, social accounts, official websites, expos, events, you name it. There are hundreds of places where you can find suppliers.
Some tips to attract vendors to your marketplace include:
Make your value proposition and brand message clear for both sellers and buyers. This makes the benefit that vendors and buyers can get from your marketplace clear, which also helps build trust in your brand.
Establish a vendor acquisition strategy. Your strategy could include creating personas of your ideal vendors. Create vendor profiles to refine your ideal sellers, allowing you to uncover the best approaches to attract them to your store.
Final thoughts
The tips in this guide are just the first steps to launching your multi-vendor store, but they're good starting points to kick start running your marketplace.
With some determination and hard work combined with the right strategies and tools, you'll be on your way to operating a successful online venture.