The origins of dreadlocks have been the subject of debate. There is no clear answer to where they originated from but it is clear that the hairstyle has been around for ages. They have old scriptures and drawings that are showing it. In Geek culture, dreadlocks are shown to be around 3600 BC. In the modern world, there are a lot of products and accessories that can be used to make dreadlocks but in ancient times it was mostly made through natural matting of the hair. The dreadlocks version of the Celtic hairstyle is similar in appearance to the version of the Viking hairstyles.
What Are The Celtic Dreadlocks?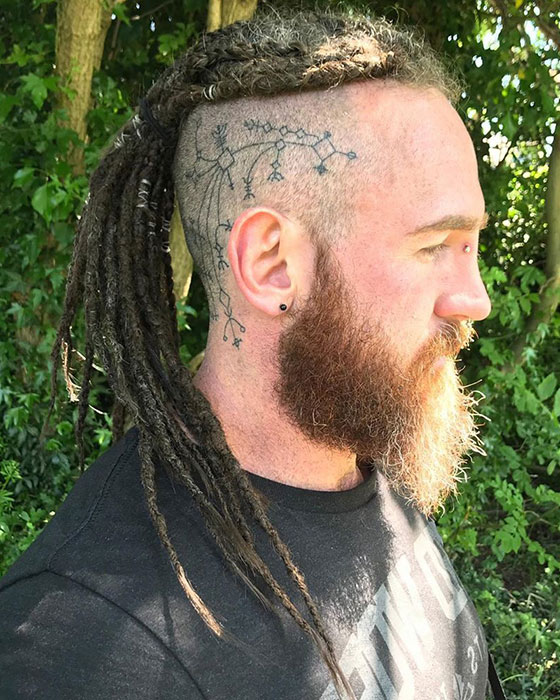 The hairstyle is generally characterized by hair tied up in tight braids and ringlets hanging down on all sides. Bob Marley Lenny Kravitz and Wiz Khalifa are some of the celebrities that wear dreadlocks. The Celtic dreadlocks are a variation from the general dreads style. The term Celts refers to languages and people belonging from the cultures of Scotland, Ireland, Wales, Cornwall, Brittany, and the Isle of Man. The Celts in general have a lot more redheads compared to the Vikings, who were mostly blonde. So in the media, Celtic dreadlocks are often shown with red hair.
How Do You Style It?
Regardless if you have red hair or not, a Celtic dreadlocks hairstyle can work on any hair color, length or texture. Just make sure you have enough time to style it. The good news is that once you have styled your dreadlocks, you will not do it again every day. All you need to do is make sure any loose hair is tucked back in and that your hair is cleaned with a shampoo and conditioner. To style a Celtics dreadlocks hairstyle, follow these steps:
Make sure your hair is clean and dry before you begin.
Section your hair into 1 inch by 1-inch squares and use rubber bands to hold them in position.
Start at the back of your head and backcomb towards your scalp. Try to do small strokes while backcombing to avoid forming loops.
Once you are done backcombing, use rubber bands or pins at the tip and the bottom of each strand of hair.
Add wax to the hair and palm roll it each strand of your hair.
Viking Undercut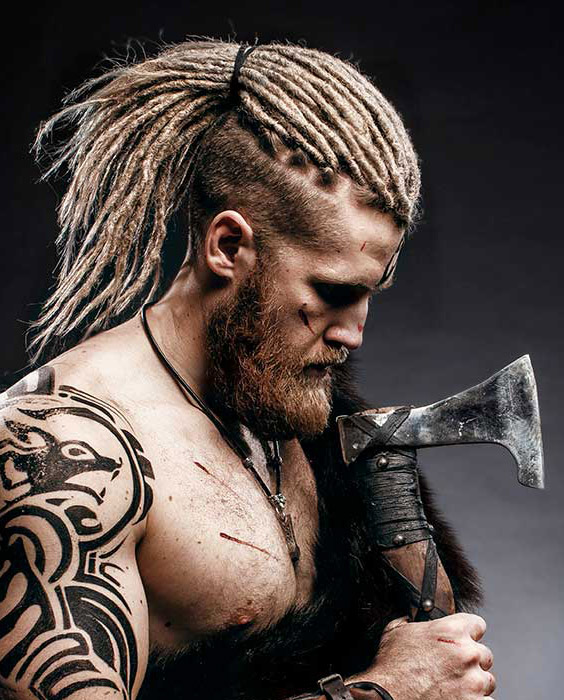 If you have much hair with your temple shave hairstyle, the Viking undercut can make you look better. The hairstyle has long hair at the top with shaved sides and back.
Undercut With Braid
When you have long hair, you have many options to make when styling your hair. This is the same case with the undercut with the Celtic braids. The Celtic braid is always a classy hairstyle. The style involves creating braids from the central part of the head, bringing the ends of the braids together, thereby making them one. This style could be great if you love thick braids that look dramatic.
Undercut With Rows
Want to keep your hair to stay away from your face, but keep it maintained and neat? The best Celtic hairstyle to wear is the Undercut with Rows Hairstyle. You can use Celtic braids to put your hair into several rows. If you cannot use cornrows, then consider fish braids or simple twists.
Faux Hawk Dreadlocks
The faux hawk is for the people who love to have an authentic Celtic look without having a very flashy Celtic haircut. Being a historical Celtic haircut and style, it is very impressive. With the faux hawk, you do not have to shave every hair on your head. The top hair is supposed to be longer, while the sides should be cut. Using styling products, ensure that your hair is at the front, forward and center up. This Celtic hairstyle is always understated.
Short Hairstyle With Tail
The other Celtic hairstyle that you can consider is Short Hairstyle with Tail. A section of the head is left to grow very long like a ponytail while the other part has a very short Celtic haircut. The longer the ponytail, the more impressive the hairstyle becomes. You can have your ponytail braided, plaited, or dreaded forming a fishtail.
Bun Hairstyle
Bun hairstyles can have different styles. You can either pull your hair back, lift it off the face or neck. If you are looking for the best hairstyle for summer, it is the best. It also provides an alternative for a ponytail.
Conclusion
The Celtic dreadlocks might have originated from the ancient world, but they are trending in the modern world. There is a large variety of ways you can wear the dreadlocks version of Celtic hairstyle depending on your hair length, type, and preferences. Once you have them styled, they can be easy to maintain. Just make sure you keep them clean and dry.