Many businesses tend to post on Facebook at least once per day. It may seem like a relatively easy task initially, but trust me, it can be quite challenging. And if you are posting more than once, than it gets even more challenging.
But, what's the big deal with creating Facebook posts? – You might ask.
Well, if we put aside all the work you need to invest in making an engaging post, the biggest problem is undoubtedly a lack of ideas.
It is relatively easy to come up with unique ideas for the first ten posts or so, but you will find yourself running out of great ideas as you keep going. Searching for new and original ideas for your Facebook posts can feel frustrating and requires much time.
Therefore, you should follow the advice of one of the best Social Media Companies in Dubai and have a list of proven Facebook post ideas that can serve as inspiration.
Today is your lucky day, as we have compiled a list of X Facebook Post ideas every business should use within their marketing strategy.
Let's get started!
6 Great Facebook Post Ideas for Your Business
Trending Topics
One of the best ways to improve engagement and increase your reach is to post content related to trending topics. People always want to hear the latest updates about trending topics and are more likely to share your posts and leave comments as well.
For example, the World Health Organization (WHO) regularly post updates on the trending topic in 2020 – COVID-19 situation. Their engagement rate is excellent.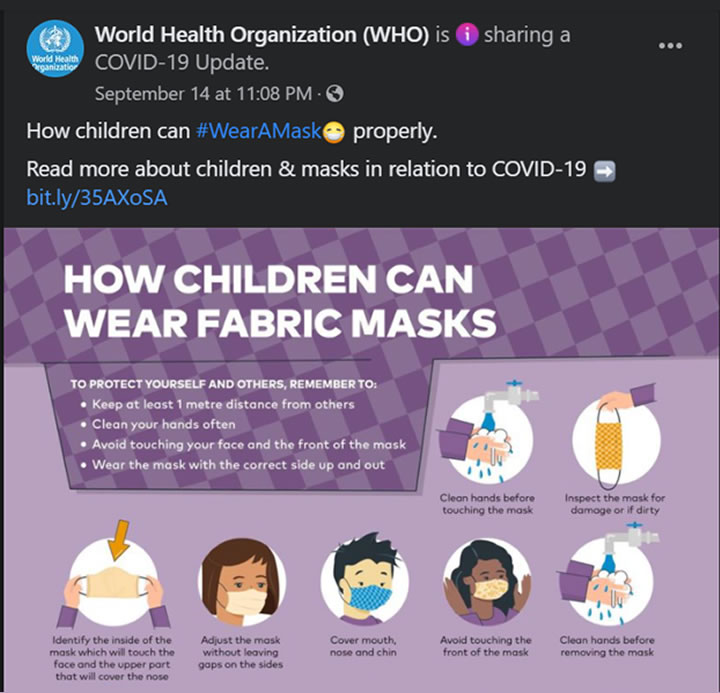 How Children Can Wear Masks – COVID-19 Trending Topic
Great Quotes
Quotes are a great way to fill up your post schedule and give your brand an uplifting appeal. Finding the right quote for your Facebook post should not be hard, as all you have to do is Google "funny quotes," "business quotes," "motivational quotes," etc. and find the one for your post. You can also quote certain experts within your niche!
By using quotes, you will be able to craft content your audience will adore, and experts will appreciate.
The best way to make Facebook posts with quotes is to use the app most Social Media Companies use in 2020 – Canva. It is completely straightforward and easy to use. However, if you are not a Canva fan, there are many alternatives you can try.
Infographics
The saying "a picture is worth a thousand words" can be used to describe the importance of Infographics as a Social Media content. Instead of writing long content that most people will skip reading, create an informational graph or chart to help educate your audience on your niche's latest trends.
Infographics create a high engagement as people like to share them.
Videos
The "Watch" section on Facebook tells us that the platform appreciates when users post videos. Moreover, according to the latest research, video content is the most engaging type of content. It is way easier to watch content rather than read, which is precisely why people love it.
So, be sure to make informational videos, educational videos, or any other video content type and post it regularly. Your audience will appreciate your efforts.
Product Photos
If you are selling products, then, of course, you will want to share your new arrivals with your audience.
There are many ways to promote your products, and it is up to you to choose the one according to your business model. You need a professional photo that you can combine with a copy or write something about the product in the description. It is entirely up to you.
Sometimes it is enough just to change your cover photo instead of creating a whole new post, just like Apple does.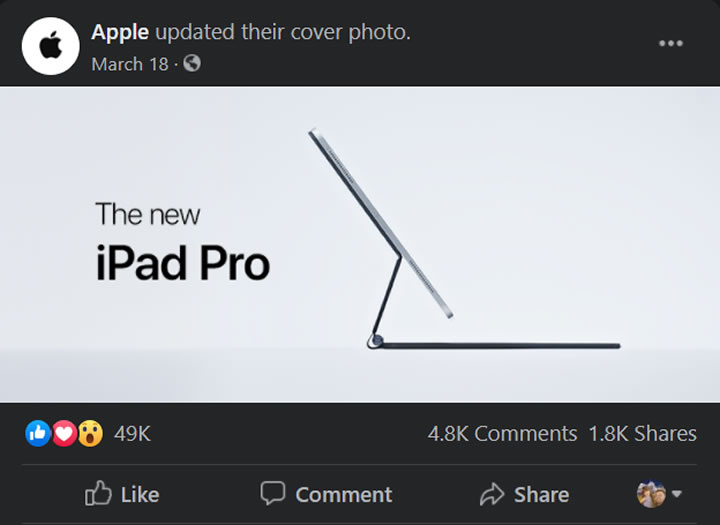 The New iPad Pro
Use Polls
Even though you can only use native Facebook polls in Events or Groups, you can still make a visual with a question and answers to choose from. Ask your audience to reply with their answer, and you have yourself a poll.
After your poll is completed, be sure to thank everyone who commented and engage with as many users as possible. This is how you will get the most engagement out of posting polls.
Another great benefit of using polls is allowing your audience to share their opinions, thus letting them know that their opinions matter.
Conclusion
Having to come up with new Facebook post ideas can be really tough, which is why it is important to have a list of ideas to use when you lack inspiration. Feel free to bookmark this article, and you will always have six great and proven Facebook post ideas at your disposal.
However, if you want to make the most out of your SMM, think about hiring one of the professional Social Media companies.