My, how they've changed! From awkward photos at the beach to ZERO cosmetic surgery: The lives of Australia's top Instagram models BEFORE they had millions of followers
Instagram has been boosting the profiles of low-key Australian celebrities for more than eight years now
But before these fitness models and makeup influencers were famous they posted photos like the rest of us
Bianca Booth, Tammy Hembrow, Kayla Itsines, Pia Muehlenbeck and Shani Grimmond all appear younger
For many of them these photos are the very beginning of their careers online – and before millions of fans
By Matilda Rudd For Daily Mail Australia
Published: 04:10 BST, 20 July 2018 | Updated: 05:12 BST, 17 September 2018
They have a strict uploading schedule, only post images that have been tweaked with Lightroom filters and receive hundreds of thousands of 'likes' on every post they share.
But before these fitness stars, makeup artists and models made it big online they were just like the rest of us – their Instagram history made up of slightly blurred images, awkward candid shots and only a handful of comments.
Here, FEMAIL takes a look back at some of Australia's top influencers and the photos they shared at the very beginning.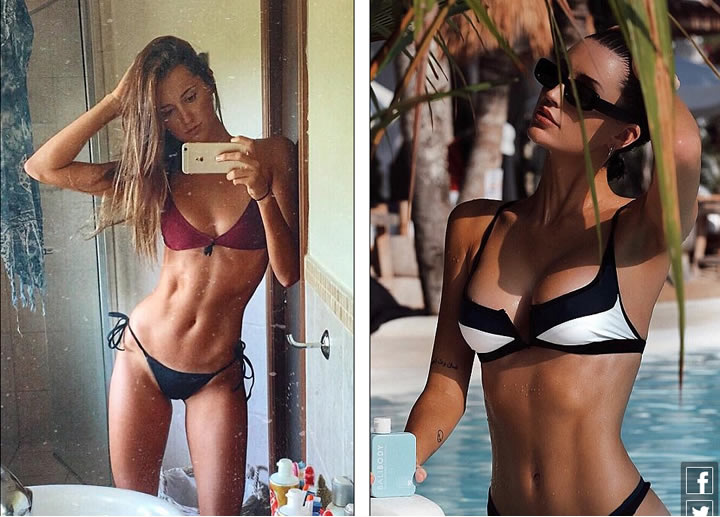 BIANCA BOOTH
Bianca has always been a keen fan of the bikini snap and often posed in her bohemian room alongside sister Alana. The pair have well-honed bodies – which saw them gain the quick attention of followers – but they also exuded a sense of laid back Australian style that got people clicking.
Despite the slightly blurry choice of filter, some of which are fake light exposures, she quickly amassed a long list of female fans who were hoping to get her tips on the perfect ab workout.
Now, Bianca has one million followers on Instagram and jets between Bali and Australia with her photographer boyfriend Rob.
She runs a very successful swimwear company, Two Wolves, with her sister and they regularly shoot campaigns together – all the while flaunting those toned and tanned figures that made them famous.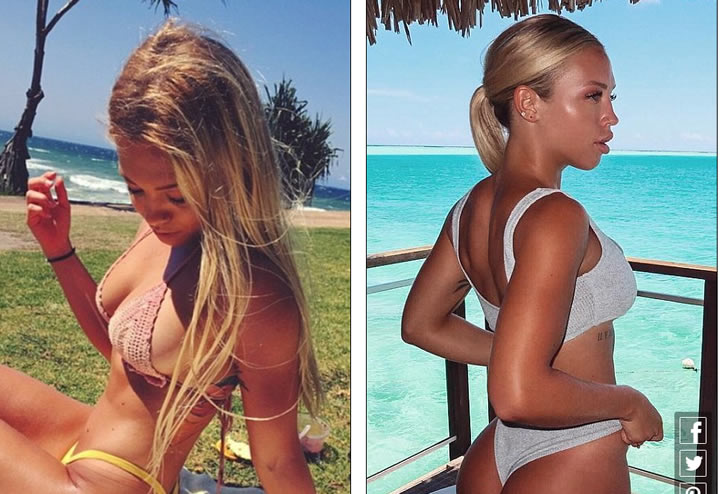 TAMMY HEMBROW
Brisbane-based mother-of-two Tammy was once just a newly pregnant mum to her would-be son Wolf, posting mirror selfies and counting down the days until his birth.
Now 8.5million fans later and the bonafide fitness model runs a booming activewear company named after her daughter, Saskia, runs an app and posts weekly vlogs with her family.
The bombshell has also found worldwide fame after Khloe Kardashian revealed Tammy 'motivated me on my fitness journey for longer than she is probably aware of'.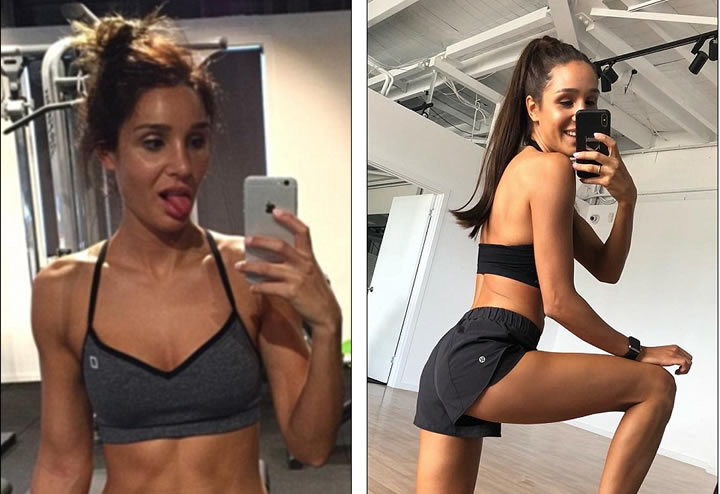 KAYLA ITSINES
The creator of Bikini Body Burn has actually had a very similar style since uploading some of her first Instagram photos – only the background has changed.
Kayla used to pose outside on the grass and now prefers the lengthy mirror in her home gym she shares with fiancé Tobi Pearce.
The fitness mogul is an incredible Australian success story, featuring on the Forbes top influencers list and worth an astonishing $46 million – and she's largely got her 9.9 million followers to thank.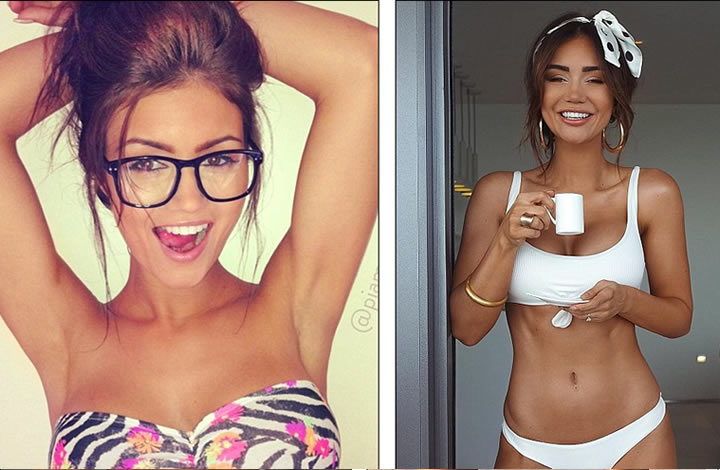 PIA MUEHLENBECK
The bubbly brunette bit the bullet after going viral on Instagram and decided to launch her activewear brand Slinkii in the heat of the moment.
But before that point, and the success that followed, Pia used to pose for bikini shots and copyright her images by writing on them in text.
Now two million followers later she's preparing to marry her number one supporter and fiancé Kane Vato, who has been instrumental in lifting her 'gram game to new heights.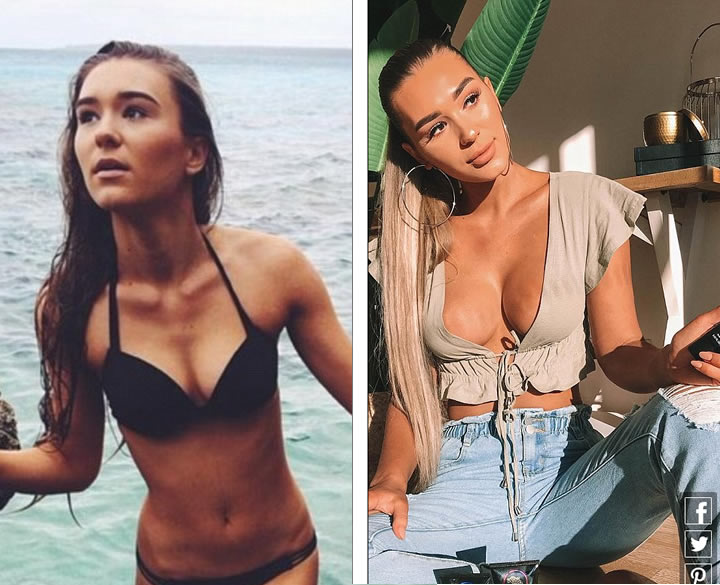 SHANI GRIMMOND
Shani has been very open about her journey through social media – and plastic surgery – in recent years.
But before the 21-year-old had her lips, breasts and teeth done she was just your average Brisbane bikini babe frolicking on the sand with her good friend, Chloe.
Now 1.4 million followers later and the socialite is at the height of her success, often being paid to travel to Bora Bora, the Maldives and the USA to promote iconic makeup brands like Benefit and MAC.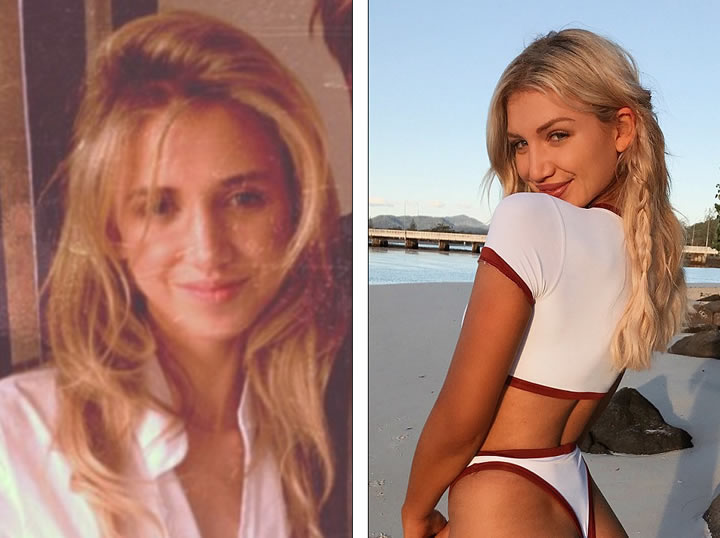 GABRIELLE EPSTEIN
She's the blonde bombshell who flaunts her incredible figure online to the tune of 1.7 million fans.
But the biomedicine student, who recently graduated and now works as a full-time model, used to post photos with industry 'bad boy' Jordan Barrett and apply garish filters to her 'grams.
Needless to say, she has upgraded her camera since that time and now only posts the crispest of images.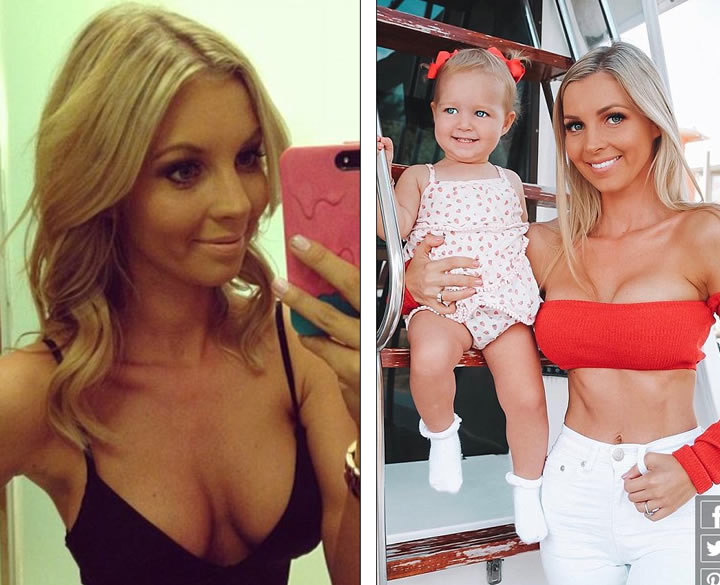 HANNAH POLITES
The Gold Coast-based mother loved a mirror selfie before she ever gave birth – and continued that trend well into her years of parenthood.
But with 1.3 million followers now the practising midwife has much clearer (and better tanned) photos to display.
She occasionally uploads before and after images of her body to convey exactly how much muscle she has gained over time – which inspires many of her female fans.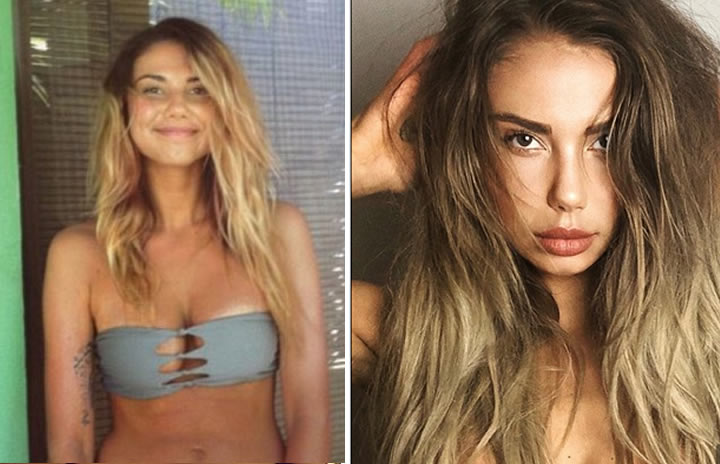 SAHARA RAY
She's no stranger to baring her body online but the rumoured ex-girlfriend of Justin Bieber used to give off a far more innocent vibe online.
Older snaps of the model show off a more casual, beachy persona, with snaps from 2012 and 2013 showing the 25-year-old posing with a surfboard and participating in photoshoots for little-known companies.
Now, 1.3million followers later, the bombshell is known for her racy topless photos and suggestive boho photoshoots.
She is also a swimwear designer and founded Sahara Ray Swim.