Today, everyone's gone mad about creating websites and claim that modern site builders are the excellent way to create one.
In fact, that's true: this is a perfect opportunity to make create a site having no web-design and coding skills… BUT, are all site builders really the easiest way to make a site?
Let's find it out.
1.  Intro
To analyze today's competitive solutions, we will compare several market giants with young site builders.
We will consider the most significant shortcomings of large platforms (that, actually prevent from considering them the ideal solutions for beginners) and find out how small competing platforms can help you (based on the example of progressive, thought-out Weblium website builder).

Thus, we will be able to understand whether it's worth overpaying for a brand name and find the best effective solution for a beginner.
We have to note that there are no universal solutions – you need to choose a platform according to your needs!
2.  Tilda
Tilda website builder allows thousands of people to create remarkable and easy-to-manage sites – online stores, LPs, and special projects without writing a single line of code.
But still, Tilda has some disadvantages:
Expensiveness: you have to pay $10/month (with annual payment) for a personal plan that will allow you to make only 1 website (Weblium allows to create up to three simple but efficient sites for small business for absolutely free, and the Pro plan costs only $8.25 per month).
For getting a good result, you're required to have some web design skills (you don't have to worry when building your resource with Weblium – the developers have done all the work for you!
All Weblium templates are created on the basis of a deep niche study and contain all the pages and elements necessary for a certain type of site. Weblium developers strictly follow the most relevant web-design trends. Built-in AI will ensure that you do not make mistakes when modifying the design of the chosen template).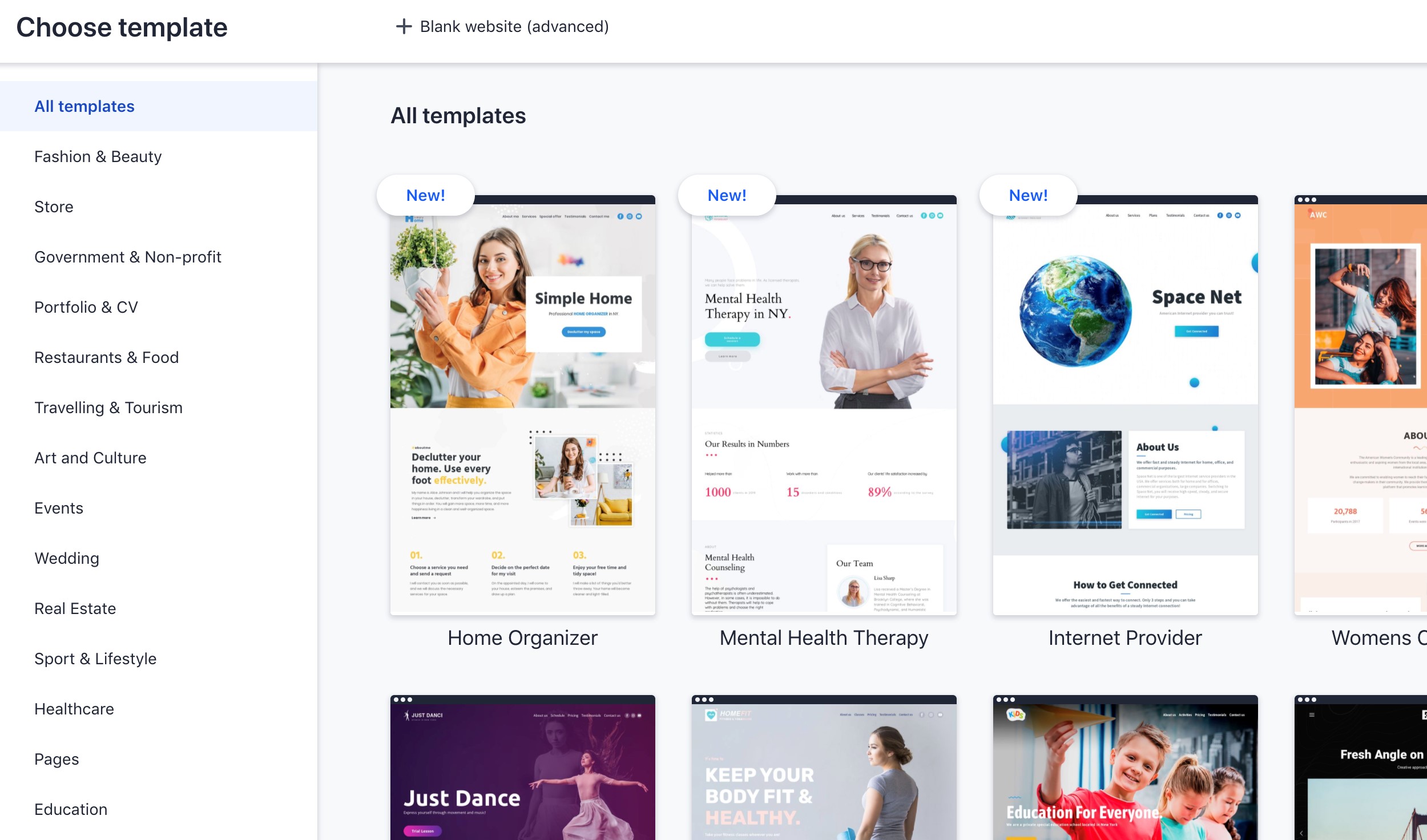 Significant free plan limitations: only 1 website with 50 pages and 50 MB of server space are available (Weblium offers unlimited storage space & website bandwidth even with the free plan).
Difficulties of transferring a site to another hosting.
Your website's data is deleted completely six months after the moment your subscription ends.
3.  Wix
Wix is an extremely popular platform that is best suited for creating various kinds of highly-functional sites with a complex design: portfolios for artists, full-fledged business websites or simple brochure sites, promo pages, or landing pages.
Versatility, great choice of various features, AI, optimization for mobiles – these are just a few advantages of the site builder.
But Wix has flaws that may become an issue for beginners:
Connecting a custom domain is available only with the paid plans (with Weblium, a custom domain is available with a subscription).
The beginners may find it hard figuring out the admin panel that is functionally overloaded, you just need to get used to it (the simple Weblium editor is designed specifically for beginners and helps you concentrate attention on building your perfect site without wasting your time on figuring out how the editor works).
Telephone customer service supports only English-, Spanish- and Portuguese-speaking users (Weblium is famous for its perfect 24/7 any channel support).
You have to pay extra money for connecting a Gmail mailbox with your address.
Starter plan has some serious limitations: the storage space is up to 500 MB, the site's performance is limited to 10 GB, there are site load speed limitations, connecting your own domain and integrating Google Analytics isn't available (Weblium offers unlimited storage space, direct integration with Google Analytics, Tag Manager and Hotjar even with the free plan, all sites load quickly by default (90-100 on Google Page insights).
When changing the template, you'll have to re-arrange your content.
Using the free plan, your website's name will be too long.
4.  Jimdo
Jimdo is a well-known German platform with a convenient interface. It's a good option for creating brochure sites, blogs, and online stores. Jimdo is the perfect choice for small business entrepreneurs.
But a few drawbacks affect the comfort of using Jimdo:
Previewing templates is quite inconvenient (Weblium editor offers a very convenient preview).
Editing the smallest elements is also inconvenient (Weblium offers the most convenient editor suitable for making any changes to design to fit your needs).
Integrating your own template is relatively complex.
You may face some serious limitations when working with graphic elements.
Blocks of basic templates are fixed to a specific location on the page.
5.  Squarespace
Squarespace is a simple and amazingly designed site builder that offers amazing features that will suit the widest user audience. However, it is focused on creating online stores.
Squarespace also has several cons:
There is no a free plan (Weblium offers a lot of exclusive benefits with the free plan; one of them is that your freshly-made site starts to attract new customers right after it has been launched).
There are some limitations for adding the custom code.
The options for editing templates may be very difficult for beginners (Weblium made it extremely simple for beginners to use its advanced design customization features).
6.  GoDaddy
GoDaddy helps to create pro websites as quickly as possible. Many customers note responsive customer service and the simplicity of working with the platform.
However, due to the fact that GoDaddy mainly provides hosting services, it has several disadvantages:
The technical support is not very competent.
The site interface is inconvenient.
The plans offer fairly standard features without significant competitive advantages (Weblium offers a bunch of competitive advantages even with the free plan – thought-out professional templates with a trendy design to attract customers, the editor that is extremely convenient for novices, the advanced design customization features, SSL protection, Google Cloud hosting and domain for free, etc.).
There is no drop-down menu feature.
This comparison shows that Weblium, a young site builder, offers in many cases much more features, a higher level of convenience, and fewer limitations than many large site builders.
Of course, it will be hard to create a large corporate website using the free pricing plan. Nonetheless, if you need a simple but effective site for your small business that will start attracting customers right away, you should try Weblium and enjoy the inexpensive solution with many advanced features, amazing convenience, and a lot of benefits for free!