With the development of social productivity, we can buy more and more products. Children's products are no exception. When we are faced with a wide range of children's products Especially When you want to Wholesale Baby Clothing, it is difficult to find out what is really valuable for our children. From children's tableware to children's furniture, is there anything that is worth buying? With such doubts in mind, let's study the practicality of these children's products together.
Is a baby carrier worth buying?
It is worth buying. Baby carriers as a lightweight tool for carrying children, can free our hands. It is very portable and space-saving. However, we must choose carefully when buying baby carriers and pay attention to how they are used.
Common baby carriers with three types: straps, waist stool, back towel. (Pictures in order from left to right)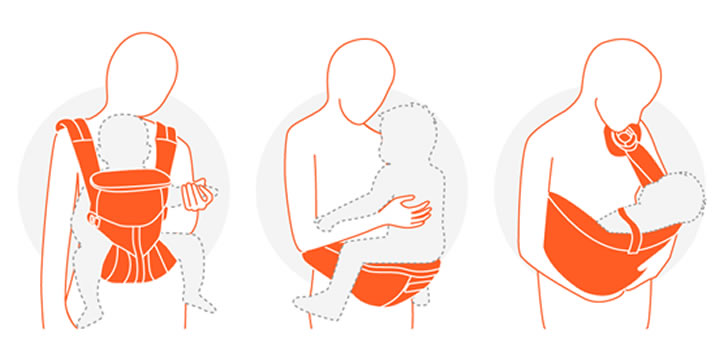 If you buy a carrier style, pay attention to the seat part can not be too narrow. Choose a carrier style that can support the baby's inner thighs as far as possible to avoid affecting the development of the child's hip joint. Look carefully at the following pictures, you can choose the right style?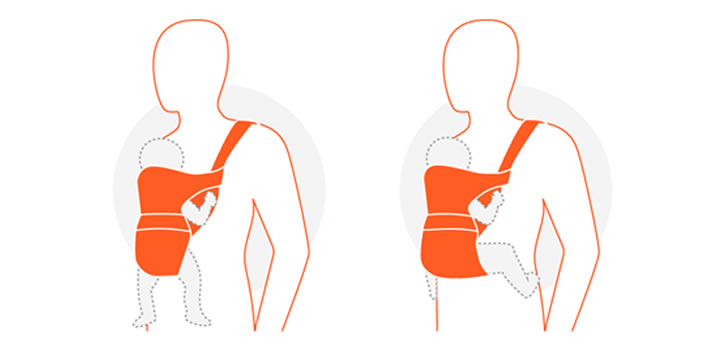 (The right picture is recommended to buy!)
If you buy a waist stool, it is recommended to buy a style with a protective carrier design. This design can support the baby's neck, spine and lumbar spine, so that the baby does not twist and fall. Look carefully at the picture below, you can choose the right style?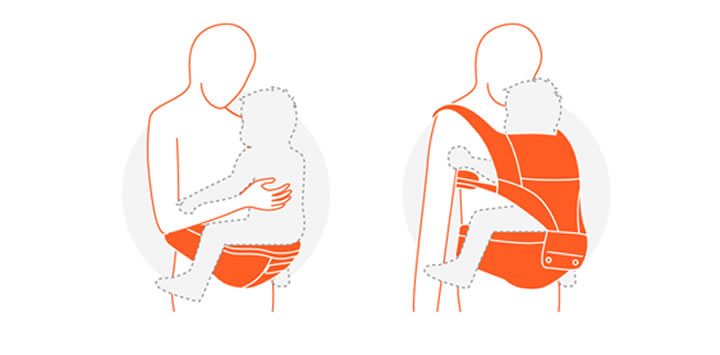 (The right picture is recommended to buy!)
The back towel is relatively the least recommended. It requires more of a wrapping method and is more difficult to provide cervical support. When using this back towel baby carrier, be sure to expose the baby's mouth and nose to avoid suffocation. Look carefully at the following pictures, you can choose the right style?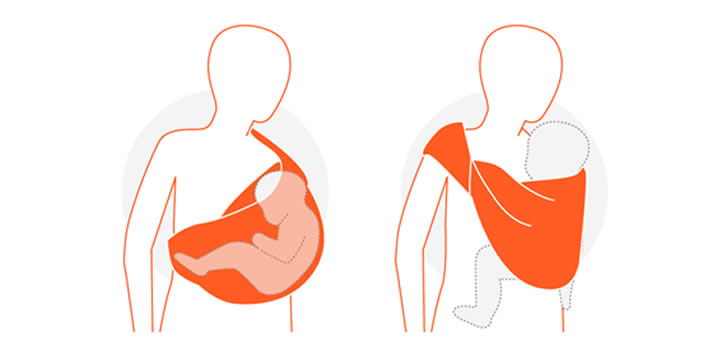 (The picture on the right is recommended for purchase!)
In terms of specific use, these baby carriers have some common considerations.
Can not be tied too loose. Otherwise, it is easy to fall, sprain and cause danger.
Can not be tied too tight. This will cause the baby to breathe poorly. Always keep an eye on the baby's mouth and nose to avoid choking (especially with the back towel!).
Do not let the baby's head always tilted to the side. According to the American Academy of Pediatrics, babies' heads tend to tilt to one side in the carrier. This is detrimental to the development of the child's neck and spine, and may cause a "deviated head".
Do not use for a long time. Avoid using the baby carrier continuously for more than 2 hours.
Pay attention to the product instructions prompted by the applicable weight. At least 4 months of age before using the carrier.
Adults should be extra careful when eating, bending over, and playing with the phone. Avoid your baby being burned, sprained, slipped, or encountering other accidents
Are children's sunglasses worth buying?
It is worth buying as same as Trendy kids wholesale clothing in my mind. Compared to adults, children's lenses are more transparent and their retinas receive more UV light, so they need extra protection. While proper light exposure is important for your child's vision development, sunglasses only block UV rays and some visible light, and do not cancel out the benefits of sunlight. Therefore, it is necessary to give your baby a quality sunglass that can block UV rays in the hot sun.
Regarding sunglasses, the American Academy of Pediatrics recommends that:
For babies under 6 months of age: Avoid going out during strong UV hours and shield kids from direct sunlight through a tree, umbrella, wide-brimmed hat or stroller canopy
For babies over 6 months of age: In addition to a sun hat, they need to wear sunglasses with at least 99% UV protection when they go out.
There are several key points in choosing and purchasing children's sunglasses.
Professional: with UV400 mark or 99% UV protection (preferably 100%).
Clear: light transmission rate between 8% and 18%. It blocks UV rays and maintains good clarity at the same time.
Comfortable: the right size is the basis of the baby does not resist wearing. If conditions allow, it is best to try it on site.
Safe and durable: the lens is best to choose a drop-proof, impact-resistant materials, such as high-quality polycarbonate. The frame is best bendable, foldable and non-deformable, such as thermoplastic polyester elastic material.
Every children's product on the market is worth buying? This will require careful identification by parents to reach a conclusion. If you are a wholesale childrens clothing distributor and you have a need for wholesale kids clothes, welcome to shop at prettykid.