If you have an adventurous spirit and cannot live without travel, a world map is probably the best decorative solution for your house. There are a great variety of different styles and designs, but the black and white color combination works the best. It is a minimalist choice that will suit any apartment and interior style. It is also a wonderful choice for those who like to add a refreshing decoration that is not only beautiful but functional. Nice idea to add a superb accent to a blank wall or keep the place simple and stylish.
But what to choose – there are so many choices up there. This article will guide you and show some of the most popular and trendy pieces. We will give some cool ideas, point the advantages and disadvantages.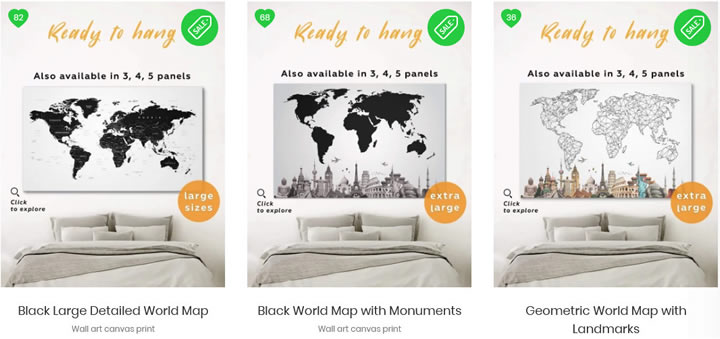 Detailed B&W Map
If you are the kind of traveler who enjoys the results of the travels, you may get a highly detailed map that depicts the whole world in a beautiful way. This is a stylish decision that allows you to mark your travels and experiences. Just by sticking the pins, you may mark favorite places, cities, and countries you've visited or want to visit.
Such decoration is a real conversation starter and ice breaker. It will make your guests talk hours and hours about their own travel experiences or dreams and plans.
Decorations may be personalized. It is a cool option that will give you the possibility to add city names, change legend, color palette, and add something that evokes warm memories from the past. Personalized items add comfort and coziness to any interior. Customization works well in cases when you want to present dearest and nearest a unique piece of art.
Although, you must be careful if you have children. Pins are small and sometimes they are not that easy to notice.
Abstract pieces
If you're more of a person who doesn't like the visual noise, you could get an abstract world map that has the outlines or silhouette of the world. Artwork like that will create a creative and charming atmosphere in your space. It is an easy way to make an instant change without efforts and hours of redesigning planning.
Abstract decoration would be an effective piece in any interior. It is a superb addition to a living room, bedroom or lounge. Suits perfectly an office, hallway, or even a travel agency office. You can check interesting and fresh designs of such by visiting the TexelPrintArt website (here) that offers a bunch of stylish ones. Geometric, abstract, and even detailed and unusual arts are waiting for you to take a look at them.
Mind the Number of Panels
We all already know that there is an immense number of wonderful designs. But what if you think outside the box and pay attention to the decorations that are unusual in their shape. Multi panels décor – black & white canvas prints have gained popularity during the past years and it still remains an adorable solution for different spaces.
You can get a stylish black and white decoration that stretches on three, four, or five panels. Such a cool decision allows you to experiment with your place and get the desired results at once. For small rooms, 3 pieces would be enough, but for the spacious rooms, oversized 5 panels would look just awesome.
Advantages of having Canvas Art
Canvas wall decoration is an art that will serve for years to come. It is reliable and will please the eye for decades. TexelPrintArt uses only high-quality materials: premium canvas and bright colors that will not fade with time. Besides, the structure of the artwork is solid: canvas is stretched over a wooden frame that is a base.
Prints look very realistic: thanks to the thousands of colors and hues, your decoration will impress guests and family members any time they see your art.