Everyone requires email communication in their personal and professional lives. Because every business has a large amount of data stored in its database, exporting and backing up mailboxes from a Microsoft Exchange server is a critical task. Organizations may find themselves in hot water if data is lost during the export process.
In situations where a critical upgrade has to be patched, Exchange servers frequently experience downtimes. Other common causes of Exchange server inaccessibility include EDB corruption, ransomware threats, corruption of database log files, Exchange database mounting issues among others.
Finally, Exchange Administrators are in charge of exporting or backing up the data contents of employee mailboxes. In such a situation you can use EdbMails EDB to PST converter tool to recover and export the mailboxes to PST files.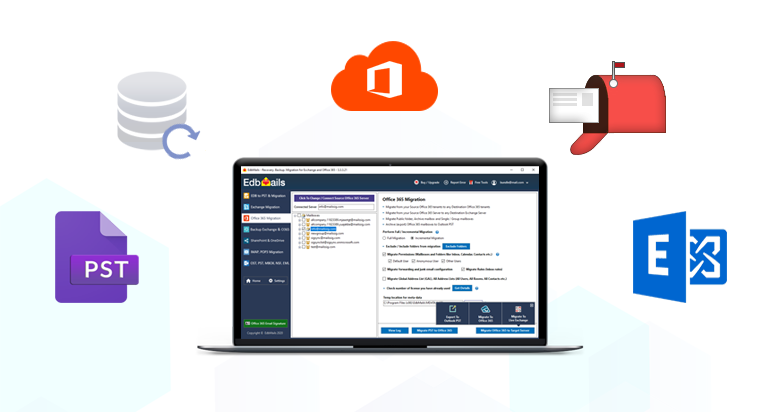 Prerequisites for the Exchange mailbox export process
While there are several ways to export Exchange EDB files to.PST files, the most common methods are to perform the process manually using PowerShell commands or to use the more reliable and automated method of export using EdbMails EDB to PST converters. Let's take a closer look at each method.
PowerShell Command using Export-Mailbox to PST
PowerShell is a Microsoft.NET framework that includes a command-line shell and scripting level commands. Export-Mailbox is the simplest and most basic cmdlet for exporting an Exchange mailbox to a PST file.
Navigate up to the set destination to validate that the EDB files were successfully exported to PST files. When it comes to exporting mailboxes with certain folders excluded or included or filtering mailbox content based on the content types like dates or keywords, PowerShell commands come in handy.
Limitations of using the PowerShell Commands
PowerShell commands are inaccessible to the layperson since they necessitate technical knowledge and expertise. With the aforementioned, one must exercise extreme caution because even small errors during the execution can result in complete data deletions.
It's also worth noting that PowerShell commands take a long time to run and only export healthy EDB files, leaving out corrupted EDB data files. When it comes to exporting offline, encrypted, or password-protected EDB files, PowerShell commands fail to lend a helping hand. Not to mention that the procedure necessitates a significant amount of storage space as well.
Use EdbMails EDB to PST converter instead of complex commands
Because the above-mentioned approach of using cmdlets may appear technical to some, the more simple (GUI-enabled) and reliable method are to utilize a professional EdbMails EDB to PST converter application. This technique is one of the most capable methods of ensuring a smooth and seamless conversion to PST.
The PST file can then be imported directly into Microsoft Outlook for quick access. Furthermore, EdbMails can be used to directly migrate EDB file contents to live Exchange or Office 365.
The approach retrieves and converts all mailbox data from offline EDB files, and archive mailboxes, including emails, contacts, and notes. Another advantage of using EdbMails EDB to PST converter is that it recovers unintentionally deleted Exchange mailboxes.
Furthermore, EdbMails EDB to PST converter also works with Exchange server versions 2003, 2007, 2010, 2013, 2016, and 2019 which is quite practical for users planning to upgrade their Exchange.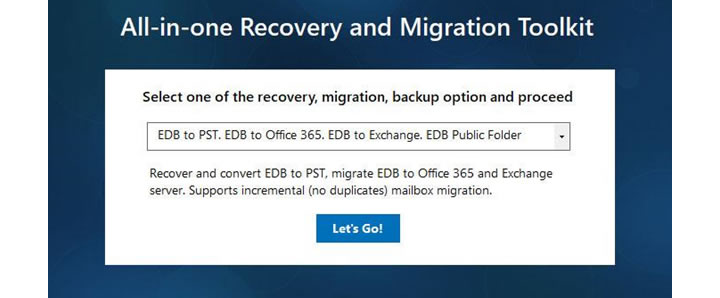 You can download EdbMails EDB to PST converter from the below link for free:
https://www.edbmails.com/pages/download.html
EdbMails: Value for money, highly secured, and advanced features
EdbMails is one of the best services for Exchange and Microsoft 365 recovery and migrations because of its state of the art features, high-security, and cost-effective pricing plans, among other factors. It includes a free live on-demand software demo, free 24/7 technical assistance, and discount offers of more than 75% with a lifetime license.
Conclusion
There is no arguing that using PowerShell to export EDB files to PSTs appears to be a terrific solution, but is also saddled with significant restrictions. There is no hassle-free manual EDB to PST conversion method which has one tool that serves it all.
PowerShell commands should not be tampered with unless you have hands-on technical experience and thoroughly understand what you're getting yourself into. The process is not only time-consuming, but it also takes its own time. When it comes to making key business decisions, simplicity and ease of use are the way to go.
So, is an Exchange EDB mailbox export using PowerShell commands worth a company's money, time, and attention? We believe otherwise. When there are several 3rd party export solutions available, EdbMails EDB to PST converter appears to be the simplest and most reliable method for mailbox conversion to PST or direct Exchange migration to on-premises or Office 365.