The Goods: How to Pack for a Russian Train Voyage
A train trip through Russia can become an incredible memory among your international travels. Trains abound in Russia and the system is relatively easy to navigate. However, a Russian train voyage is more likely to go well if you inform yourself beforehand and pack proactively.
While it would be nice to pick up souvenirs and reading material along the way, Russian trains typically only stop for fifteen minutes. A quick-footed traveler might be able to purchase a pie from a babushka in a fifteen-minute stop.
However, if your to-buy list is ten items long, you'll likely be out of luck. Luckily, making friends share with on a long train ride in Russia is not difficult. Be sure to pack a little extra food to share or trade, and entertaining items like cards to play with new Russian friends.
Our advice is to travel light and well. Packing fewer clothes to wear on the train is easy because train carriages can reach +25c.
Russians love warmth indoors and trains deliver this comfort. Wearing casual shorts and T-shirts is fine. Just know that hygiene-conscious Russians will eye with suspicion those appearing in the same clothes and shoes they wore outside the train.
Overall, use common airplane regulations to guide your packing limits. Keep your luggage to two large suitcases per person, plus a small bag for food and other loose essentials. Remember, limit small bags that can easily be lost or picked up.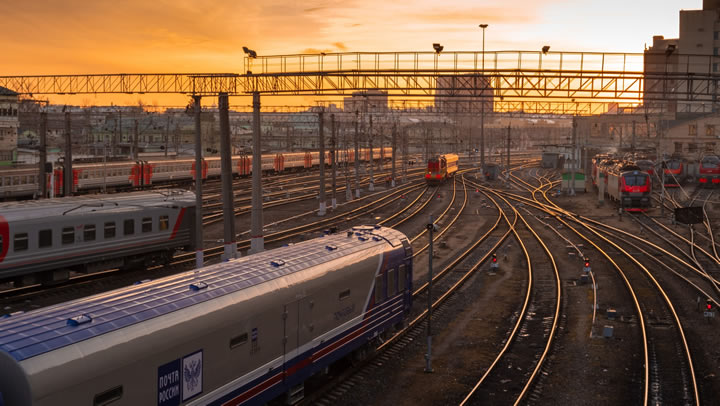 Customize Your Environment and Plan to Have Fun!
While we're considering items to pack, don't forget about personal needs when sharing a cabin, unless you plan to purchase an entire cabin. Eye masks, earplugs, and a reading light can alleviate sleep-schedule congruence challenges with neighbors. And beware, in Platzkart there is only 1 light switch.
Speaking of reading, you'll want to take into consideration that wifi and cell connections might be spotty when packing. Bring some twentieth-century items like books, magazines, puzzles, cards, and art supplies. As far as bed linens, Russian train attendants have sleeper train passengers covered for $3-5 per set.
In planning for a great Russian train trip, the cuisine is one aspect in which it helps to be proactive. Although certainly edible, you'll find that Russians don't rely on the food provided. Go BYO for a more varied diet.
Since potable water to boil is available, supplement with noodles, macaroni, oatmeal, and other instant treats. Try for an authentic Russian experience by packing dried pretzels, caramels, and black tea with thyme.
Complete your Russian food experience with dried apple rings, halva, and rye bread. Re-usable cutlery and dishes are a wise idea too.
Staying up to Russian Hygiene Standards
If you really need a shower, a VIP first-class ticket is the only way to go. Luckily, sometimes there is a shower on one of the carriages although it isn't readily obvious. Once you board, ask the conductor if there is one to plan your hygiene moves accordingly.
Bring sanitizer, a washcloth, baby wipes, face wipes, and soft toilet paper in addition to a standard toiletry kit. These will all help in the event of sub-par or overused bathrooms (water closets) too.
Remember that some toilets might be simple holes in the floor, therefore trains close lavatories for an hour and a half before approaching major stops for example on the Moscow to St. Petersburg train route.
The Logistics: Russian Train Stations and the Boarding Process
Normally, Russian trains board forty minutes before departure. Allow plenty of time in bigger cities, like at the Moscow railway station (https://www.russianrail.com/train-stations-in-moscow).
When consulting a departure timetable (отправление), know that the train numbers, departure times and platform numbers (л-left side, п-right side) will be displayed.
Try to board early to claim the bed you want. Also, in case your cabin company seems odd or unsavory, you can ask to switch cabins. Cabins are gender-neutral.
Look at the first or last window of each car to find the train numbers. Your passport and tickets will be taken by a welcoming conductor at either end of the carriage. Your ticket may be ripped, stamped, scanned, or severed.
Be sure to keep proof of your ticket with you for the duration of the trip. In fact, keep it for a week afterward in case you need to make a claim.
Boarding Complete! Now what?
When the train stops, do not stray far in case of a sudden departure. This is important advice when a train is behind schedule. Also, for safety reasons, always keep your Russian train ticket, travel documents, and money with you so that a petty thief can do minimal damage.
Finally, an hour before you arrive at your destination, there is usually an announcement (though it may be quiet or not in English). The conductor will reclaim bedding and teacups. Be ready to pack up everything else thirty minutes before arrival.
With the great standards of Russian railways, most prepared travelers enjoy pleasant journeys. With preparation and the knowledge above, you can focus on befriending Russians, learning more Russian, diving into old hobbies, and enjoying the Russian land and cityscapes.