Leipzig Zoo is a great destination for tourists of all ages. This Zoo is considered the main children's attraction in Leipzig, but it will be interesting not only for young travellers but also for adults.
Zoo Leipzig tickets can be purchased online. There are a few websites that sell them online. You can also purchase it at the ticket office when you arrive. If you plan to go with groups, reserve your tickets in advance.
This is the third-largest zoo in Europe. It traces its history back to 1878. From the earliest days, Leipzig Zoo has been distinguished by cutting-edge animal husbandry technology. There are no monstrous cages with sad inhabitants here.
In the beginning, the Leipzig Zoo was just a private zoo at a restaurant, which was opened by Ernst Pinkert. Thanks to the small zoo, the restaurant was always full of visitors, and Pinkert quickly realized that the zoo was a great feature of the establishment.
In 1883 the zoo expanded to cover an area of ​​3 hectares. At first, there was only an aquarium and a terrarium, later elephants, bears and monkeys settled. Gradually, the Leipzig Zoo became bigger and bigger and, of course, acquired a completely different status. Now it is a huge area of ​​26 hectares.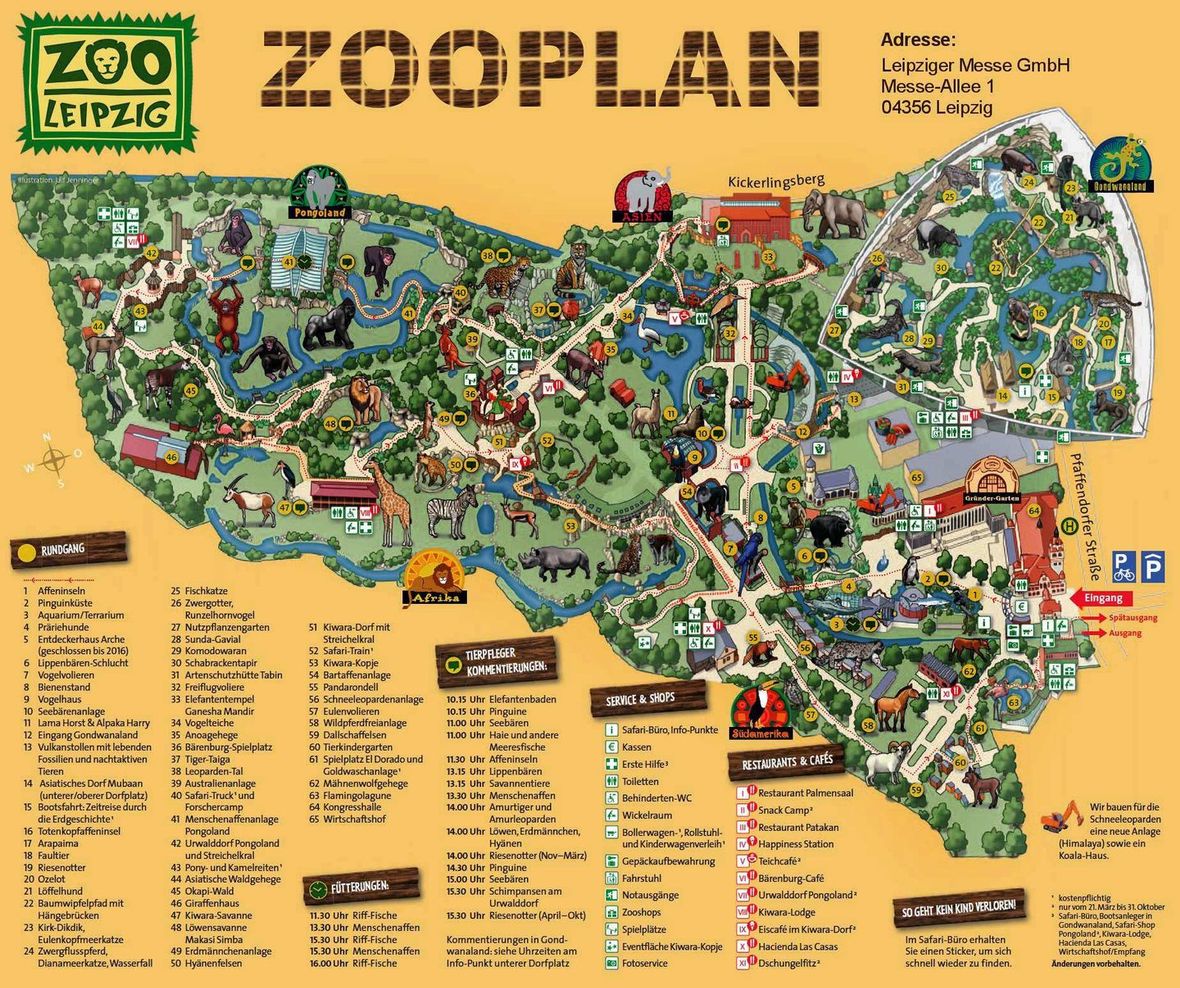 From the earliest days, Leipzig Zoo has been distinguished by cutting-edge animal husbandry technology. There are no monstrous cells with sad inhabitants here. All animals walk free and feel great.
Aviaries are fenced with special moats and glass walls – visitors can feel the unity with nature, and animals do not notice these barriers at all. The entire zoo is divided into thematic zones: "Africa", "Asia" and "South America".
In total, there are 850 animal species in Leipzig Zoo – about 10 thousand mammals, birds, fish and reptiles. It is here that the largest aquarium in Europe is located – visitors can see more than 2500 fish of 388 species. In addition, there is one of the world's largest primate nurseries – "Pongoland".
If you want to learn about the history of the creation of the Leipzig Zoo, then the Grunde Garten is worth a visit. On its territory is the house of the former director of the zoo, Ernst Pinkert, which is now a safari bureau and a zoo school.
Shows and performances are organized for young visitors during the holidays. In addition, it will be interesting for both children and adults to ride on special small carriages that ply around the zoo.
Many visitors like the so-called African village – unusual cafes located in special huts. Tourists can taste dishes from different places of the world.
Leipzig Zoo boasts a lush tropical garden called "Gondwanaland". These are two football fields in size. In addition to the huge number of animals that live in this area, you can see 17 thousand tropical plants here.
Leipzig Zoo is one of the most visited attractions in the city. Not only tourists come here, but also many locals. About 2 million people visit the zoo every year.
Please be aware that strict regulations apply at Leipzig Zoo. Here you cannot ride bicycles and skateboards, feed animals, attract the attention of animals – it is forbidden to knock on glasses, shout, throw objects.
Children under 7 years old can enter the zoo only when accompanied by adults. Pets are not allowed in the zoo.