Over the last few years, medical clothing has changed a lot. Nowadays, medical wear should be not only comfortable and practical but also have a trending silhouette and be visually pleasing. When a person is spending 12-hour shifts in a set of medical scrubs, it's important to look like a million dollars.
As a result, now basic labcoats are embellished with eye-catching elements, and typical white suits are replaced by vivid and spectacular designs with printing or custom embroidery. What is more, medical hats became multicolored, and medical hoodies and raglans appeared in addition to classic suits and scrubs.
Fashion and medical wear
Manufacturers of medical uniforms offer a huge range of medical clothing. Designers think through the smallest details, keep up to date and create comfortable and stylish outfits for all healthcare workers.
5 leading trends in a medical fashion
Fabric with images of animals, hearts, flowers, teeth, lips, eyes, or cute abstractions.
Contrasting finish and interesting accessories (splendid piping, textured trimming of sleeves and edges, and wide belts).
Embroidery (customization or thematic sketches).
Shortened jackets with an unconventional silhouette (with cuts, drapery, or yokes)
Unusual shapes of collars or pockets and special attention to garment accessories.
Belyi Halat — a Ukrainian manufacturer that offers stylish medical wear
The main goal of the brand is to create medical wear that meets all the requirements of the healthcare industry and at the same time does not look like a boring uniform. Modern, colorful, comfortable, and hardwearing scrubs fully reflect the essence of the medical profession and emphasize personal style.
Brand's wear does not have any fancy or extravagant elements that can distract health workers from work. The scrubs are simple, functional, laconic, and stylish. Special attention is paid to fabric and several stages of testing: wear's convenience, durability, and tactility, whether it constricts the doctor's moves, and how it looks after washing and ironing.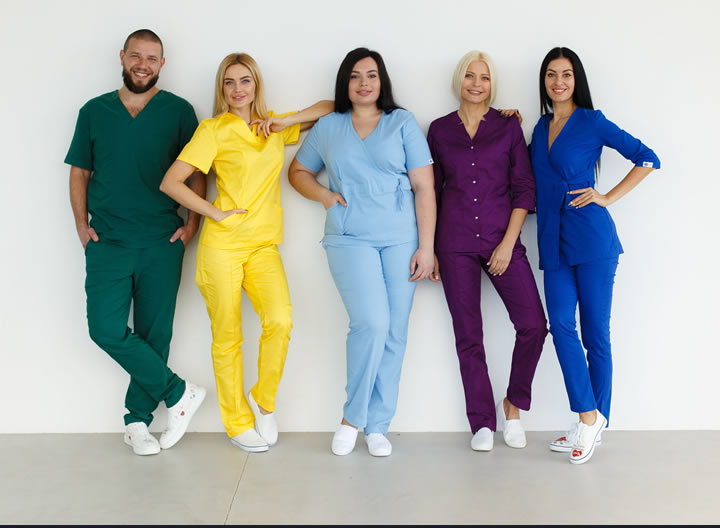 Belyi Halat keeps an eye on fashion and offers new collections every season. Collections have a vivid color palette and a wide range of sizes (40-54). In addition, there are models with exclusive printing and an opportunity to embellish clothes with custom embroidery or a unique handmade drawing.
A client can provide his sketch or use a variant offered by a manager. That is why medical wear by Belyi Halat is a choice of doctors in public hospitals, beauty and spa centers, private healthcare facilities, and speakers of specialized conferences.
A diversity of models, compliance with current fashion trends, and the ability to personalize a scrub or suit allow each client to choose a perfect uniform that will provide comfort and confidence during work.
What is more, managers will help each client to find the perfect style and fit for his or her body type. With recommendations for sizing, fabric, fit and more, Belyi Halat makes sure that clients know everything there is to know about hospital scrubs before they make that final decision.