Bell and Ross are Swiss watchmakers and counted as one of the top-rated finest watchmakers. Manufacturing of timepieces at  Bell and Ross is done after analyzing the extreme situation where a tool needed to withstand high temperatures, undergo violent accelerations and resist pressure at a dangerous level.
So to make sure the production of utilitarian watches that can withstand these extreme situations and can be fulfilled the requirement of professionals as Bell and Ross has a big part of its history contributed to the military. Whether the user of the watch is a police officer or a diver, the watch is manufactured to be long-lasting with its elegant look. The company followed a motto that the compromise is not done on the part of superfluous when the essential is needed.
Bell and Ross has been manufacturing wristwatches for years. It has a function of diverse design based on legibility, precision, functionality, and reliability.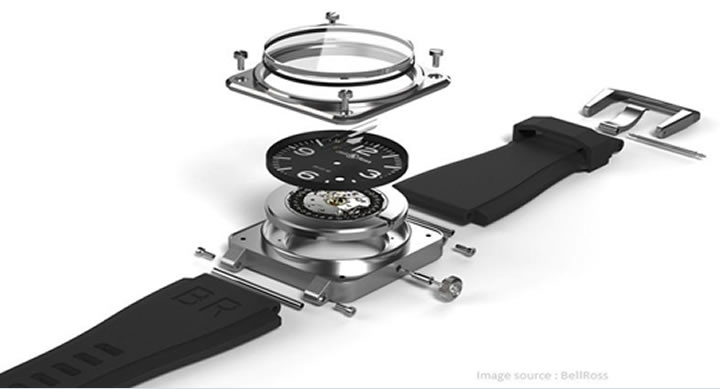 Legibility:
The factor legibility is referred to the readability. Legibility is an essential part of Bell and Ross timepiece. When you are in the depths of the ocean and the water pressure is rising and the factor "Readability "just matters to survive than Bell and Ross's timepiece is the best solution you have. Whatever the environment is, Bell and Ross always offer a professional and reliable solution to the extreme situation.
Luminescent material is also used in many of Bell and Ross models to ensure legibility, as BR V2-93 GMT is one of its newest models equipped with Super-LumiNova for a Higher level of readability even in the dark. The visual indicator is similar to that of the airplane cockpit which is very legible and clear.
Precision:
Engine of a watch is based on mechanical movement based on hundreds of parts; and each part has a fine finish to ensure the accuracy and precision of the timepiece. Fine-tuning is done by the master watchmakers, with centuries of innovations and expertise on the part of watchmakers, this timepiece if worn can be recognized as part of the "living organ".
Functionality:
Even at the depths of the ocean with extreme pressure, it can withstand a water resistance case. Bell and Ross watches are equipped with all special functions that can be utilized for military, aeronautical and underwater uses.
Reliability:
Bell and Ross also contain a range of quartz watches similar to automatic timepieces. They have ETA 980.163 movement with 15jewels in quartz. There is also a collection of limited editions of Bell and Ross timepieces in the variation of material and designs.