With the rapid iteration of multi-camera solutions and mobile chips, major mobile phone manufacturers are frantically competing for the "mobile photography track".
Throughout the current flagship video phones, their motion mode video shooting is also cutting pictures, so in order to better play the video shooting ability of flagship video phones, a professional mobile phone stabilizer is indispensable.
On January 6, 2023, Hohem released a new generation of professional mobile phone stabilizer Hohem M6. Hohem M6 mobile phone stabilizer is the "best partner" of an image flagship mobile phone.
Accurate AI recognition and tracking technology, new structural design, and a new generation of iSteady 7.0 anti-shake system have become a powerful tool for individual shooting created by professional mobile phone image creators, which can bring high-quality shooting experience to individual live broadcasting and self-Media creators.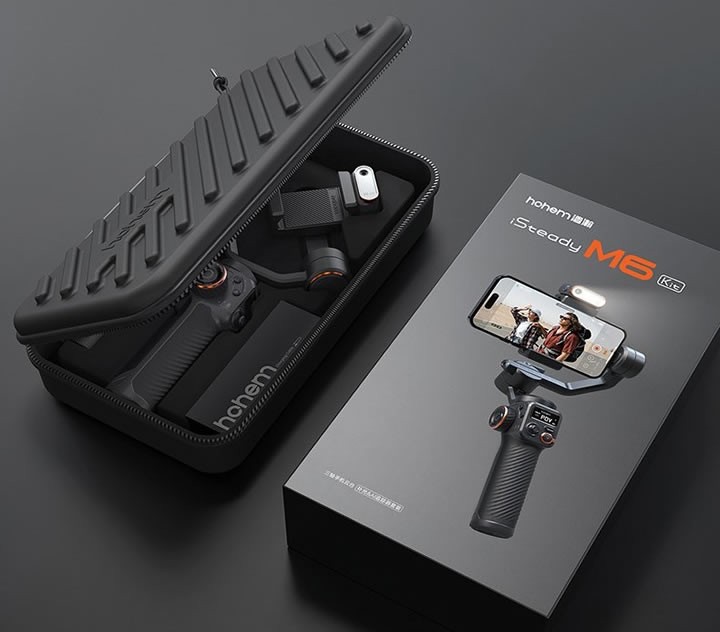 Magnetic fill light AI tracker, double fill light cross-software interaction
Hohem M6, the flagship product of the vast and excellent professional mobile phone PTZ series, has been upgraded in many aspects. It is equipped with Hohem's exclusive magnetic AI tracker, which makes the upgraded Hohem's AI tracker more agile and intelligent, and can accurately follow and shoot when moving fast.
The Hohem AI vision system can be used to realize the AI follow-up function. It does not need to download any APP or connect to Bluetooth. After the phone is turned on, it can quickly start the follow-up through gesture commands.
The native camera, beauty software, short video, and live software of the phone can be used to help video creators achieve cross-software and third-party platform interaction.
Through the magnetic AI tracker, you can also adjust the position of the characters in the picture, abandon the stereotyped portrait composition in the middle, customize the preferred exit position, and make the composition more personalized and flexible.
At the same time, the magnetic AI tracker is a magnetic structure that can be quickly disassembled, and it also integrates the dual lights of cold and warm lights and RGB color lights.
Unlike other mobile phone stabilizer fill lights, Hohem M6 fill light can not only adjust brightness and color temperature but also has 360 kinds of atmosphere lights that can be adjusted.
RGB color lights can switch light colors freely without filters, bringing richer light and shadow effects to video creators.
Classic orthogonal three-axis structure, global free motion mirror
In terms of structure, Hohem M6 is upgraded again in terms of orthogonal three-axis design, supporting classic mode and ultra-wide-angle shooting mode, neither blocking the screen of the mobile phone nor rolling the motor into the picture, so that ultra-wide-angle shooting has no burden.
If you need to shoot at a large elevation angle, you can also achieve a global free mirror. The course axis is unlimited, which can achieve 360 degrees of endless dream space, without worrying about the limited angle, incomplete view, or how to turn, so that the creation does not regret.
There is no need for APP restrictions, just press the mode button three times, and the surreal special effects blockbuster comes to your fingertips.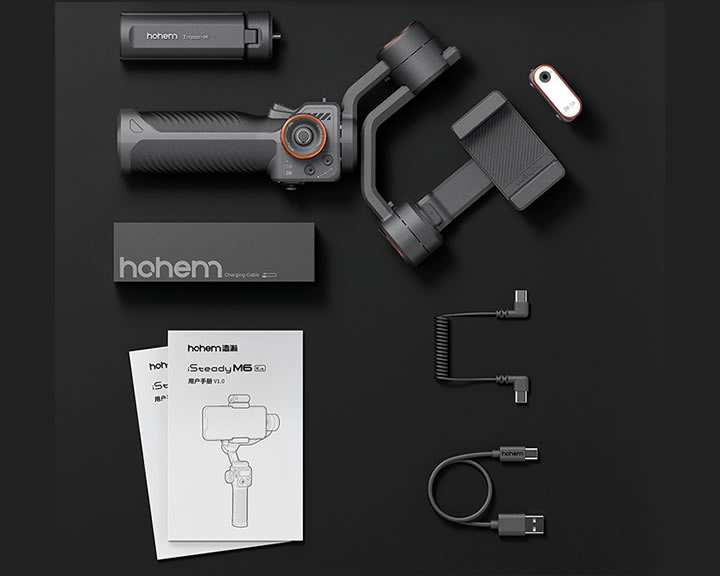 The self-developed anti-shake system is upgraded again
Hohem M6 also upgraded the new iSteady 7.0 anti-shake system, equipped with a more powerful motor, and a load-bearing capacity of 400g, and can easily handle a variety of flagship phones on the market, to ensure clear, stable, and smooth video recording.
Strong motor performance and a four-way expansion port make it easy for Hohem M6 to carry a large number of professional accessories and provide full-function configuration for individual combat.
OLED large screen display, full information at a glance
Unlike other phone stabilizers on the market, the Hohem M6 has a large 0.91-inch OLED display. All the working States of the mobile phone stabilizer, the parameters of each functional module, Bluetooth connection, power, and so on are clearly visible on this large OLED display screen so that we can easily grasp all kinds of shooting States.
Professional button control, long endurance reverse charging
Rich and professional key layout makes shooting faster and more accurate, easily and quickly switch various shooting modes, realize the control interaction of the whole mobile phone stabilizer with one hand, and makes it easier to move the mirror.
The multifunctional roller can adjust the actual situation of the picture, double dimming, and control the rolling rotation of the stabilizer; Quickly grab the key, one key to open the extreme sports mode, quickly return to the center, or enter the full lock mode.
What's more amazing is that Hohem M6 innovatively adds memory A/B keys, which can quickly set the starting and ending points of shooting, intelligently record the shooting trajectory, and automatically start shooting with mobile delay.
In terms of battery life, Hohem M6 has a 2600mAh battery capacity, which can achieve 18 hours of static life and can also charge the mobile phone in reverse, so it is worry-free to go out to shoot.
For additional information, please check- Hohem M6 mobile phone stabilizer