Never gone to a gym to do exercise on those machines?
Then try the elliptical cross trainer as it works for beginners and arthritis patients. Your cardio exercise will be easy on this low-impact trainer as it allows the bicycle, stair stepper, and cross movements.
So, how do you use an elliptical cross trainer?
This exercise machine is simple to use and your knee and ankle will stay stress-free during a workout. If you want to build up an exercise space in your small corner, then you can consider a 2 in 1 elliptical cross trainer from TheBikeWheel.
How do you use an elliptical cross trainer?
As the elliptical machine is easy to use so sometimes, you will not get a proper result for not knowing the proper way to use it. In this part, you will know the correct, safe, and effective way to use the cross-trainer.
The right posture
Before starting your workout session you have to know about the machine and how it works.
When you are starting:
Step on the machine carefully. Because the pedals start moving as soon as you step on them. So hold the handlebars first then place your feet on the pedals one after the other.
Don't get panic by seeing those big size pedals. These are designed to give extra comfort to your feet. But your duty is to keep the feet aligned while paddling or else your feet will tilt in the wrong way.
The most thing you have to do while working out on this machine is to keep yourself straight till the end. Keep your head and face straight.
Make sure your grip is light on the arm bars or the handlebars. Because a tight grip will not work for you during the exercise. When you are doing upper body exercise with the arm bars, then bend your elbows and keep your shoulder down.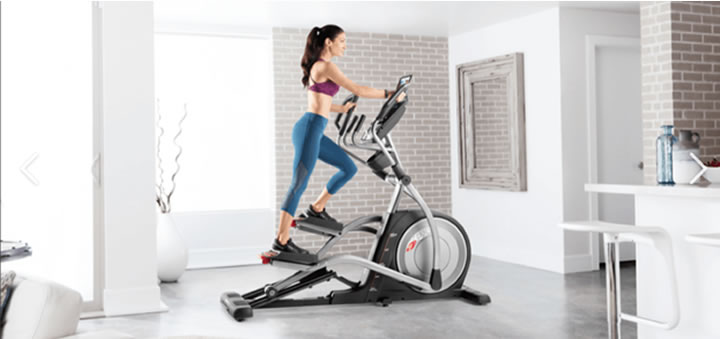 Movement rules
After picking the right posture now, it is time to move your body parts. It is important while doing exercise on the elliptical cross-trainer.
When you are paddling, keep your knee slightly curved till the end of the exercise. A straight knee will give you an uncomfortable feeling during the movement. By bending your knee, your muscle strength will get increased and you can do your exercise fast.
After adjusting the movement on the trainer, you can adjust the resistance level per your requirement.
In the trainer, you will find different settings to increase your level. Remember that you are about to give more stress on your hamstrings, glutes, calves, and other muscles by increasing the resistance level.
Ensure your movement is smooth while doing the changes and try to continue your exercise after every change. If you don't adjust your workout session with the changes, then you will not get a positive result.
Keep your every workout session for 20 to 30 minutes. Try to keep this range continuous and if you are ok then increase the time. Don't make the exercise shorter than your settings. Be it less or high level, do your exercise regularly in this time range.
Try the special settings
You will find some elliptical trainers with unique settings. If you have one, then try them one by one to make your workout session interesting.
Most of the cross trainers come with a heart rate tracker. Check if your machine comes with a chest strap or contact plates.
If it has a chest strap, then place it on your chest and if it has contact plates, then place them on the handlebars. In both ways, your heart rate will be monitored during a workout. By this, you will know about your hard work and how long it will take to reach your goal.
You will find some built-in programs on the machine. Use them to make your exercise interesting. Because the same old routine will make you bored and gradually you will lose interest in exercise.
There are exercise programs like interval training and fat burn that will make your exercise challenge different. If you challenge yourself with different exercises every day, you will see a good change in your mind and body.
If you like to take a different challenge then try to pedal backward on this trainer. You will find it hard in the beginning then gradually you'll get used to it. Your hamstrings will get stronger for this backward walking movement.
Special tips to follow while using the exercise trainer
Set a five minutes interval while increasing the resistance and slope level every time.
Keep your weight on the heels to increase your stamina and muscle to work hard.
Don't lean forward while doing exercise. It will make your hard work weak.
Avoid doing the same exercise every day. Bring variety to your workout sessions.
Do not watch TV or read while doing exercise. Your focus will get distracted and you will not reach your goal in time.
Note down your exercise time, and the calories you have burned daily. By this, you can set up your goal for the next day till you achieve it.
Set your age and weight in the program settings. The machine will help you to set your exercise program per your body's needs.
Adjust the incline level low to make your workout session effective without any pain.
Conclusion
How you use an elliptical cross trainer is well explained in this article for those who are looking for the right exercise machine. The cross-trainer promises effective results in low-impact methods.
All you have to know is to use this machine properly or else your all hard work will go in vain.
Get familiar with the device, start slowly then increase your workout time. If you don't love to exercise then start with this cross-trainer, you will turn into an exercise freak in no time.
Resource:
https://thebikewheel.com/2-in-1-elliptical-cross-trainer-exercise
https://en.wikipedia.org/wiki/Elliptical_trainer
https://greatist.com/move/effective-elliptical-workout