If you run a business, you should use every possible opportunity to improve your workflow, save time, and reduce costs to withstand in a highly competitive environment. Have you ever thought of how much time and costs you spend on signing processes? Of course, this depends on how often you usually sign documents.
Opting for a reliable e-sign service becomes very beneficial for many companies. From this article, you will find out helpful info about an e-sign tool from SignNow, how to use this service, and, of course, its benefits for your business.
What Is an E-Signature?
An electronic signature is an autograph in an electronic form, which you can legally put on documents. Using this tool, you can sign any documentation on computers, smartphones, and other devices from any place. Imagine that you are on a vacation somewhere in the Caribbean, and your signature is required to ensure the smooth running of business processes. You do not have to appoint someone else to issue relevant legal documents, and your team does not have to wait for you to come back. Simply get the document on your mobile device, check it if needed, and sign it electronically! This can be done in a single click!
The convenience of the tool, its price, and its features depend on the service developer. One of the most important things to pay your attention to is an e-sign tool's security and legal validity.
What Are the Main Benefits of E-Signature?
Adding a handwritten autograph on documents in paper form is always associated with some time and money expenditures, including:
Costs of paper;
Time and expenditures required to deliver or receive the documents in a paper form.
With a reliable e-signature service, the documents are delivered and received in seconds. There is no need to pay for paper, use faxes, or print an electronic document to sign it. Everything is done in the quickest way possible!
What is SignNow?
SignNow is an e-sign service that can be used for satisfying all your business needs related to signing documents electronically. It has a wide range of features, ensuring a high level of convenience. The tool allows you to sign documents in a variety of formats, including PDF and Microsoft Word.
How Does It Work?
Everything works in a very simple way. If you need to sign a document, do the following:
Open a document using the SignNow tool;
Add necessary fields, such as signature, date, and others;
Send the document in a PDF or MS format for signing.
A recipient will open the document and see the fields required to fill out. The person can simply add an e-signature without any registration with the service by typing, drawing, or uploading its image.
One of the best things about the tool is that you can set the required fields. In this case, the document will not be sent out until all of them are filled. You can send the same document to several recipients at once and monitor the signing process. This is just a quick example of what can be done with the help of SignNow because the list of all the features is pretty long.
Who Should Use the Services of SignNow?
SignNow is an e-sign solution suitable for everyone. If you need to sign just a few documents per month, it is possible to use this tool for free. In case the number of documents is greater, you can choose an appropriate pricing plan.
So, the industries that can benefit from this solution include: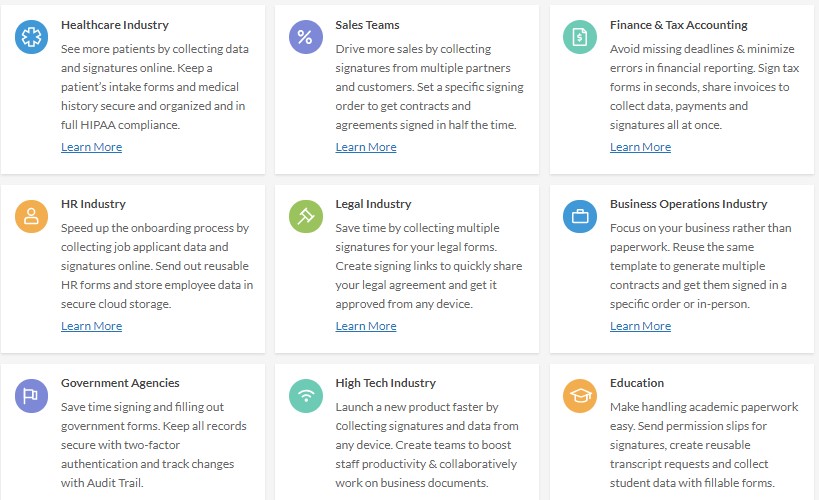 The full list of industries can be found on the official website of SignNow.
How to Start Using the Service?
The best way to ensure that you need a certain service is to try it. SignNow allows using its free trial version, giving you access to all the required features.
You will find all helpful info on how the service can be used, including tutorials with examples on how to create and customize fields, add a signature, send documents, and more.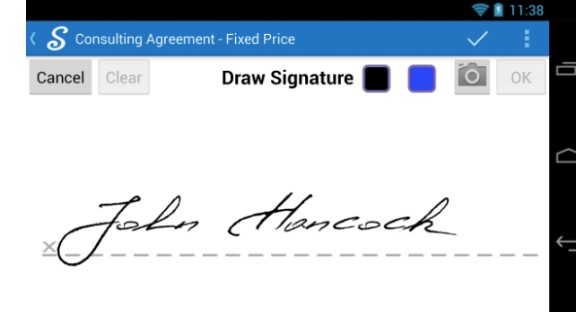 You can access the Help section without creating an account by doing the following:
Enter the official website of SignNow;
Scroll down the homepage;
Click on the Support Center link as shown on the screenshot below.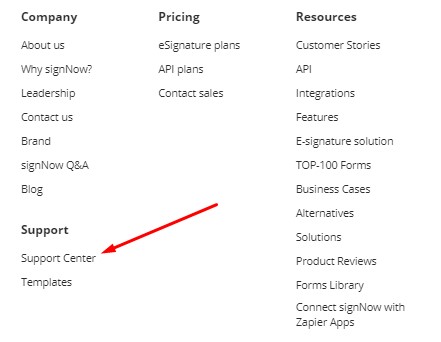 Why Choose SignNow?
SignNow is not the only e-signature available today, so why should you choose it?
There are many reasons for that, including the following:
A wide range of features
The range of features is greater than that offered by other popular e-sign services, such as Adobe Sign or DocuSign.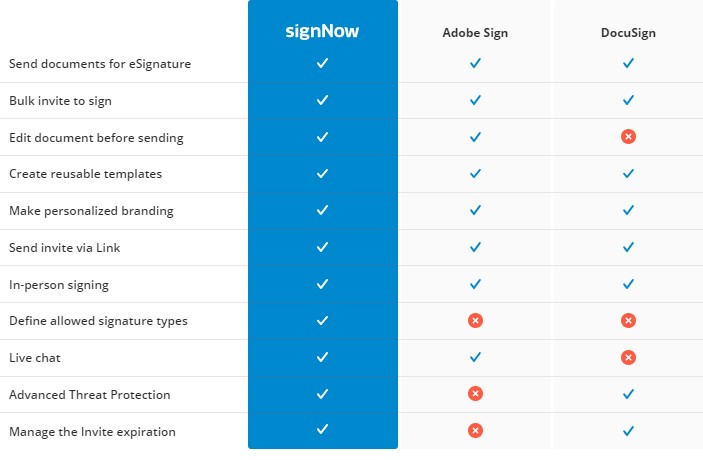 A fully legal and secure solution 
The tool developed by SignNow fully matches the requirements of security and legal recognition.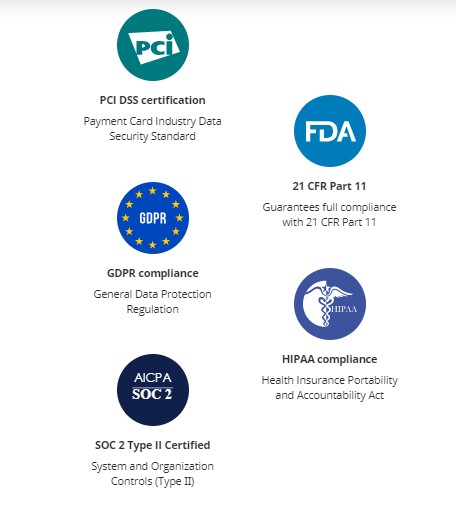 Easy integration 
SignNow tool can be easily integrated with a wide range of apps, including the following: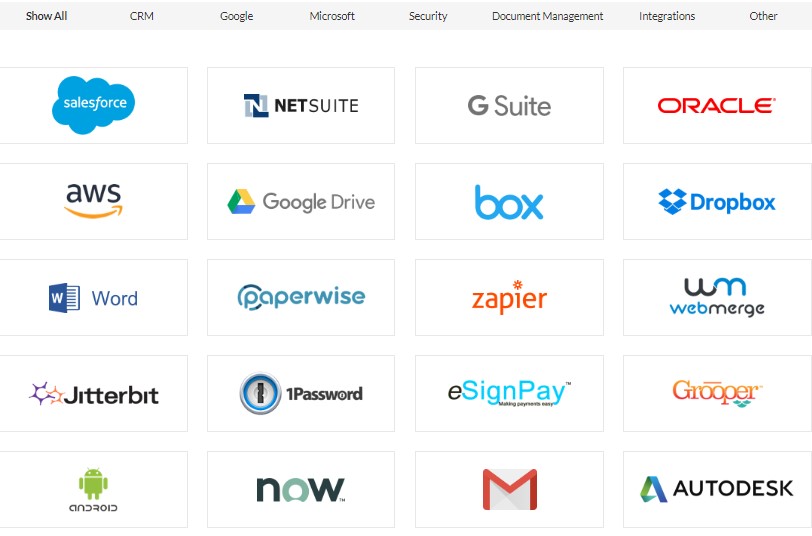 Competitive prices
The service provider has made sure to offer reasonable conditions for businesses of all sizes, from small to global. You can easily compare the prices of SignNow with any other similar service to see the difference.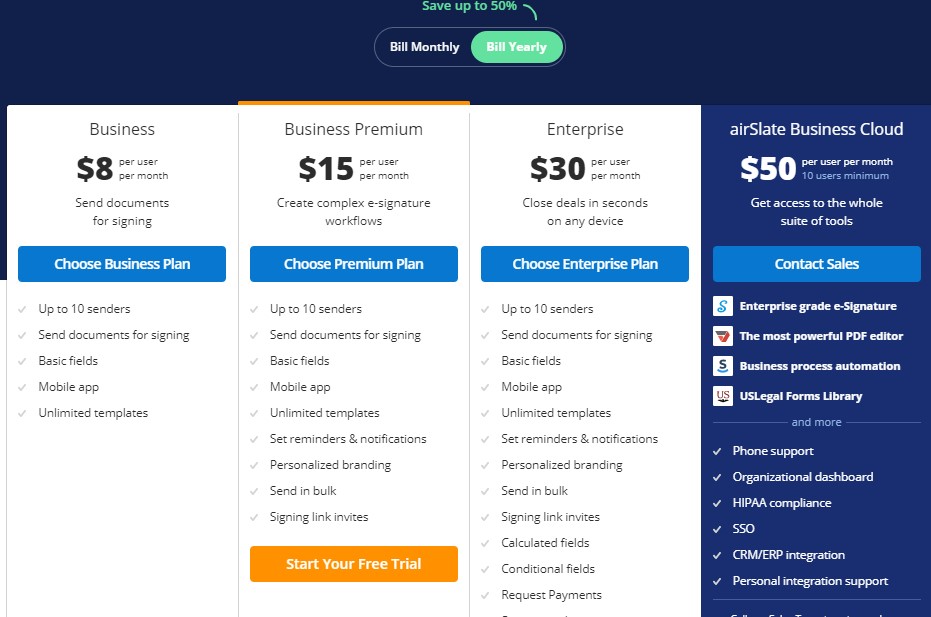 Bottom Line
E-Sign tools can surely boost your workflow if you choose a reliable provider. SignNow would be a good choice for businesses of any type and size. It is a fully secure and legal e-sign solution that comes with a wide range of features. A free trial version allows you to check this product out before you decide whether you need it or not. As for prices, SignNow definitely offers highly competitive pricing conditions.