There are often times when unwanted items and objects in the background destroy the whole image. Be it product photographs or personal clicks for social media we all have faced this issue at one time or another.
Do you want to create stunning product photos in seconds? Especially, if you are an online reseller it is crucial to use high-quality product photographs with perfect backgrounds to boost your brand and increase profit.
And for those who notice the stranger in the background who is ruining their Instagram-worthy image, Blend is the perfect solution to edit out all these disturbing elements from their pictures in just seconds.
It's how entrepreneurs grow sales and stand out online with social graphics, product photos, and SEO-optimized copy that looks professional. Just upload your product photo and Blend does the rest. And you can do it for free!
What is the need to change the background?
There can be various reasons to change the background of your image.
While taking the photographs it might seem okay but afterward, the other elements in the background might pop up way more than the focused item.
Sometimes the color schemes and contrast from the background and the focused object can be inappropriate.
Unnoticed objects in the background often get observed after clicking the image.
The background is cluttered, and that is not a good practice for product photography.
Sometimes you want the props in the background anymore and the overall image does not look good after editing the props out.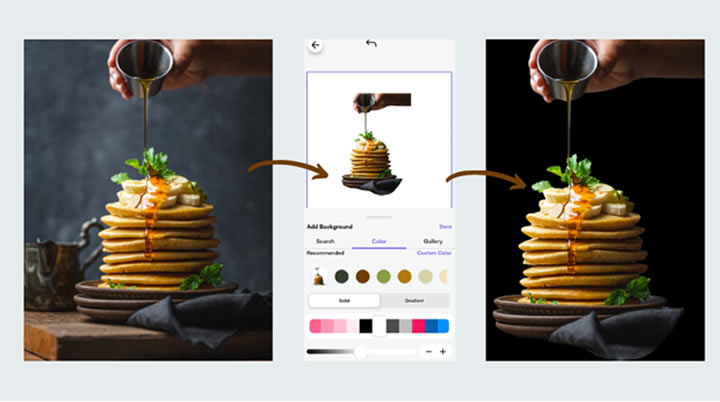 How to change the background color?
With Blend, changing the background color is as easy as clicking a random photograph. All you have to do is download the "Blend: Background Eraser" app from Google Play Store or Apple App Store and upload the image.
Blend Editor creates pixel-perfect photo cutouts within 5 seconds. Its advanced AI selects suitable background colors for your cutouts and if you do not like it then you can manually change the color to other color templates effortlessly.
You can even use profile photo templates and create amazing profile photos for your social media accounts. Or if you are a business owner then Blend is your one-stop product photo editing app.
Blend provides 5000+ editable templates and most of them are absolutely free. So hurry up and start removing all the annoying distractions from your images with Blend, and find more useful resources at Blend Seller Academy!