Whether you want to lighten up your internal spaces or expand your external views, you can't go past a statement glass balustrade. While glass balustrade systems may look similar, there are variations in cost, design, installation, and maintenance you need to consider.
Not sure which glass balustrade system to use? We asked Hayden Kemp from NFK Glazing and Industrial Supplies for his advice on the most popular glass balustrade solutions to help you choose the right application for your project.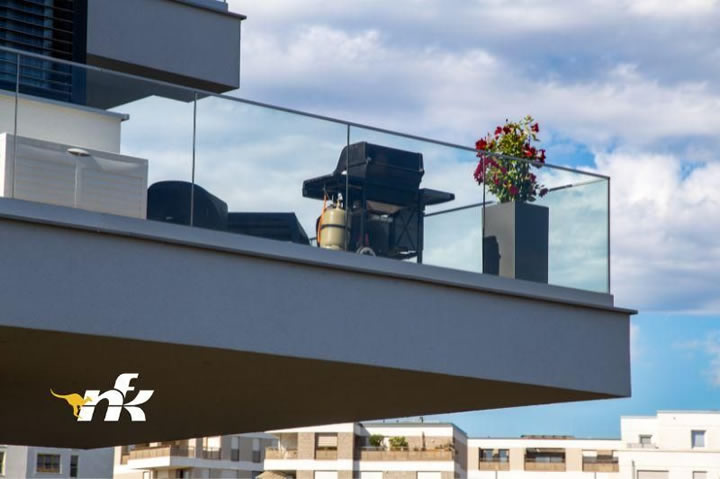 Sleek and modern: the channel balustrade
The glass balustrade system that uses the latest technology is the frameless channel system.
Channel systems are behind many of the minimalist glass balustrades you see in design magazines and are used to create curved, straight, internal, and external glass balustrades and fencing.
A wide range of glass thicknesses and "make-ups" can be supported within the channel (up to 35mm safety glass) with no visible clamps or pins. The panels are easy to align and may not need an additional top rail depending on the application and selected glass.
Suitable for: residential and commercial projects, high-traffic areas, high floors, limited access, and any glass thicknesses.
Installation: fast and easy to install with technology developed for one-side tightening, making it suitable for areas with restricted access (eg balconies)
Maintenance: easy with unrestricted access to the glass for cleaning and maintenance
Cost: higher cost of hardware, with lower costs for installation and maintenance

All about the glass: Stand Offs
Stand Offs -are stainless steel pins bolted through the glass and attached to the building structure. Stand Offs look amazing when used with concrete or timber to create a high-end accent finish.
They can also be countersunk to give the appearance of floating glass. Stand Offs can support any glass thickness, including toughened laminated glass, making them a popular choice for commercial projects.
Suitable for: residential and commercial projects, of any glass thickness
Installation: labor-intensive set-out work to ensure holes are positioned accurately in the glass and building structure
Maintenance: restricted access to the area behind the glass panels makes cleaning and re-painting more difficult
Cost: Stands Offs use 20% more glass (increasing glass costs by 20%) and are more expensive to install due to set-out requirements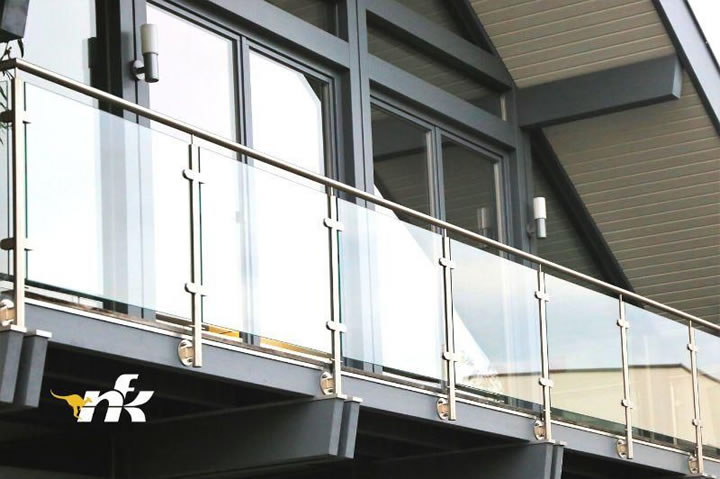 Original semi-frameless: glass clamps
This style of glass balustrade has been around the longest and uses stainless steel clamps attached to a series of posts to hold glass panels. This is considered a 'semi-frameless' solution because it requires posts and a handrail to transfer load away from the glass and make the system safe.
While clamps often work well in projects with smaller budgets, modern architects find the look outdated.
Suitable for: glass thickness up to 17.52mm (not suitable for heavy safety glass due to the risk of glass slipping)
Installation: experience required to ensure panels align correctly
Maintenance: more individual glass panels and more hardware to clean around
Cost: hardware costs are reasonable, however, the additional hardware required (posts and rails) may increase the price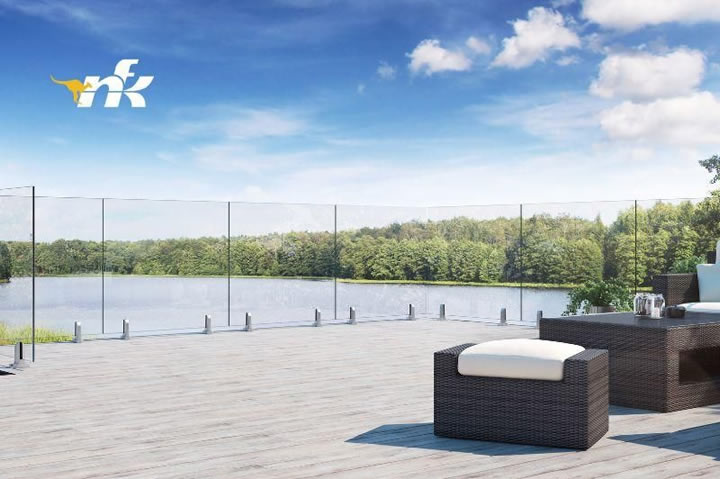 Pool Fencing Spigots
One of the common glass balustrade systems seen in homes (usually for frameless glass pool fencing), the glass spigot or mini post suspends glass panels from below, without the need for posts or frames.
The hardware itself is affordable, and comes in different colors and finishes, but can look a bit 'busy' from a design point of view. While glass spigots are fine for 12mm glass, there are limited options for thicker safety glass, which reduces their use above the second floor.
Suitable for: applications using 12mm glass eg pool surrounds
Installation: time-consuming to install, experience required to ensure panels align correctly
Maintenance: more glass panels and more hardware to clean around
Cost: lower cost hardware, higher costs for installation
Every glass balustrade is going to create a stunning effect that will allow your views to speak for themselves.
As a leading Australian supplier of architectural hardware for 40 years, NFK Glazing and Industrial Supplies has decades of experience sourcing and supplying glass balustrade systems for leaders in the Glass Industry.
If you need help choosing the most suitable glass balustrade system for your next project the NFK team is happy to help.