Step-by-Step Guide to Making Animation Movies
Creating animated videos for the first time can seem like a difficult task. The fact is it is not as hard as you think. You only need to know the process and have the right tools to make an animated movie in minutes.
This post looks at four easy steps to help you make a movie as a newbie with no skills or animation experience.
Let us get started right away!
Step #1: Develop Your Script
A script is the blueprint of your animation movie and contains everything you want to have in the video. The first step to creating a stellar script is to write a brief, which must highlight your objective, the core messages of the video, and the target audience.
The next step is to translate your core message into a story. Your animated video can have multiple core messages but ensure they are not too much to the point of confusing the viewers.
Finally, ensure your script has a hook that grabs attention, the main content, and the call to action. These three elements are crucial to the making of a successful animation movie.
Step #2: Create a Storyboard
A storyboard gives decision-makers and collaborators an idea of the final look of the animation video. Additionally, a storyboard allows you to tweak your script and visuals to make an engaging and compelling animated video.
You can create a storyboard the traditional way, but you need sketching and drawing skills to achieve it. You do not have to worry if you do not have these skills. You can use Doratoon to create one.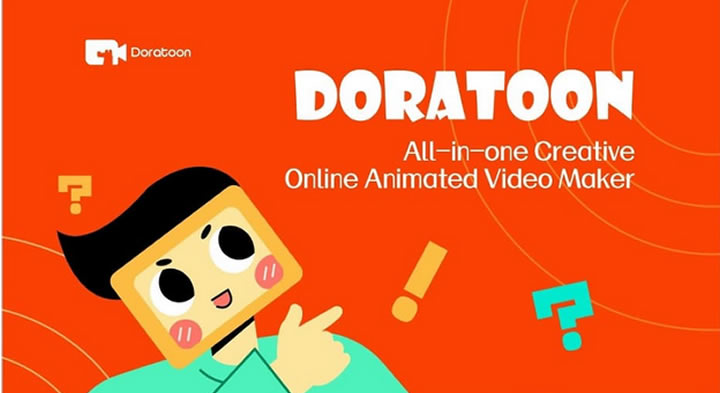 What is Doratoon?
Doratoon is a powerful animation creator that frees you up for creating customized, compelling animated videos. It offers millions of royalty-free animation templates, stock footage, props, and backgrounds you can explore.
It is easy to use, and you do not need skills or design experience to make your first animated videos on the platform. Here is how to make an animated movie with Doratoon:
Step 1: Create a free account with Doratoon.
Step 2: Select an animation template from the library of customizable templates on the site.
Step 3: Edit the template to suit your storyline
Step 4: Preview the storyboard you created and download it to your PC.
Doratoon comes with a plethora of features that make creating a storyboard seamless. Here are some features that will make the process seamless for you:
Thousands of Customizable Templates: You can choose any animated template to create your storyboard. The good part is that by the time you are done with creating your storyboard, you are almost half done with the real animated video.
Artificial Intelligence Drawing: Here is the perfect tool for creating your storyboard. This tool predicts the right drawing or shapes for your content. Its intuitive design makes creating a storyboard very easy and fast.
Animated Characters: Doratoon also offers thousands of animated characters to explore for your storyboard and animated videos. You can explore these characters with over 8000 actions and facial expressions to depict the mood and style of your story.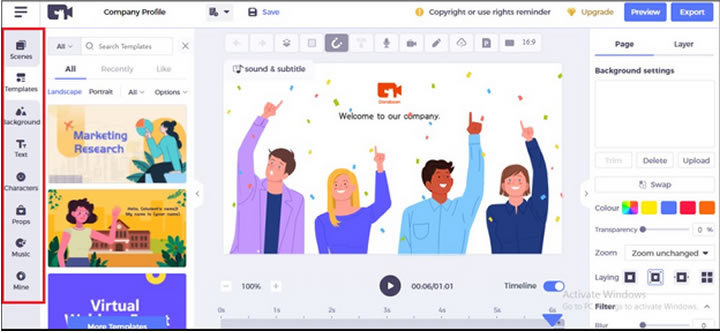 Step #3: Animate Your Video
Here is where you put life into your story. Choosing the best solution for how to make an animated video comes with its challenges. You have several options, and each has its benefits and drawbacks. For one, you can build an in-house animation team.
This may be a good option if you have a significant marketing budget and plans to make several animation videos. You need a big budget to pull this through as you have to get the necessary software and equipment for the team.
The second option is to outsource the project to an animation studio. The first challenge is deciding on the animation studio to hire and the budget. You need to think of the timeline for the project and consider the budget.
The third option is to make your own animation. You only need a computer and internet connection to do the job. Sign up with a DIY animation creator like Doratoon and make your movies.
Doratoon lets you create different types of videos all by yourself. The platform gives you access to thousands of templates and several editing tools to create the best animation videos in minutes.
How to Spice up Your Animated Videos with Doratoon Features?
Making an animated video is a breeze with Doratoon. You can pick it up right from where you created the storyboard.
You can skip the storyboard part or merge the process with creating the actual animated video. Doratoon helps you bring the animation to life with several features.
Addition of Voiceover: You can record or upload voiceover directly to your project on Doratoon. The platform also offers a text-to-speech feature where you can select a voice character to render your text in your preferred language.
Addition of Background Music: This brings life to your animated video and depicts the mood in the storyline. You can explore thousands of sound effects and music to add to your video. The platform also allows you to upload background music from your library.
Step #4: Export Your Video
Once you are fine with what you have done, download it to your computer. You can publish your animated video directly to your social media platforms like Youtube or download it and publish it manually through the Doratoon platform.
Final Thoughts
Creating animation movies is easy. With a software tool like Doratoon, you can create your animated video in a breeze. If your question is how to make animated short films, Doratoon will make the task easy and seamless for you.