Deciding you use PDF files is a great decision because of their quality, compatibility, and file size. PDF files are used for business and personal reasons because of their security. The best thing is that you encrypt the files to secure them, and it restricts people from editing, printing, and copying the documents.
However, once you need to do any of the mentioned stuff, you need to unlock PDF instantly. So, while there are benefits of locking a PDF file, you need it unlocked too to carry out your work.
With PDF getting advanced, you can add a password to it. There are two ways to secure your PDF files- open password and permission password. With an open password, you can prevent everyone from accessing data that is not authorized.
However, any user can open the file but not alter the content. You need a permission password for it. The master password allows you to edit, copy, print, and extra data. You can add an open password and permission password on one file together.
However, if you are looking for a reliable and reputable PDF unlocker tool, aJoysoft PDF Password Remover is your one-stop solution. It offers single-click password unlocking options.
It may be tough to unlock PDF randomly, but you can unlock the PDF to its full potential and remove all limitations using the software. It is a single-click PDF decryption tool to eliminate all the restrictions applied to the file.
Import the files into PDF password remover and remove all limitations in one click.
aJoysoft helps you make the most out of your PDF files without any password. You can easily remove the open password from PDF and access the files completely.
Steps to remove password from PDF
You need to download and install the app on your Windows or Mac first.
Click on the "Add Files" icon or drag and drop to unlock as many files as you want.
Situation 1: If the PDF is not locked with an Open or User password: Under such a condition, the PDF Password Remover will not showcase a lock sign next to the file. Just choose "remove password," and you can edit, print, and copy the file anywhere.
Situation 2: The icon will appear if the PDF is locked with a user or open password. For an open password, you should enter the passcode to unlock it. The same procedure is followed on all software. After the file is unlocked, click OK, and you can easily access the content on the archive.
Lastly, after the file is unlocked, you can choose a location to save it.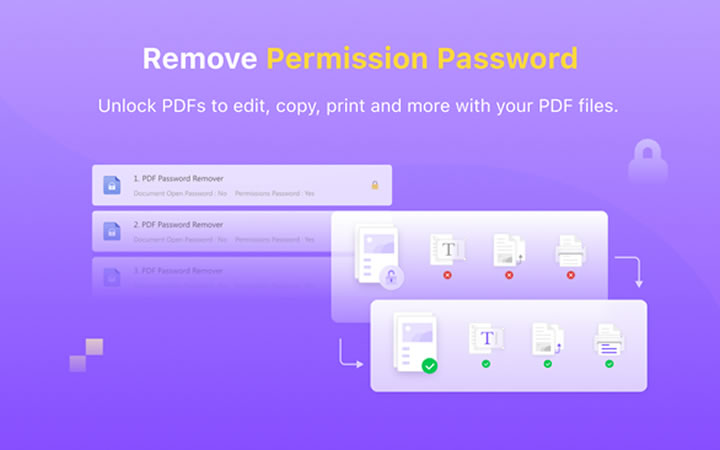 The idea of how to unlock PDF without entering any password in the first place was not possible previously.
However, aJoysoft brings you the amazing benefits of one-click password unlocking. Just download the PDF unlocker Mac or Windows, and you can enhance your experience in unlocking your PDF files and using all its features efficiently.
The software ensures that efficiency is met and the batch decryption to unlock PDFs is done well. So, the last thing you need to worry about is the locked PDF files on your desktop.