For any vapor out there looking for the most user-friendly way to vape possible, the Puff Bar is hard to beat. Besides the fact that it's phenomenally easy to operate and maintain, it comes in a huge array of tasty flavors and is made with high-quality ingredients and materials.
Today, we'll be talking about how to vape a Puff Bar, and we will explain the different Puff Bar options that are available to those who want to experience what this unique type of vaping system has to offer.
What are Puff Bars?
The Puff Bar is a disposable vaping system, which means that all of its pieces are already assembled together. It comes with a fully charged battery and an attached pod cartridge that is filled with e-liquid. Disposable devices are becoming an immensely popular option due to the fact that they don't require maintenance of any kind and can be enjoyed right out of the box, all without any assembly or adjustments necessary.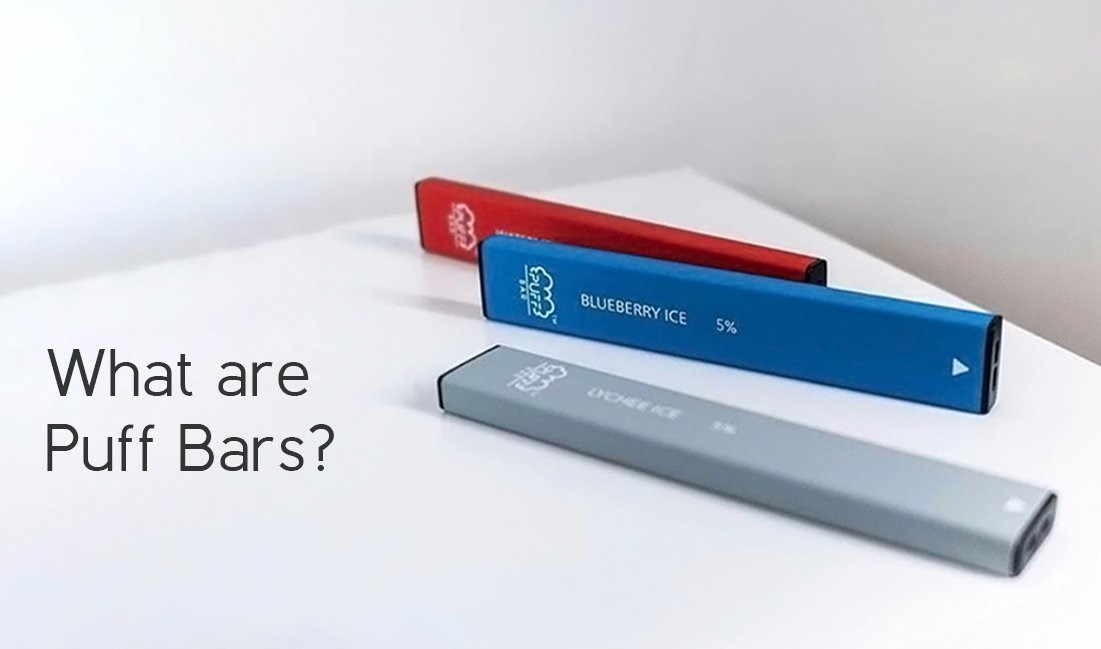 Another big advantage of Puff Bars is their portability. They are ultra-slim, lightweight, and will easily fit into just about any pocket. This means that they are easier to use throughout the day than larger vaping systems that take up more space and tend to be heavier.  Being so small, they are also discreet, if you're the type of vaper who doesn't want to draw attention to themselves.  They produce less vapor per puff than a sub-ohm vaping system, but the nicotine hit is noticeably stronger, which is what many vapers want.
Puff Bars are readily available in any vape shop.
How Does a Puff Bar Work?
If you are going to invest in this vaping system, it is helpful to know how to vape a Puff Bar ahead of time. Puff Bars work on a remarkably simple technology that effectively delivers deeply satisfying puffs of flavorful, nicotine-rich vapor without any complicated features and settings. All that you need to do when your Puff Bar arrives is take it out of its packaging and begin vaping. The capacity of the internal battery is designed to last for as long as the e-liquid in the pod so that you never have to refill. Once the e-liquid in the device runs out, you can simply throw out the Puff Bar and replace it with a new one.
Puff Bars do not use any buttons. The device does not need to be powered on or off. Further, to take a hit, you just pull on the mouthpiece, as no firing button exists on the device. There are no adjustable settings, as the default output is ideal for the e-liquid that is in the pod, as well as its integrated coil.
Does a Puff Bar Have Nicotine?
Puff Bars do contain nicotine, as they are made primarily for former smokers who want a replacement for their hobby that can satisfy their cravings. Puff Bars contain salt-based nicotine, which is a uniquely smooth and potent type of nicotine that produces a hit to the back of the throat and a satisfying buzz in the body. You can choose between 2% (20mg) and 5% (50mg) salt nic strengths depending on how potent you want your vaping experience to be.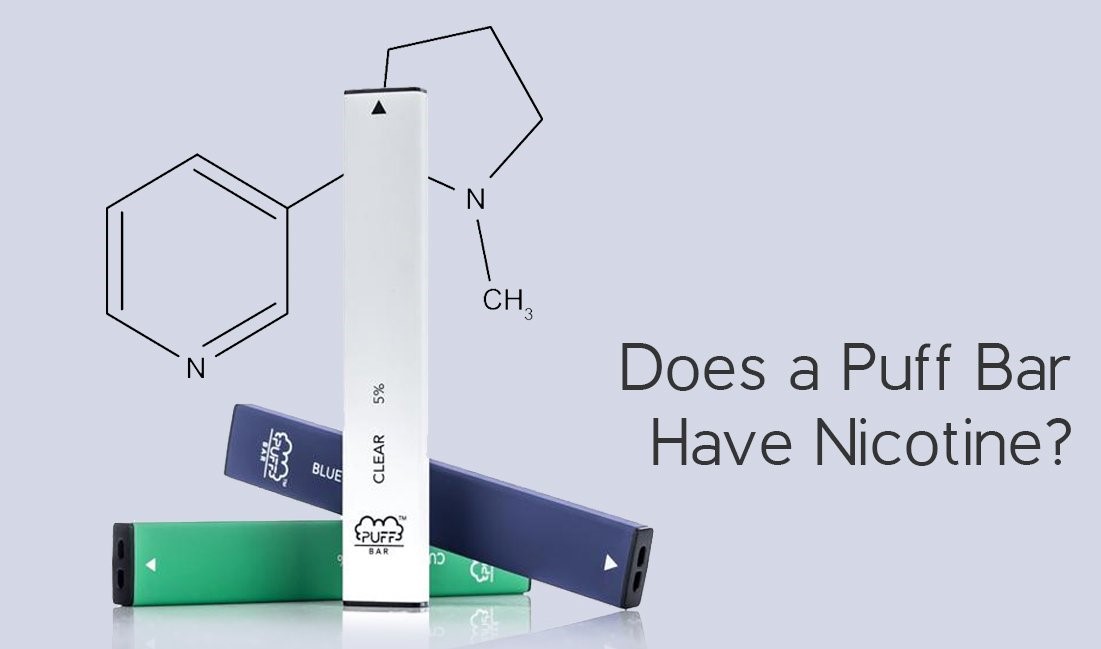 What Flavors Do Puff Bars Come in?
One appealing quality of Puff Bars is the enormous variety of flavors that they come in. The flavors are:
Strawberry Banana
Melon Ice
Tangerine Ice
Menthol
Banana Ice
Lush Ice
Lychee Ice
Mango
O.M.G. (Orange, Mango and Guava)
Café Latte
Peach Ice
Cool Mint
Strawberry
Grape
Blueberry Ice
Pineapple Lemonade
Pink Lemonade
Watermelon
Cucumber
Tobacco
Pomegranate
Sour Apple
Blue Razz
Clear (Unflavored)
Guava Ice
It is important to point out that Puff Bar is constantly adding new flavors to their selection, which is why we encourage you to check back regularly to see what new options are available. All of the e-liquids are made with high-quality ingredients that promote clean, fresh flavors that hit the spot all day long.
Types of Puff Bars
Puff Bar produces two different disposable devices. Let's go over the two types of Puff Bars so you can decide which is best for you.
Original Puff Bar: Contains 1.3 milliliters of e-liquid per device, which is about the equivalent of one pack of cigarettes in terms of the number of puffs it produces. It features an internal 280mAh battery. You can get about 300 puffs out of each Puff Bar.
Puff Bar Plus: Contains 3.2 milliliters of e-liquid, which is considerably more than the original. The bars are a bit more expensive, but that is justified by the higher e-liquid amount in each one. The internal battery has a capacity of 550mAh and offers about 800 puffs per bar.
Also, it's worth noting that Puff Bars are not the only pod systems that use a disposable, all-in-one design. As the demand for this type of vaping system has continued to grow over the years, more and more companies have offered their unique takes on this style of vaping. Practically all disposable devices come in a variety of flavors, and they all use salt-based nicotine. Another thing that they all have in common is their pre-charged battery and pre-filled e-liquid pods that are extremely convenient.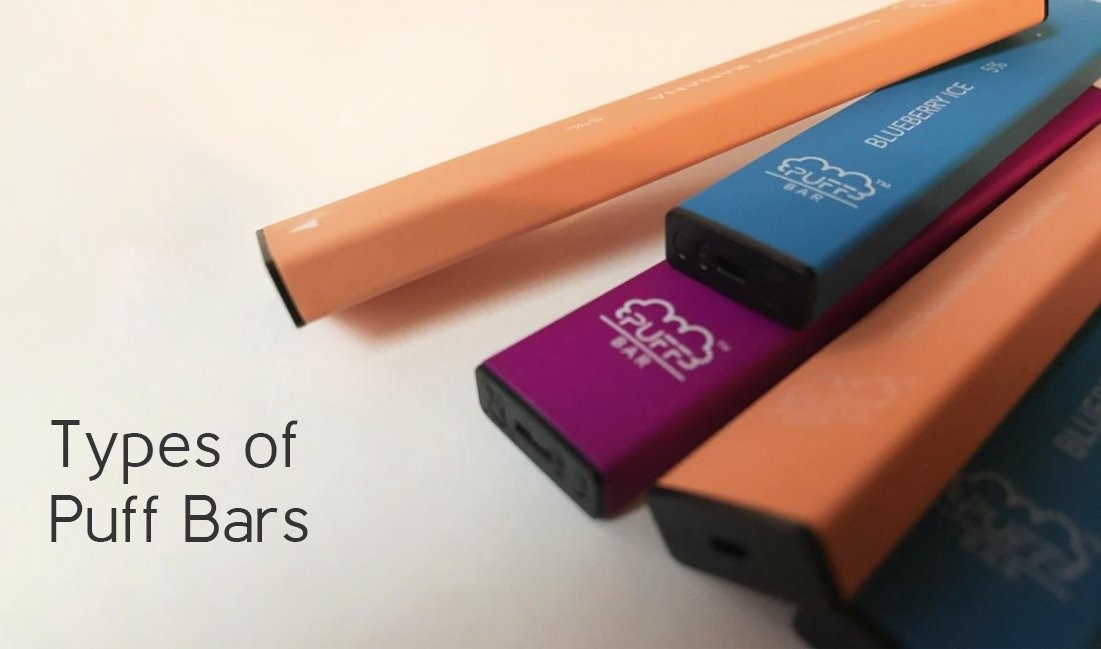 Now, let's talk about some other popular disposables that are on the market, that are comparable to Puff Bar.
My Bar: Like Puff Bar, My Bar comes in many flavors, but with a more limited selection. Each bar offers about 400 puffs of 50mg salt-based nicotine, and Guava is a particularly popular flavor option.
Hyppe Bar: With tempting flavors like Strawberry Banana, Mango Lychee, and Lychee Ice, Hyppe Bar is a great alternative with high-quality ingredients and excellent performance. Each bar contains a 50mg salt nic strength and provides up to about 300 puffs per device.
Wiff Bar: Available in many tantalizing flavors, including some succulent dessert flavors that are hard to find. Each bar gives you about 400 puffs of salt nic vapor, and there are eight flavors total.
Are Puff Bars Legal?
So, are Puff Bars legal? Puff Bars are legal as long as you are of legal age to purchase nicotine products where you live. Puff Bars are sold as tobacco products, and so laws regarding tobacco use apply to these products.
Author bio:

Mike Brown is a senior editor and a blogger at VapeJuiceDepot. His true passion is to provide assistance in creating software to help businesses grow. Developing a system to engage people together as the products change the hands of millions of people is a thrilling accomplishment.