How is IELTS Ninja's Personalised Mentoring?
IELTS Ninja Reviews by Students
IELTS Ninja is a well-known platform for online IELTS preparation. It is a leader in providing private online mentoring to its students. Students are all praises for its unique one to one session that trains the aspirants with the help of a personal trainer.
Several past successful students of this online training platform have praised the customized study plan, the flexibility in studying, the aptness of the content course, and much more.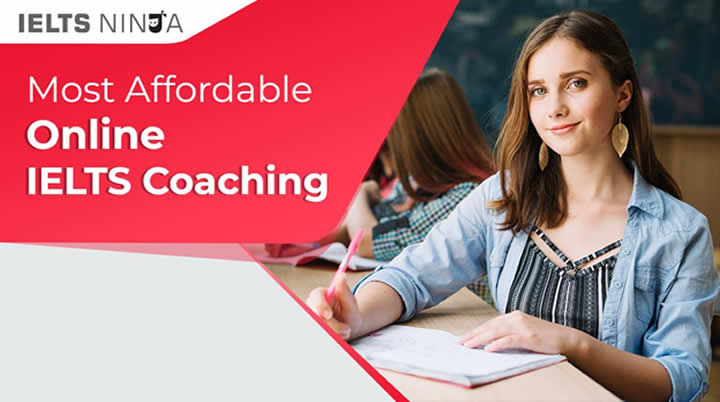 In one such review, Nitin Hira said "The content was very useful for me and helped me to improve my skills. For me, the best part was when the mentor explained everything about grammar and taught me everything in the syllabus precisely."
He further said that he had given some suggestions to the management and they have responded and improved considerably. "Overall, it was a great experience", adds Nitin.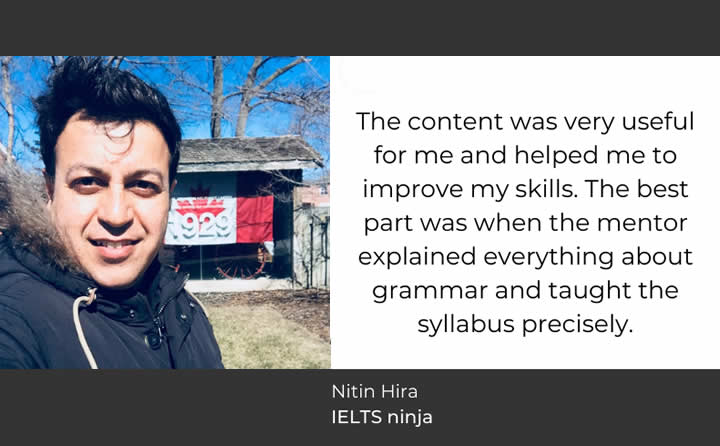 Along with personalized mentorship, students find the regular test series and doubt solving sessions conducted by IELTS Ninja to be very helpful.
Another student Vishal says "I thank the entire IELTS Ninja team and special thanks to my trainer, Margaret for helping me achieve my desired band scores."
He further added "The mentor assigned to me – Margaret is a star teacher. Her enthusiasm is contagious! Her teaching style lets learners learn in a relaxed and fun environment. In just 4 short weeks, I learned techniques that helped me to improve my writing and speaking skills. For those who are struggling to achieve their desired bands, I will say seize the opportunity. You won't regret taking the classes, but you might regret not making yourself possibly better when you had the chance."
So what makes IELTS Ninja stand apart from the other IELTS online coaching providers?
Private Online Mentor:
This feature lets the aspirants learn from the expert trainers in India through 1 to 1 training session. In these sessions, aspirants get individual attention, doubt solving session along with regular evaluation and constant feedback
Complete flexibility:
IELTS online training is now flexible, all thanks to IELTS Ninja. On this platform, aspirants can get unlimited video viewings for getting a clear understanding. These videos are filled with various relevant examples and diagrams. The best part is, all these can be accessed from anywhere at any time. Once a student enrolls with IELTS Ninja, he/she is provided with a pen drive at their doorstep which allows them to access all the content without an internet connection.
Personalized study plan:
Other than the one-to-one feature of IELTS Ninja, this is the most praised feature by the students. Here students get a customised study plan based on their strengths and weakness. The course plan is made by keeping a special focus on the weak areas of the aspirant.
Mock test series:
Students get to check their skills by attempting to mock tests after each module. Instant feedback is given after each test and furthermore, an action plan is created for the student based on their performance.
Other than these standard features, the Mission IELTS Program offers unlimited private training to the students until they get their desired band.
How is the Mission IELTS Program different from other courses?
A senior trainer starts this course by analysing the student's present status of the English language skill and examines their IELTS exam readiness.
The student gets allotted to multiple trainers based on the assessment report of his/ her strength and weakness.
The expert trainers at IELTS Ninja evaluate the student's weekly performance. Looking at the progress report, a customised study plan gets developed by the trainers.
The student gets directed to IELTS specific training after a significant language improvement.
The students are put on a rigorous mock test routine at the end.
Further, they have Canada PR and Study Abroad plans as well. In this, the personal mentor helps aspiring students in the University selection process, SOP and essay writing, visa application, document verification, and much more. In a nutshell, everything that you need to study or work abroad is covered under one roof.
What students find the most useful in IELTS Ninja?
One to one mentorship.
Personalised study plan.
Expert trainers.
Apt course content.
Proper focus on the student's weakness.
Instant feedback.
Flexible timings.
Always accessible study materials.
With all the above-mentioned features and after reading those positive reviews by the students, IELTS Ninja can definitely be called as one of the best IELTS online coaching platforms in India.