Image-sharing platforms have increased over the years, but only a handful of them are introduced to the world with unique aspects. ClickASnap is a platform that launched with exclusive features and a unique approach that captivated millions of users around the world.
What is ClickASnap, and what do they do differently?
As of today, ClickASnap is hitting two million views on the site every day, which is a massive feat in the presence of competitors. The founders took two different approaches to ensure that they are keeping PRO users happy and average users happy.
We have explained the two unique aspects below and covered important things that you need to know about the ClickASnap platform.
Pay-Per-Views
Users will get paid for the number of views received on the uploads. The platform offers 0.4cent (¢) per view and you have to subscribe to £2.00pm (£19.20pa), Seller £4.00pm (£38.40pa) and Pro-Seller £6.00pm (£57.60pa) plans.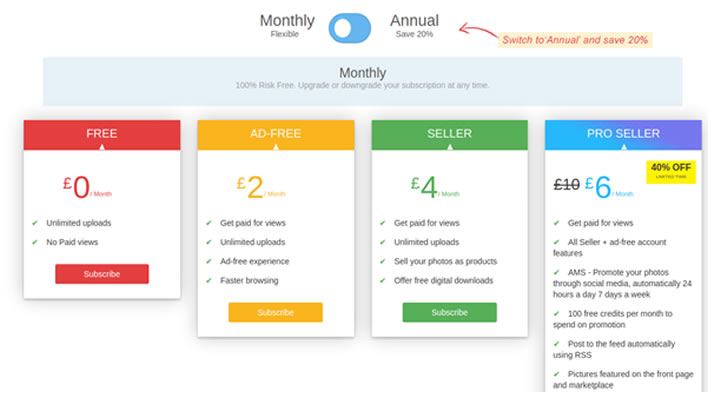 If you are an avid photographer or a professional photographer, then you are aware of income importance. Almost all image-sharing platforms don't have an income plan for the PRO and they don't even share a cut from revenues.
ClickASnap motive is to provide a decent income for the uploads and maintain the services for everyone.
Content Protection
The founders did work on content protection, so you don't have to worry about copycats. It's not easy to steal your work and upload it somewhere else because the team has taken the necessary precautions to protect it.
There is no download option available.
The page will block the snapshot tools. There will be an error message "Images on Clickasnap.com are copyrighted. Please request clearance from the author before usage" on the screen.
The site will blur the page if they have minimized it and trying to take a snapshot.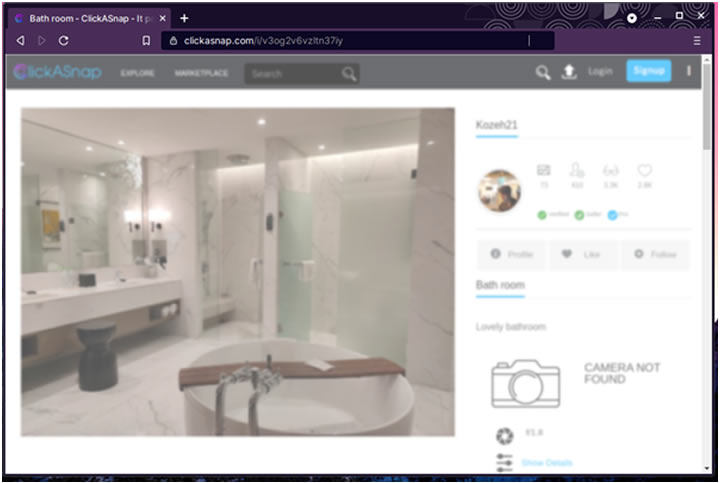 We have tried to download it in three different ways, and I failed to do so. The image-sharing site is protecting the user's content from being stolen, which is something that is not available on competitors' sites.
Marketplace
Many photographers have content that is worth buying, and that's where the marketplace comes in handy. You can showcase your work online, and if the viewers want to purchase it, then they can do so.
The creator has the power to choose the price, so there is no limitation there. You gave subscribe to Seller £4.00 pm (£38.40pa) or Pro-Seller £6.00 pm (£57.60pa) plan to sell your images as digital products.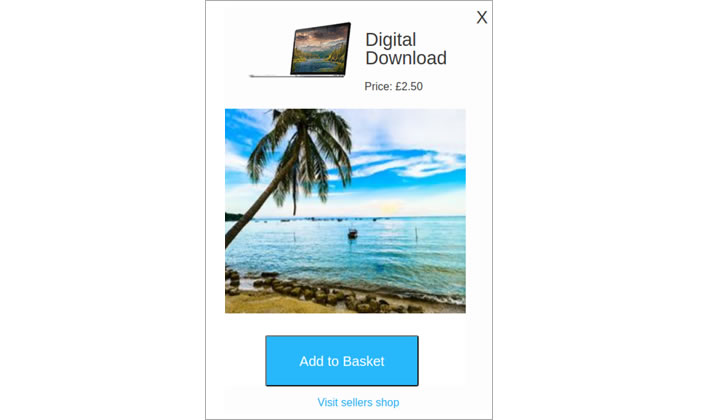 There is no limitation on sales and income, and you will be rewarded for the creative work. ClickASnap allows the creators to earn from the marketplace by selling the images as digital products.  It is an excellent source of income for the creators, who are looking for numerous ways to earn a respectable income.
Advanced Image Protection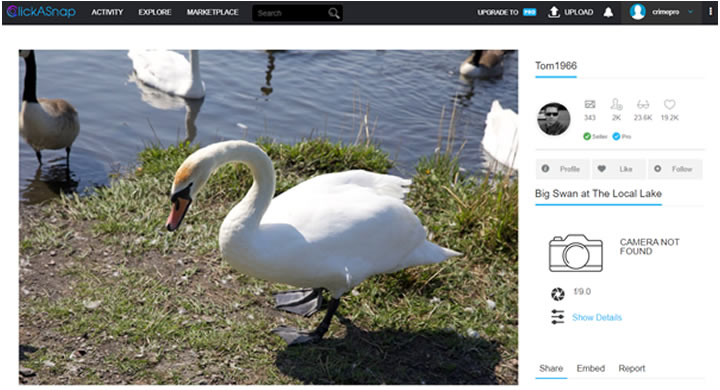 Pro Seller subscribers are fortunate because you got an advanced image protection feature in the package. Creators can upload the images ClickASnap, and they will WIPT copyright on it. The WIPT image protection technology will copyright the image without leaving a visible watermark.
Viewers will enjoy the creative work without a visible watermark, and your work is protected at the same time. You can use protection technology to prevent digital content theft and save your credits.
Engagement

Users' engagement is an important factor in motivating yourself to continue. ClickASnap allows the users to create a new & free account with an unlimited upload feature. You can sign up as a user and start commenting, liking, and following your favorite creators. You can let the creators about the art and how they have changed your perception towards art & photography.
A registered user can leave a common on posts, follow the creator profile, turn on/off notification, and check out profiles on another platform. ClickASnap does allow a free account, so you don't have to pay a single penny to upload images and use it to engage with creators.
Bottom Line
ClickASnap is a wonderful platform for creators and viewers, who love art and photography. Millions of viewers show up on the site to embrace the work, and it is a good platform to showcase the creative outcome to the world. There is no doubt that ClickASnap is changing the landscape and allowing millions to explore creative photography.