Area rugs are undoubtedly one of the best design tools you can use to upgrade the look and feel of any place. Whether you use them as a piece of artwork or just to add a complementary background for other decor purposes – modern pattern rugs are useful in every manner. Think of switching the boring carpets with unique, interesting rugs! A simple change can transform the entire place from traditional to modern, bland to bold, and classic to contemporary.
All you need to do is decide which patterned area rug is perfect for your place. In this post, we will discuss some key considerations to help you pick the right one.
Buying Patterned Area Rugs:
Style
You will find many area rug styles out there just like different styles of furniture, lighting, or room. It implies there's an overwhelming variety of options to consider. Homes are no more restricted to conventional Persian rugs or classic European ones. Apart from these universal, timeless options. You can consider modern and contemporary substitutes. Bold florals and geometric pattern rugs look as great as jutes and sisals.
You should be familiar with the kind of atmosphere you desire to create in your place with a rug. You don't have to match the area rug with everything in a room. However, it should blend well with the textures and tones of the furnishings around.
Colour
The second important factor is the color of the patterned area rug. No need to say you should start with the colors you like, but that's not all. You area rug should be in a color that will define the tone of the room. It should stand out without being too bright or gaudy on eyes.
Decide whether you want your rugs to stand out or blend in. once decided, think of the effect you wish to create with the color.
Pattern
Lately, modern pattern rugs have gained so much popularity throughout Australia and other regions. We know not everyone feels the same, but if the furnishings in your room are in solid colors, a solid rug can give a grounding, soothing effect. You just need to find the correct balance to keep things appealing yet not overpowering. The look and feel of a room is closely tied with the color of your rug.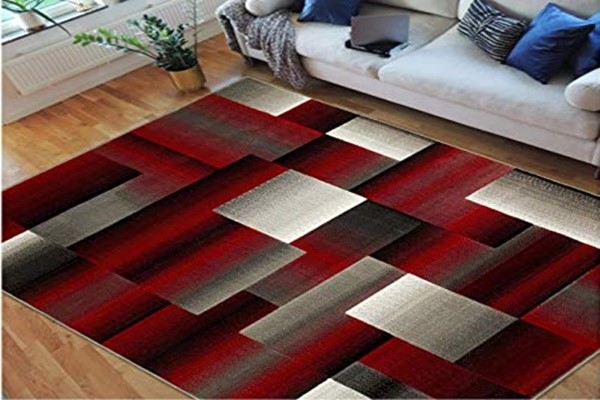 Size
Too small rug for a place can look more like a mat, and one of the biggest mistakes people commit while decorating their place. For an average-sized room, you should consider 10-20 inches of bare floor between the rug edges and the corner/walls of the room. Based on the size of your room, you can choose from different options of height, width, and length. Just make sure the selected modern area rug is centered in the room with equal distance from the wall from all sides.
Maintenance
While picking a rug, you should be honest with how much work can afford to maintain it. Most area rugs should be vacuumed and rotated regularly. It's easier to vacuum flat-weave rugs. You can even beat them outside to get rid of dust. On the contrary, high-pile rugs are tougher and more time-consuming to clean. You might need someone professional to clean it on your behalf.
Conclusion
At last, regardless of the type of rug you pick – geometric pattern rugs or contemporary patterned area rugs, make sure to get a rug pad compatible with the selected rug material and the flooring beneath. Explore all your options before buying one as a rug can make or break the entire look of your room.