I have always been a fashion junkie. As a teenager my closet was filled with clothes and jewellery and all I could dream of was a job in the fashion industry. I am glad I fulfilled that dream and some very popular names in the fashion industry have worn my designs on the runway.
I love to design jewellery and statement neckpieces are my absolute favourite. But having these favourites is one thing and storing them is another. I got to admit that I have been a bit of a hoarder when it comes to jewellery.
I used to keep all my jewellery packed in one big box and my small earrings and bracelets in little zip lock bags. It wasn't until I lost a few earrings and broke 3 of my most loved necklaces that I realised I needed a jewellery pouch for travelling.
When I had an upcoming trip to Melbourne for a fashion show I bought a Drawstring Design One-Step Organizer for Lazy Ladies. I thought it would be nice to carry my basic makeup and jewellery in one big pouch since it had a Drawstring Beam Design and was quick and easy to open and close when I was in a rush. I was quite happy when I packed the things, but the real trouble started when I landed at my destination and few hours before the show I started to unpack.
Everything got entangled and I was terrified that most of my necklaces would break. It took me nearly one and half hour to undo the damage and I was able to save most of it but 3 of my very beautiful pieces broke. One of them was to be worn by the showstopper and I was extremely disappointed and angry at myself. I regretted not having a good jewellery organiser.
A casual trip to the California Road Show in Sydney with a friend introduced me to a brand called Yazzii. Their travel bags are compact, stylish, sturdy and multifunctional. They are made of cloth and they have multiple pockets and compartments of different sizes for storing all your tiny accessories like earrings, rings, delicate or chunky neck pieces, headbands, bracelets, watches, anklets, toe rings, and bangles. Their pockets have a transparent, see-through panel which is very convenient, and the strong zippers keep your jewellery and other items very secure.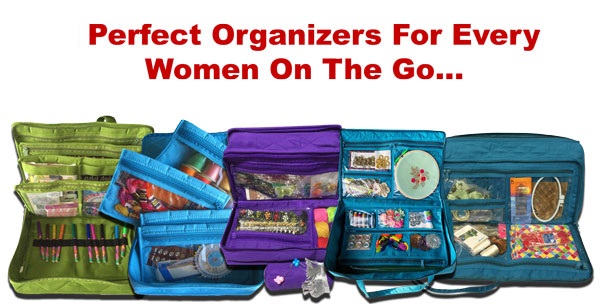 I bought myself a Double Petite Organiser which is conveniently divided into two sections. The upper section has a fabric pocket with a larger area, while the lower section has 4 sleeves, complete with see-through panels, offering six pockets in total. This organiser is spacious enough to carry necklaces and other pieces of jewellery in different sections.
I also bought a Jewellery roll which is cool and comes very handy while carrying all my favourite neck pieces and chunky earrings. Apart from this I wanted something chic and compact to carry basic items such as chains, bracelets and a watch for my work trip. The Compact Jewellery Organiser from Yazzii is stylish and truly multi-functional for the same purpose.
If you're going for a wedding or a long trip, then investing in jewellery bags and pouches is a must. You will probably have lots of outfits in different styles to flaunt around at the various functions. Having a separate travel bag for jewellery will make your life easy.
I use the Deluxe Jewellery Storage Bag for my elaborate travel plans. The upper section of this bag has a total of 10 pockets and the lower section has 5 pockets with a cushioned roll to keep watches and bracelets.
Now I travel stress-free because I know my things are safe and I wish I had taken these steps earlier… Thanks to Yazzii.com