A Point of Sale (POS) is an essential requirement for every store. Stores need a complete POS solution, complete with suitable hardware and software that is easy to use and meets their requirements. One of the best POS Solutions in the market is Shopify.
Shopify is one of the top brands that offer many solutions for both physical and virtual stores. So, how does Shopify measure up compared to others? Why is it that Shopify is considered to be one of the best in the market? This article provides some answers to these questions.


Shopify offers one of the best POS Solutions available in the market
What Makes Shopify One Of The Best POS Solutions?
Shopify POS is an app that can be installed on an iPad or iPhone. It also comes with hardware that can be used to run your software.
The following explains why Shopify is one of the best solutions available in the market:
It is easy to use: Shopify is one of the most user-friendly POS Solutions. It is very easy to sell online using this tool. You can connect multiple systems to it without any complications. It also has its own payment gateway integrated into it.
Several tutorials and tools are available on their website to help users if they want to know how to start using the Shopify POS. It has readymade templates and features that help users customize their POS as per their needs.
Shopify offers support: In case you have any problem while using Shopify, you can contact their customer support. They have 24/7 support through phone, live chat, and email. This feature makes it convenient for users who can get their doubts resolved and queries answered.
They are also available on Twitter, where they respond to user queries. Apart from this, they have a community forum where users can share the problems they faced and their solutions.
Scaling solutions: One of the biggest advantages of Shopify is that it offers solutions that can be scaled as per your business needs. Depending on your business type and the number of transactions, you can choose any of the plans that Shopify offers.
You can start with the Lite plan or the Basic model that costs you a monthly fee of $9 and $29, respectively. Apart from this, you only need to pay a processing fee of 2.9% plus 30c per transaction. For a larger business, the Advanced Shopify plan is ideal. For a monthly fee of $299, the transaction fee is reduced to 2.4% plus 30c.
App and card reader: Shopify has an app that can be used to manage the POS on their mobile phones or other devices. Data from the app syncs with the online store, ensuring that it is updated at all times. Apart from this app, Shopify POS comes with a card reader.
Stores that want additional hardware like barcode scanners and receipt printers can purchase them from Shopify, or buy from any other vendor and integrate easily into the system.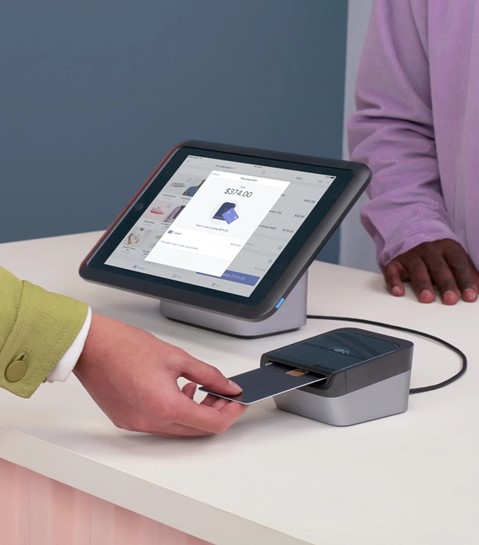 Shopify provides an app and card reader for stores
Social media channels: One of the biggest advantages of using Shopify is that it has an in-built sales channel for social media. Shopify is integrated with Facebook Shop and Instagram, and products sold on these social media platforms are updated in your inventory automatically.
Facebook Messenger, Amazon, eBay, Buzzfeed, and Google Shopping can be accessed by Shopify POS users, who can use these channels to sell their products on social media. This powerful feature is exclusive for Shopify, making it truly a great POS solution.
Inventory and order management made easy: The main processes in a store are managing the inventory and orders from customers. These processes become very easy when you use the Shopify POS solution. You can manage unlimited products as a part of inventory management. Moreover, you can create product lists, make product variations, add barcodes, and do all that is needed to manage your inventory in the most effective way.
Order management ensures you can track orders received from customers easily and know the status of these orders at each stage.
Engage with customers: You can engage with customers easily thanks to Shopify's features. It lets you create customer profiles and use them for marketing campaigns. Shopify has an in-built blogging platform that can be used to create quality content in the form of blogs, articles, and discussions, letting you engage effectively with customers.