One of the real reasons as to why some would establish a business is because they aim to raise profit and expand their customer base. Nonetheless, there are times when these goals cannot easily be met due to various external factors. If you are in this kind of position, you may want to consider employing tools like Tekmetric, a shop management system.
What is a shop management system?
This is considered software that aids in organizing and managing your repair shop's various internal workings. In addition, you can keep track of all of your accounts, issues, and work orders. With a system like this, you can now focus on gaining more customers and improving the quality of your work. In addition, you will be able to maximize your profit and improve the efficiency of your company.
What is Tekmetric?
Tekmetric is actually considered as the first and only store management system that is made available to technicians. This can be very useful for those under the repair industry for a variety of reasons – electronic diagnosis, printed work orders, and automated inspections. This company provides its clients with seamless software that can integrate an array of features within the actual program itself. The software, itself, is affordable and it can pretty much be of service to any shop offering a number of services under the repair industry.
What does Tekmetric offer?
For one, Tekmetric provides a great number of features under the category of inventory management. You can enjoy benefits such as one-click parts ordering, employee scheduling, and preparing instant quotes for your clients. The complete benefits of Tekmetric will be discussed further in this article. In addition, all of the features that Tekmetric can provide is heavily incorporated to any repair shop's daily work. Truly, with better communication through an advanced custom messaging, your business can eliminate those instances where the customer does not show up or any form of appointment cancellations.
How does the repair industry benefit from a shop management system?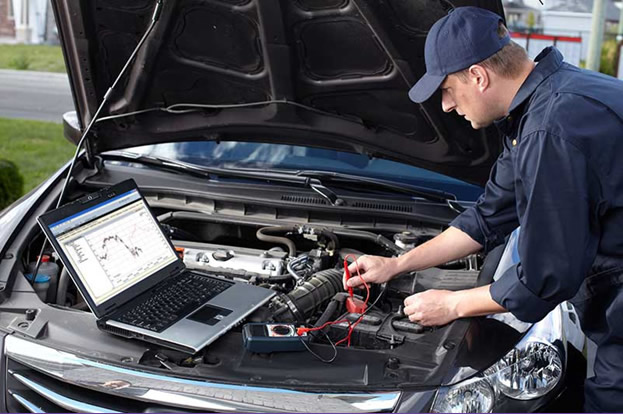 What most people do not know is that a shop management system can be very beneficial for repair shop owners. You can do a lot with this kind of system. For those involved in the automobile repair industry, you'd be happy to know how much time you can save with the use of Tekmetric's digital vehicle inspection.
With the use of Tekmetric's digital vehicle inspection, you can ensure the following points:
Your client communications are well taken care of.
Your business achieves a high-level of employee retention.
Your business inventory is more controlled and monitored.
You can keep your database secure.
You can easily access any crucial information from anywhere.
You can achieve a piece of well-managed vendor information.
You can easily build order and provide quotes to your clients within minutes.
You can instantly track any job orders or repair orders.
Apart from job orders and repair orders, you can also track your customer base.
You can measure and asses job profitability.
You'll have a paperless invoicing as well as payment information.
You can easily customize your pricing and payments.
Any repair shop inspection is easily managed.
Your business can make use of a digital employee portal – a virtual platform where you can store employee information such as tax information, day offs, and overtimes.
This innovation can truly change the business operations of an automobile repair shop. Furthermore, with the use of a shop management system, you will be able to know what processes are needed to be performed on an automobile resulting in an increase in job orders. Don't hesitate to give this one a try, maybe this is what you have been waiting for.