The cosmetics brand KLYTIA was at the origin of the world's first beauty institute in 1895 which was located at 26 places Vendôme in Paris. Its cosmetics have been exported to 40 countries around the world, including China, Russia, Egypt, Argentina for the most famous customers: the Queen of Egypt Davidjan, the Infanta of Spain Eulalia, the court of Tsar of Russia…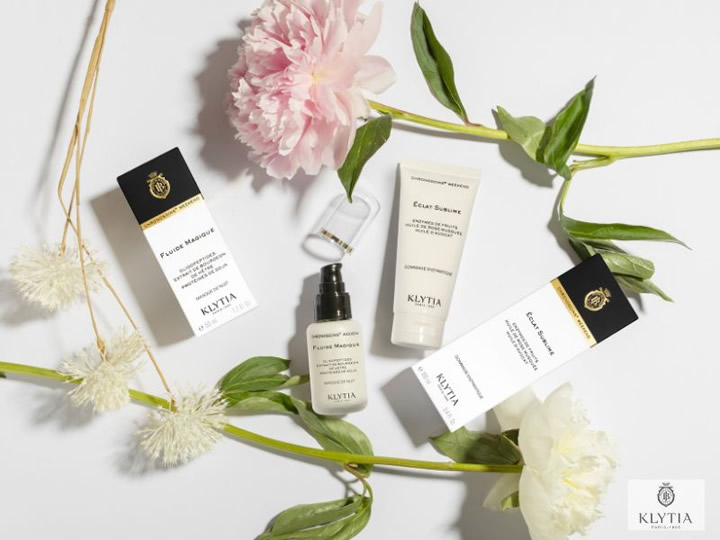 In 2021 KLYTIA is relaunching its new collection of thirty skincare products inspired by the brand's old formulas and chronobiology as well as a complete range of professional treatments for beauty institutes and spas and hopes to relaunch its aesthetic school.
The brand looked for the products most suited to new trends: "clean beauty", eco-responsible, vegan, paraben-free, based on active ingredients from nature without forgetting effectiveness.
A few years ago, the brand had already done its research in chronobiology in collaboration with the Galenic Pharmacy laboratory of the Université René-Descartes Paris V to confirm the importance of circadian rhythms for the metabolism of the little.
KLYTIA subsequently introduced these ideas into its range of products called CHRONOSOINS®.
CHRONOSOINS are beauty rituals specially designed for the moment of their application: morning, evening, or weekend. In this cosmetic range, each product works in sequence with the next.
The textures are adapted to the moment of the treatment: lighter and hydrating in the morning, more nourishing at night. The fragrance respects the ambiance of the treatment: more citrus fruits in the morning, more flowery in the evening.
Professional treatment protocols for beauty institutes and spas find their inspiration in chronobiology and adapt to the seasons and the skin's needs at the time of treatment: Clip – Zen or Source. The longer the treatment, the more powerful it is.
New technologies are also introduced into professional care protocols with the MESOEFFECT system, an ultra-resourcing care kit to be used with or without micro-needling.
Today the brand is launching into e-commerce and once again delivers around the world. The first care centers and KLYTIA stores will be opened in Paris, Baden Baden, and Monaco.