People have fears, prejudgments, and doubts about traveling until they don't put themselves into it. To get a clear shape of your thinking, you should look into all directions. For today our direction is Dubai City and its attractions.
Whether you make a solo trip, with family or a couple holiday, one thing is pretty sure; Memories aren't made at home. They are being made once you step out, only once out of your safe space. The sandy offshores of Dubai also has 100 of salient places to explore like Dubai desserts, Burj AL Arab and Khalifa, Dhow Cruise Dubai and many more.
Fairly speaking, being in tourism matters, I must say; Tourism is like a drug. Once you take it, you keep falling for it. A place like Dubai offers you to go deeper and deeper into its cultural and modernization values. In a case, when you have a short time and low budget but want to have a memorable trip, here are the five most attractive places in Dubai briefly conversed below;
Dhow Cruise
Imagine, you have landed in Dubai and didn't visit the sea sides via dhow Cruise. It would be an injustice to your trip. Dhows are the wooden cruise, showing the culture of Arabs, which used to be a prominent signature of Dubai.
Options are totally finite here – Cruise Creek and the Marinas. Dhow Cruise Creek truly represent ancient Dubai and make it a way on Bur Dubai and Diera – Northern Dubai, whereas the Marinas represent the revolution, advancement, and gadgetry of Dubai.
In Contrast with the Marina, Creeks are way cheaper and affordable. Cameras are a must, enjoy the sceneries, cultural and heritage places with the Dubai Dhow Creek. Floating 2 hours on Seaside with Dhow Creek would allow you to experience the most pleasant moments of your life.
The sound of sea waves, Coolness of breeze, and most importantly, a totally private Dhow cruise dinner with your partner, can't get better without Dhow cruise.
The other part of the cruise are the Marinas. These cruises run through artificially made 2 miles canal in the modern Dubai city. Marinas are totally fun, entertainment and belong to the sightseeing of the City, including Burj Al- Arab, Atlantis Hotel, and much more.
Day Timings would offer you to see the city routine life of Dubai, Crowd, and Tall Architectures. Instead, Night offers you to relax, enjoy breathtaking views, and Definitely a Cruise Dinner.
Dubai Dancing Fountains
It can't be less of any wonder to see the water dancing on fountains. The second most attractive and crowded spot is Dubai fountains. Do you want dinner in Dubai with the most attractive and cool ambiance? Ask your driver to move to Dubai Mall, pick a restaurant with a good outdoor patio, and enjoy your dinner with the sight of dancing fountains.
This is also an innovative masterpiece of architecture. Designed by world-class architects, Dubai fountains are worth to watch.
Dubai Desert Safari
Enough of City lights, crowded areas, and Shopping? Move to Desserts to have different leisure of comfort, BBQ nights, Belly and Tanura Dancing, camel rides, and much more. So, 35 to 50 KMs far from the city area, Dubai Desserts are also a widespread residence of tourists. The desert safari dubai tour is portioned into 3-4 hours of timing. Every split has different adventurous activities in the package.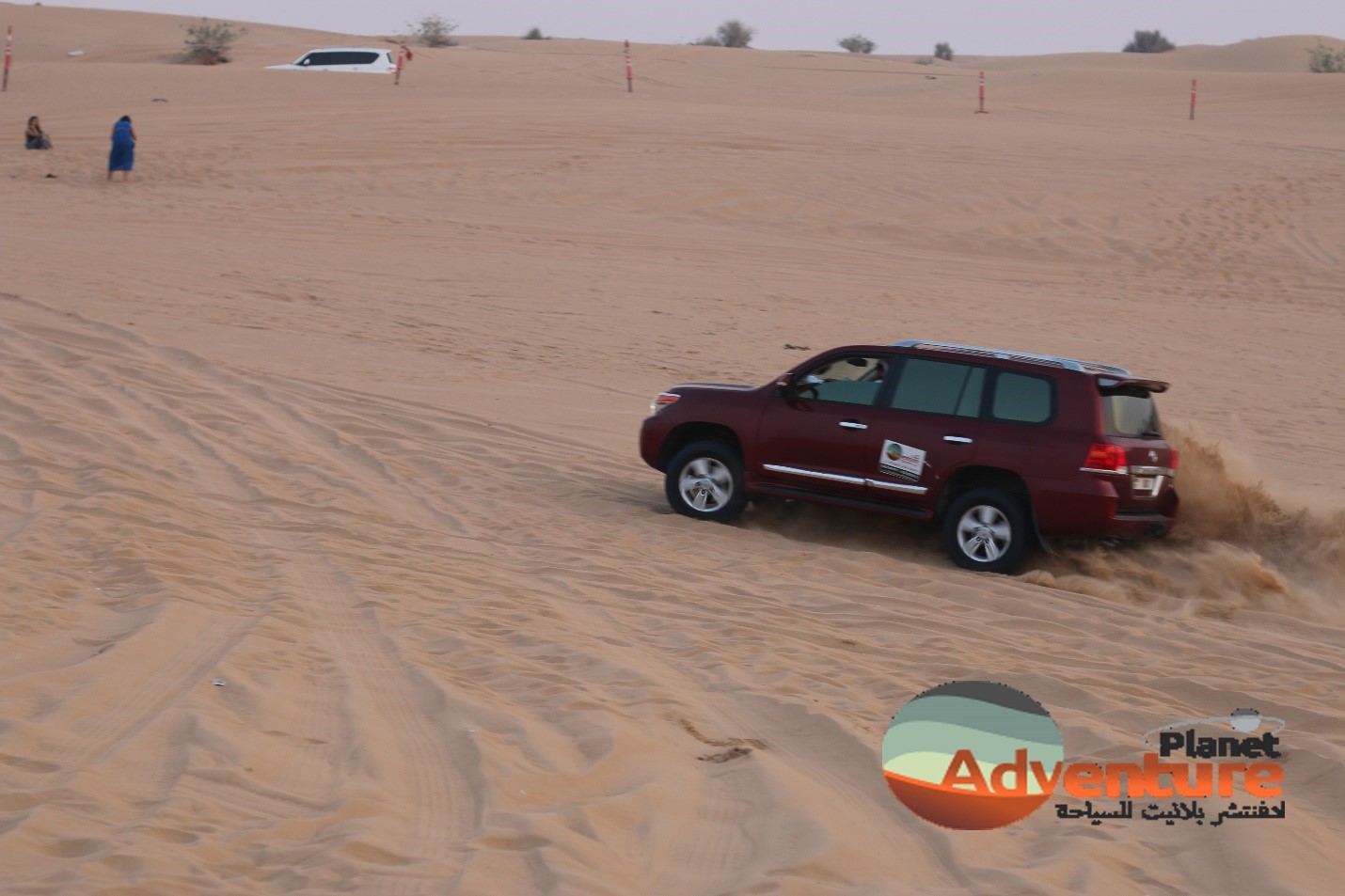 To my recommendation, relieve your day-long tiredness with Night Safari Tour and have a pleasant and relaxing ambiance of your trip.
Burj Al Khalifa
After the Burj Al-Arab, this building took over the title of "highest building of the World." Burj Khalifa is open for the public to roam around and visit the landmark hotels and brands there. You can also view the whole scenery of Dubai.
The Palms
If the 8th wonder of the world exists, then I would count "The Palms." This spot is considered as totally man-made Island and has many landmark architectures. The most famous one is "The Atlantis." Driving through the roads and seeing other palms, can't get your eyes off the scene.
Recommendations and Final Thoughts
A trip always becomes more notable with your loved ones. If you are making it happen with your partner, I would suggest you don't miss the experience of Dhow Cruise Creek. This is the only experience that would make your trip more memorable than any other activity.