Sometimes it becomes very irritating when we get unsolicited calls from numbers unknown to us.
There have been quite a several times when you have got non-stop unwanted calls during the nighttime, got a call from international numbers, or call from unusual numbers that disturb your peace of mind.
Also, during your work time, there have been several instances where you have ended up getting spam calls during an important meeting or while you are driving.
During all these instances, will it not be a better option if you get the scope to trace the unknown number as soon as you get the call?
It will also let you get the chance to disconnect the call as well by seeing the person who is calling and let you have your peace and continue with whatever important you were doing.
All these problems get resolved with the use of one phone number tracker app on your mobile device.
When Do we need to Track Phone Number
Phone number tracker applications are one of the valuable and necessary tools that let the users understand the owner's content consumption pattern of the targeted mobile a little better.
Apart from this, if your kid is accessing websites that he/she should not, then it is essential to have a phone number tracker application to know such kinds of activities.
Moreover, as an employer, you have an intuition that your employees tend to waste time during office hours. Then also, a phone tracker will help this to a great extent.
Top 5 Apps to Track Phone Number
Mobile networks and telephone operators can easily track phone numbers just by putting the mobile number online.
However, all the detailed data is only shared with the government of the state. Nevertheless, several phone number tracker programs and tools come up with the same type of service, and it can be accessed by anyone and anywhere.
A few such apps will also provide useful information about the owner of the mobile, like their contact information or location.
To identify such calls from unknown caller IDs, you need to have a phone number tracker app on your Android or iOS. The apps will let you recognize from where the unwanted call came or is coming.
In this article, we will learn about five such phone number tracker apps so that you can track any phone number whenever you require. The five most desired phone number tracker apps are:
1. Famisafe
FamiSafe is regarded to be one of the best phone number trackers that can be used for tracking the location of a smartphone. Nowadays, almost all kids of 3 years and above use their parent's smartphones or tablets.
With Famisafe, you get the parental control option and the option to set time limits for data usage.
FamiSafe thus helps them to create a healthy digital habit. Older kids, as they grow up like to explore places all alone by themselves. With parental control as a parent, you can keep track of where they are going.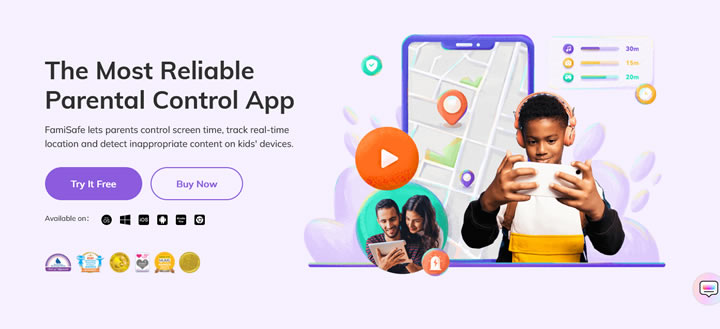 Another aspect for which you can rely on FamiSafe is providing you the awareness of whether your kid is being harassed or bullied online by others. Parents get alerts and notifications when any inappropriate content is detected on their devices.
FamiSafe app helps you to find real-time locations on the smartphone that you use. The app also provides the feature of geo-fencing. This feature lets you set boundaries, and you would get notifications whenever your kids visit or enter any dangerous location.
2. Mobile Number Location
Mobile Number Location is a free phone number tracker that helps you search STD and ISD codes and mobile numbers. The app also helps to locate mobile phone locations. This can be done without internet service.
The app also allows you to identify caller ID names of all the incoming calls even when you are offline. The app further provides information like whether the call is a telemarketing call with area codes and others.
The app comes with a GPS feature and helps you get the device's live location via the map.
3. Phone Number Locator –Caller ID
Mobile Number Locator – Phone Caller Location is another desired phone number tracker app. In this app, you get the option to put the mobile number and directly tap for the search option. The results will show you where the number is registered.
However, this is not a location tracker where the mobile number is. It will only give information about the number's location. The app is easy to use for its simplified functions and can be downloaded from Google Play Store.
4. Phone Number Tracker
The features of Phone Number Tracker are the same as the app Phone Tracker by Number. However, the app comes with an added feature. The app shares the name and location details of the numbers you are searching for.
Also, the app has a speed dealer allowing you to return to the unknown call you received quickly.
5. Phone Tracker By Number
Phone Tracker By Number is considered to be a strong GPS tracker allowing you to locate the mobile devices of your children. The app helps you to locate your child's location accurately and in a convenient way.
The app helps you to keep track of where your child is with continuous alerts of their real-time movement.
Conclusion
Now that you have the answer to the question of why we need a phone tracker and you understand why we all need a phone number tracker app on our mobile phones. We hope that now you will be able to choose the right app for yourself.
Also, choosing the right app will help you to keep track of your child's activities through the parental control feature.