The beverage can seriously affect the taste of any dish. The right combination stimulates appetite, makes the process of eating more pleasant, and adds an interesting overall flavor bouquet.
The wrong combination, on the contrary, can completely ruin the impression of a delicious fresh dish prepared by the best chef.
What beverage goes best with pizza?
It is not enough just to order a pizza, you need to add the right drink to it for maximum pleasure. So, let's talk about pizza and drinks pairing and find out what drinks are suitable for pizza.
Most popular types of pizza
The classic Italian pizza is a circle of yeast dough stuffed with tomato sauce and cheese, and no meat.
With the growth of world popularity, pizza has changed, and today there are already thousands of filling options for every taste: seafood, meat, spicy sausages, vegetables, chicken, anchovies, etc.
There is even a sweet dessert pizza with pineapples, cherries, chocolate, strawberries, etc.
Different countries have their own varieties of popular and exotic pizza types.
In Australia, you may be offered a topping with crocodile or kangaroo meat.
In India, popular stuffing ingredients are cottage cheese and tandoori chicken.
In the US, they prefer bacon and chicken in barbecue sauce.
For each type of filling you need to choose your drink. Not the last role in the choice is played by national traditions and preferences.
So what to drink with pizza?
To this day, the Italians believe that the taste of pizza is combined only with wine. Traditionally, Italian pizza is paired with dry red wine, but in some cases, pizza is also eaten with white wine.
Fast food lovers around the world know that the constant companion of pizza in American-style cafes is sweet soda, especially Coca-Cola.
For those who do not accept alcohol consumption, it is recommended to pair pizza with classic Coca-Cola or with mineral water. Mineral water does not spoil the taste of pizza and at the same time perfectly quenches thirst.
Children love desserts, so they often choose the sweet ones from all types of pizza. Natural sugar-free juices, or mineral water, and are well-suited with sweet pizza.
Adults prefer to drink coffee or tea with pizza. We recommend choosing black loose leaf tea for meat, and green tea for fish. As an addition to sweet pizza, fruit or herbal tea is suitable.
Tradition against tradition: pizza and beer
Italians do not perceive pizza as an appetizer for foamy beer. In Germany, on the contrary, they often serve pizza along with beer.
Moreover, dark beer is better combined with meat and spicy fillings, and light beer with vegetable fillings.
Keep in mind that beer not only enhances the taste sensations but also whets the appetite.
Pizza and beer have become inseparable in the USA where pizza is considered a must-have dish at all kinds of parties and gatherings in the company.
In Canada and the USA, pizza is eaten with both alcoholic (whiskey, tequila, beer, or wine) and non-alcoholic drinks.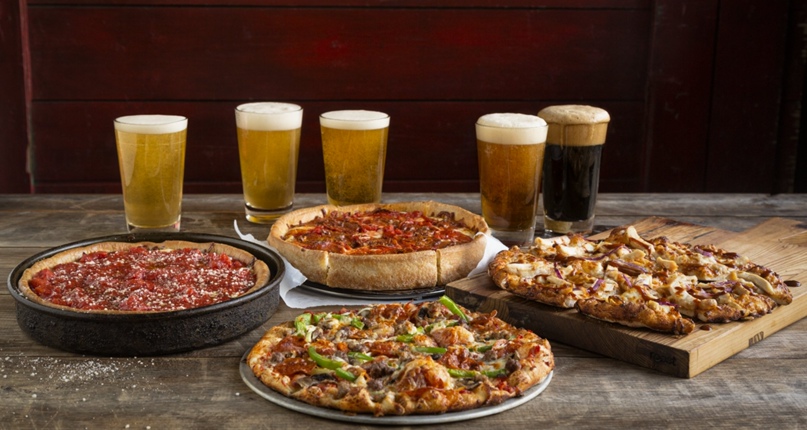 Most popular pizza and beer combinations
Pepperoni and American Brown Ale – Amber ale has a slightly bitter taste, while American brown ale has a slight caramel flavor that perfectly complements the mild pepperoni spiciness.
Cheese pizza and pale ale – The rich aroma and taste reveal the taste of cheese pizza. You will discover new flavor facets of cheese.
Mushroom and Irish red ale – Considering that not freshly picked champignons, but canned ones are often put in pizza, only red ale can revive the taste of mushroom pizza. Toasted bread combined with beer caramel flavor will make mushroom pizza your favorite pizza type.
Mexican and pale lager – This popular beer combined with spicy pizza makes the perfect tandem of flavors.
Pizza cheeseburger and wheat beer – This invigorating beer perfectly complements the taste of a cheeseburger pizza.
Choice-based on time of day
Choosing the right pizza accompaniment depends not only on personal or regional preferences but also on the time of day:
Morning: If you decide to have a slice of pizza for breakfast, accompany it with a cup of freshly brewed coffee or tea.
Day: The best start and end of lunch is a glass of plain mineral water without gas.
Evening: For dinner, treat yourself to a glass of wine or a glass of beer.
At Vancouver Pizza Delivery you can order pizza and drinks for every taste.