Instagram growth services (IGS) are sprouting up quicker than mushrooms after a rainstorm. With an overwhelming number of companies to choose from, doing due diligence can be daunting and time consuming. That's not to say you shouldn't do your own research. In fact, we encourage you to do your own. But we're going to get you pointed in the right direction and compare three Instagram growth companies.Three Instagram Growth Services and What to Look For
UpLeap and Kicksta are two companies you've probably come across in your search, but a fairly new yet already reputable company, FollowFox, needs to be on your radar and your short list of potential Insta growth companies.
We've taken to the web, scoured the reviews high and low, and rounded them up. Here are some factors of an Instagram growth service that you should pay attention to.
Human-Powered Services
In the world of IGS, there are human-powered companies (where real people do the work) and there are bot-controlled companies (where computers do the work and typically "buy" followers). Bot-controlled companies are more risky in that they can move too quickly, breaking IG rules and regulations. This can result in getting your account suspended. Human-powered companies are typically a bit more cognizant of the rules and work more "organically" to grow your company. Humans can engage more thoughtfully with others' accounts, target other accounts that truly are relevant to yours, and time the activity on your account to comply with IG rules.
The Contenders: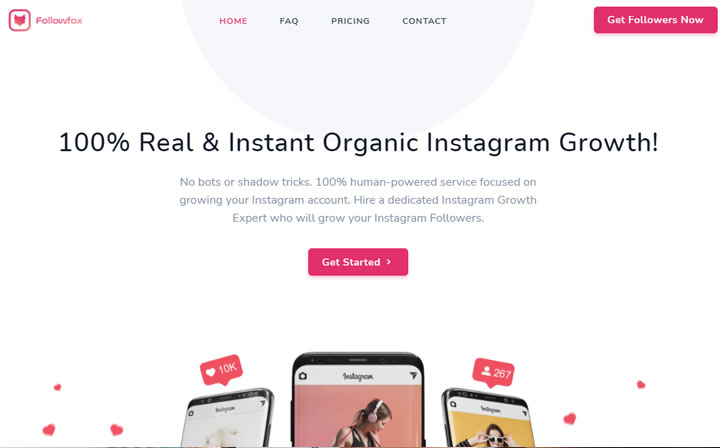 FollowFox
Not bots or shady tactics here, just a company that's solely dedicated to growing your Insta account by real humans who care. They are known for strategizing with customers on the best approach, taking appropriate action, and keeping their customer informed of all activity on their account. They use data analysis to make sure the strategies your account manager are using are working. They can pivot or adapt based on what is and is not working. You don't get just one approach with FollowFox, you get an evolving, adaptable growth service.
UpLeap
UpLeap has a quick, easy set-up, but the simple questions that you answer may not be enough to hone in on your target audience at first. Granted, finding the right niche will take time with any company, but we think starting out more targeted will yield better results in the long run. UpLeap doesn't buy any followers but finds real accounts to engage with on your behalf.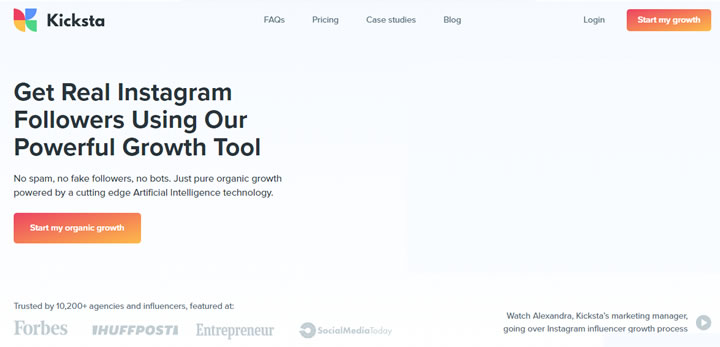 Kicksta
Kicksta's humans do all the hustling of growing your account for you. Their website is incredibly informative and upfront about what they can and can't do. Like FollowFox, they're using some behind-the-scenes tech and AI to make sure the strategies they're using are the right ones. However, at the time of writing, their system is fraught with bugs and issues, so there are a lot of complaints.
Customer Service
We really think customer service should be outstanding for any company you give money to, but this is particularly important for your IGS. Why?
You're giving them access to your account. Yes, you typically hand over your password so they can like, comment, follow, etc. on your behalf. You are putting trust in the company you hire to do the right things all the time. What happens if they mess it up and you can't get a hold of your account manager?! Your IG account may be screwed for a long time. Being able to chat, email, and actually talk to someone on the phone holds the company accountable and builds trust. You want a reputable, trustworthy company handling your account don't you?
You're paying them money. Money equates to service. You give your hard-earned money month after month so you should expect a level of service to come with that. If you're not getting attentive, timely, informative, one-on-one support then we think you should find a new company.
The Contenders:
FollowFox
All we can say is wow! The reviewers are clear about one thing with FollowFox: their superior level of customer service. Reviewers say FollowFox's account managers are reachable through many methods and they respond quickly to questions and/or issues. They keep their clients informed with account activity and proactively reach out if something is amiss. Clients say that account managers are responsive, knowledgeable, and dedicated to their clients.
UpLeap
UpLeap has about 50% excellent reviews and 50% really bad reviews. Most complaints are regarding customer service or fake followers. Reviewers say they can't reach their account manager, even with multiple attempts. Even the good reviews say contacting the company is challenging.
Kicksta
Kicksta's customer service reviews are well above UpLeap, but there may still be room for improvement. Reviewers who have had a good experience with Kickta say their account managers are responsive and helpful. But reviewers who have had a bad experience say Kicksta's customer service is awful. So, right now it's a mixed bag for the quality of customer service you'll get from Kicksta.
Packages and Pricing
We think you should look at Instagram growth services as an investment in your success. You're putting your money into a service that will contribute to how popular you get, which in turn can get you to the influencer-level you dream about. Influencer equals income (and hopefully a lot of income), right? So, how much are you ready to invest in growing your Insta account? $40/month, $100/month? All three companies we're looking at have different packages. Basic packages will have fewer services and premium packages will have more. You can pick a package and price-point that suits your comfort level. All companies offer upgrading or downgrading and no contracts-—you can cancel anytime before your next billing cycle.
The Contenders
FollowFox
Three packages
Personal $59/month
Influencer $89/month
Business $229/month
UpLeap
Three packages
Lite $59/month
Standard $79/month
Premium $199/month
Kicksta
Two packages
Standard $49/month
Premium $99/month
Review scores from around the web
Part of due diligence is reading reviews. The trouble with reviews is that they can be fake, so we recommend you look at many different sources and read as many as you can. Remember that people have a tendency to write reviews only when they've had a bad experience, so it may not be indicative of reality. With that said, if a majority of reviews are bad then that probably isn't the Instagram growth company you should hire.
The Contenders
FollowFox: Trustpilot: Excellent 4.6 / 5 (44 reviews)
UpLeap: Trustpilot: Poor 2.4 / 5 (136 reviews)
Kicksta: Trustpilot: Average 1 / 5 (282 reviews)
FollowFox vs. UpLeap vs. Kicksta
| | | | |
| --- | --- | --- | --- |
| | FollowFox | UpLeap | Kicksta |
| Growth done by | Human | Bot | Bot |
| Personal Account Manager | Yes | Yes | No |
| Growth speed | Maximum | Moderate | Maximum |
| Targeting | Advanced | Advanced | Advanced |
| Customer Service | 5/5 | 1/5 | 2/5 |
| Trustpilot rating | 4.6 | 2.4 | 3.1 |
| Prices start at | $59 | $59 | $49 |
| Website | https://followfox.io | https://upleap.com | https://kicksta.co |
Even though they're fairly new to the game, FollowFox gets our choice for the best Instagram growth service. Their customer service is superior, services are on point, and pricing is reasonable. Like we said before, we recommend doing your own due diligence, but we think it  will lead you to FollowFox.