Vlogging or video blog is gaining immense popularity with each passing day. The idea of talking to the camera instead of writing your thoughts on a blog seems an attractive proposition for many individuals. However, it is not only about illustrating your verbal and filming skills. Without the help of the precise vlogging camera, your vlogging expeditions may well turn out to be mediocre ones.
Indisputably, visual content will attract more eyeballs in comparison to a written blog. The said idea again seems appealing to start vlogging. However, as an aspiring vlogger, you must spare a thought on the best cameras for vlogging. With the best vlogging camera as your aide, the vlogs promise to be more engaging.  This guide will introduce you to the best cameras. All the vlogging fanatics out there fasten your seatbelts, as we explore the top cameras.
Canon EOS M200
Canon EOS M200 is one of the most affordable vlogging cameras. For those who are just about to step into the world of vlogging, the camera offers a wide array of features and thus is of great value. EOS M200 sports a 24MP CMOS sensor; it can capture 4K UHD videos and 1080 full HD videos alike. Simultaneously, the features, like wireless connectivity, vertical support for video, tilting touchscreen, and much more make it an ideal choice for the vlogging enthusiast.
One of the key elements for successful blogging is to have significant detailing in the images. In this aspect EOS, M200 won't disappoint you. The camera has an improved processor which makes it more powerful when you require using it for a longer period for filming your experiences.
Another interesting addition is the 143-point phase-detection AF system that makes it much more convenient for detecting face and eye.
The camera is a welcome addition for those who want to explore the next level of photo and videography, outside their smartphones. With this camera, you can experiment by fitting different lenses depending on your shooting requirements. It captures crisp video even in dim lights.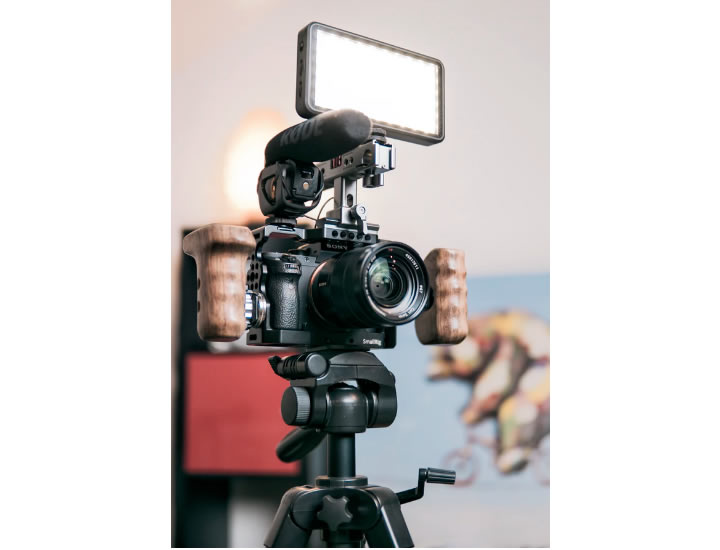 Canon PowerShot G7 Mark III
Here is another handy vlogging camera from Canon. If you do not want to compromise with image and video quality, go for this model. Though it is a tad on the expensive side, the advanced features make it worth it. Moreover, you will find it very convenient to carry the camera wherever you go. The primary features include a 4.2x optical zoom lens, tilt-up touchscreen, and you can simultaneously stream your videos live on YouTube. The advanced features include optical stabilization, ND filters, HDR movie, and more.
Using the camera is super easy. Now, you can attach a microphone to it, and start vlogging. For the unversed, Canon's G7 series has a great reputation for its wide-aperture lens and its large sensor. The detailing of images and videos are excellent, as you can expect. You also wouldn't have much of a problem if you need to vlog in low-light conditions. The 4K video capture lets you capture everything while on the move without distorting the picture quality.
Your shooting experience will get better as you decipher the inbuilt features of PowerShot G7 Mark III. Undoubtedly, you will appreciate the controls, features, and next-level video features. Regardless of whether you are a noob or a pro, this camera makes a great choice when it comes to vlogging.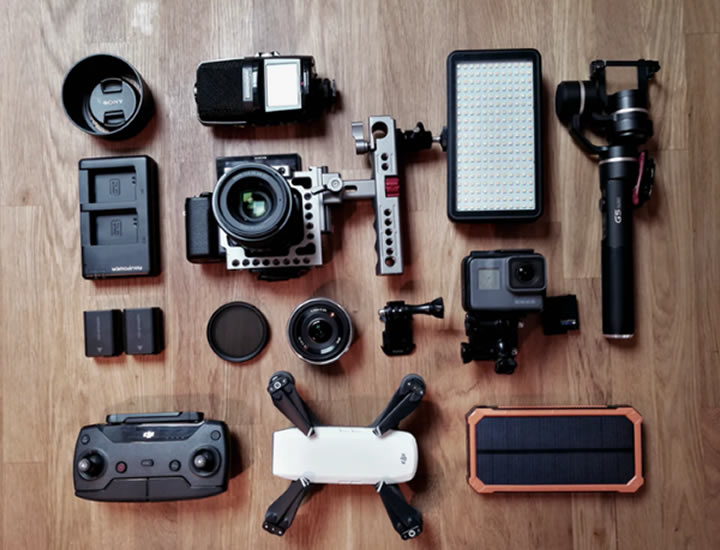 Panasonic G80/G85
The G85 is pricey. However, it qualifies to become one of the best vlogging cameras for all the right reasons. It is weather-resistant, thanks to the magnesium alloy front plate sealing. Furthermore, it sports a unique electromagnetic shutter that efficiently wards problems like shutter shocks. Then you get an improved electronic viewfinder along with a 5-axis camera. Interestingly, the camera was launched more than five years ago, but it continues to remain one of the top favorites for vloggers.
You can expect crisp image and video qualities owing to its improved 16MP sensor in combination with the most sophisticated image processing features. The image stabilization works exceedingly well when you are recording 4k videos. Some of the other features that make it an ideal deal for the vloggers include are focus stacking, post focus, and a light composition mode. Moreover, as a vlogger, you can't help but appreciate its dual lS system.
You will soon realize, the G85 is just the right gadget to fulfill your vlogging expeditions. Make sure, to take some time and be familiar with the technological features. In next to no time, you will be vlogging like a pro.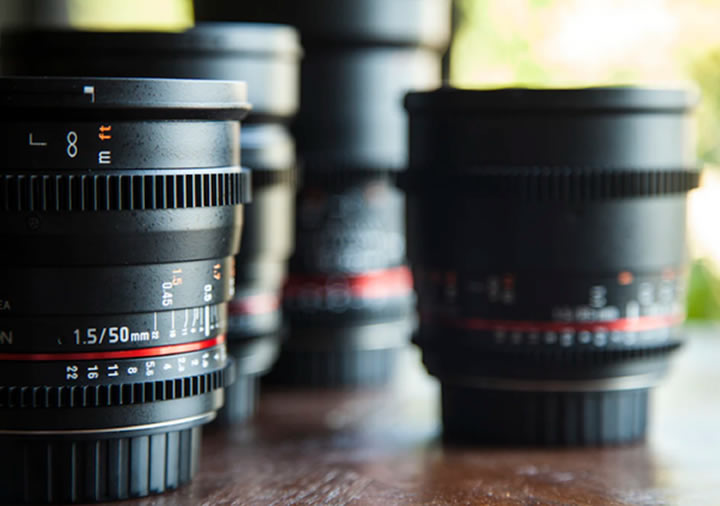 Fujifilm X-T200
Fujifilm X-T200 is more of a budget-friendly vlogging camera that packs the right features to enhance your experience. For those who do not know, the developers have left no stones unturned to make this a near-perfect camera for vloggers. First of all, it is compact and looks exceptionally pleasing to the eye. With features like inbuilt EVF, a swing-out touch screen, and responsive autofocus, it rightfully justifies the demands of vlogging.
Thankfully, the camera has one of the largest LCD displays that make your work much more convenient. Additionally, the image and video qualities are excellent, thanks to its 24.2 MP CMOS sensor, and 4K video capturing capabilities. Here, we must mention the camera's ability that lets you change the USB – C port into a section for using headphones. Undoubtedly, the said aspect offers greater flexibility for the user.
The X-T200 could have been easily the best camera for vloggers, but its battery life would disappoint most of the vloggers. Additionally, the developers also need to work on stabilizing the sensor a bit more. Nevertheless, if you are looking for short vlogs, you can try X-T200 and you will be more than satisfied with its unmatched performance.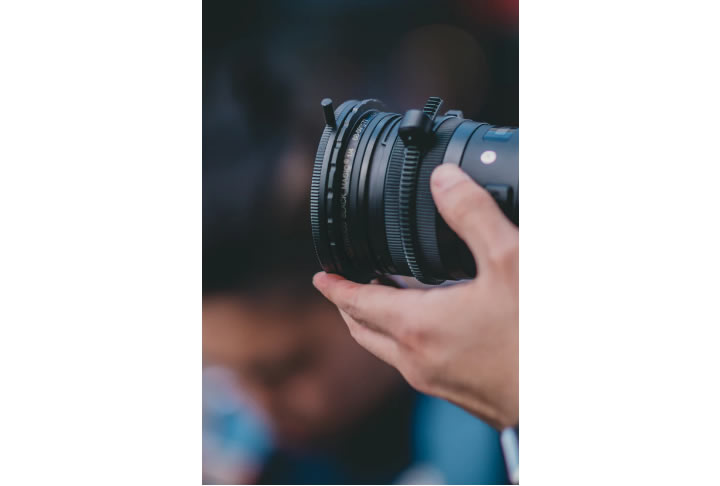 Sony ZV-1
The industry experts unanimously agree the Sony ZV-1 is tailor-made for vlogging. To date, there isn't a better alternative camera that lets you capture the moving frames more accurately. The other interesting aspect that strikes the eye is its compact features. The camera suits the requirements for both seasoned and aspiring vloggers. It hasn't been too long since the camera was launched, and it immediately became a hit with the vlogging aficionados.
The 20.1 MP CMOS sensor, the Bionz X processor, and a host of other features make it the precise choice for vlogging. Sony has included a front-facing tally lamp in this camera. It notifies the user when a video is in active mode. Simultaneously, the addition of the three-capsule microphone is a boon for the vloggers. Expectedly, lighting conditions aren't a matter of concern at all. You can capture photos and videos in any given condition and it will do an excellent job.
As you can expect, the price of ZV-1 is not pocket-friendly. Still, we would suggest, you will not find a better camera for vlogging and it is worth the price. If you are a perfectionist, you might still find a few drawbacks here and there, but we reiterate, there isn't any other vlogging camera that can get any better than ZV-1.
Wrapping it up
The popularity of vlogging is here to stay, and it is the ideal time for you to kick off your journey. Now that you are familiar with the best vlogging cameras, you can pick anyone from them depending on your budget and preferences. In the coming years, you can expect superior cameras at affordable prices. For now, the above list should quench your thirst for a near-perfect vlogging experience successfully.