Many homeowners think that it is enough to take paint and a brush and just start the room painting process. So many rooms on the internet are looking pretty beautiful, that might be tempted to take on a job you're not equipped for. You will have to spend a lot of resources for a house painter redoing a job to get a beautiful new wall color.
Paint type and color
When you decided on the style of the room, first, you will need to know what sort of wall paint you should be using. This is important because different supplies are used for plasterboard walls or concrete wall paint.
Many times, the color of paint applied will dictate whether or not a room ends up looking good or not. For example, white wall paint visually expands the room space but requires careful preparing walls for painting. If you have dark colors like black and navy, then any irregularities and roughness on the walls will immediately become visible. The trick is to figure out what sort of paint works best for your premises.
Basic tools for house painting
Of course, to find out how to paint a room you will also need to get some painting tools. If you don't already have them, take into account that you will need:
Solvent (for some types of paint);
Masking tape;
Something to cover a floor;
Painting brushes and sponges;
Painting rollers and roller trays;
Container to dissolve the paint.
How to prep walls for painting?
When you have decided what technique will be painted accent walls or what will be the kitchen wall paint colors you can proceed to the first stage. You will need to prepare walls with a paint stripper for walls, to clean them from old coverage. Otherwise, it will be immediately noticeable.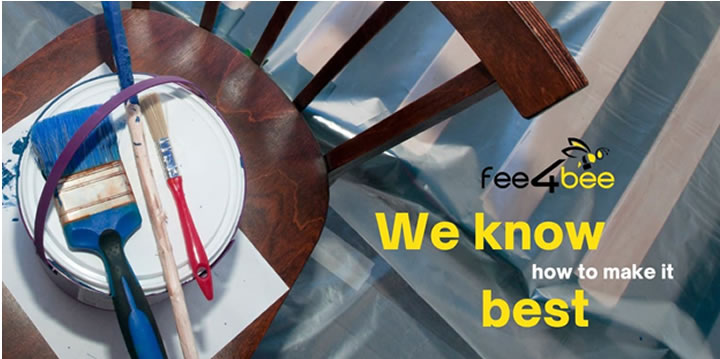 If the walls are not even enough, then additional work will include leveling with plaster. To do this you will need to purchase additionally:
Gypsum or cement plaster;
Primer;
A building level and plumb line;
Wide spatula and trowel for applying the mixture.
When everything is dry, you first handle the surfaces with the primer and then you can start applying paint. Here is another important issue to be resolved paint the ceiling or walls first. According to advanced painting contractors from the Fee4Bee platform, if you are repainting the whole room, it is better to start from the ceiling, then paint the walls, and finish with the painting of the floor.
Before applying the first coat of paint you should check if the room is well ventilated. If not, you should some ventilation installed. Otherwise, the process may be delayed, and insufficiently dried paint will become stained. If you're going from room to room, consider getting a portable fan.
And how about floor painting? Some people like their floors to be a plain color. Others prefer a more rustic or natural look, such as wood. Still, others prefer a patterned floor. As you can see, there's no shortage of options when it comes to painting your floors. It's only a matter of your skills and the time you are ready to spend.
Cost to paint the interior of the house
When you decide to paint rooms in your house, solve whether or not you want to hire a professional. Hiring a painter can cost a bit more. But you will be absolutely sure of the result, and finish painting much faster than if you do it yourself.
The average cost for a contractor to paint one room is about CAD $3 per sq. foot. The price can vary from the region, the scope of work, the complexity of preparatory work. The total cost including materials and tools is about CAD $520 per room.
To find a professional painter in Canada, use the Fee4Bee platform. You can find it by searching on the Internet for "painting contractors near me". On the website, you can read reviews of previous clients and choose a contractor based on his rating and cost of services.
When you're starting your research, remember that painting jobs take time. Make sure you pick the right color for the room. It should be relaxing, but also eye-catching. You don't want your painted room to look like it was done by a child, so plan carefully. Make your room your own, and just be creative.