Blender is one of the most important kitchen tools when it comes to kitchenware. A blender makes our kitchen work easier. There are many blenders are available on the market and Vitamix 7500 is one of them, and for the dense ingredients, this is considered as one of the best blenders. For daily use on your kitchen counter, you'll enjoy keeping the Vitamix 7500 as the blender is intuitive controls and it comes with a modern design.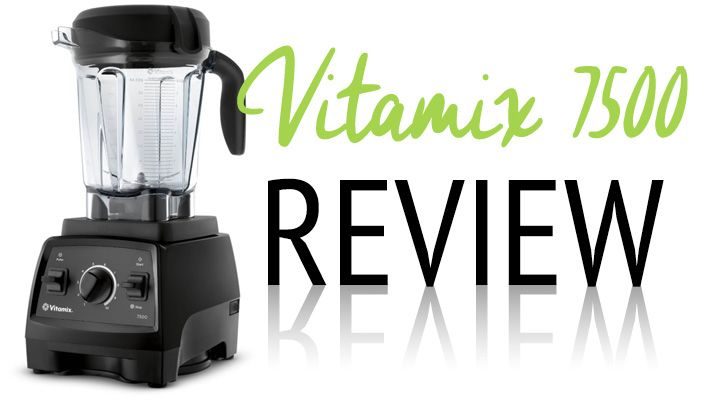 Vitamix 7500 has a powerful 2.2 HP and low profile 64-ounce container and for commercial purposes or for home you can use this blender. From the smoothest to the heartiest soups you can create every texture as this blender has ten different variable speeds. If you are a smoothie or vegans lover then you should consider getting a Vitamix 7500.
When you will open the package of Vitamix 7500, you will find:
– A low-profile 64 Oz container (with blending blades)
– A strong motor base that provides 2 hours horsepower
– It has a low-profile Tamper
– A guide that will help you how you can start
– It has a cookbook
– For the helpful tips, it comes with a DVD.
Features of Vitamix 7500
Blades
Vitamix 7500 has hardened stainless steel blades that are aircraft-grade blades. The blades are very strong that can chop any toughest ingredients in no time.
Motor
At 12 amps with a horsepower of 2.2, it has an upgraded motor and it is very powerful that can blend anything. It helps to save your time, as the blades move so fast and immediately creating a vortex to mix the ingredients. But even at high speeds, the motor becomes quieter although the motor moves quickly.
Dimensions
– 6 ft is the cord length
– It is 9.4 inches deep
– Vitamix 7500 is 17.5 inches tall and the jar on top
– It is 7.7 inches wide.
Control settings/Interface
The top speed of a Vitamix 7500 is 240mph. In one container when you're working with different veggies and fruit textures, you can vary the speed of the blender. By easily adjusting the speed, you can get your desired food textures.
Vitamix Base
It contains a thermal protection system and a radial cooling fan that helps to maintain the Vitamix blender in optimal conditions. And for supporting the entire machine, it is built strong. The motor base has 2.2 horsepower.
Vitamix 64-ounce Jar
Usually, the Vitamix 7500 has a 64-ounce container that has a height of 10.125 inches. In every kitchen cabinet, you can fit this easily. While blending you can add ingredients by removing the lid and it is safe, also, the lid is very strong that can prevent any leakage. And due to the larger base, the jar is easy to clean. To ensure the health of the container and safety of the container, with a BPA free Eastman Tritan copolyester material the Vitamix jar is made.
Vitamix 32-ounce Dry Grains Container
For making dough and grains into flour, the Vitamix has a 32-ounces dry grains container. In this container, you can grind any hard ingredients such as whole grains or coffee beans. Also, to help you prepare high standard meals just like chefs, it comes with a cookbook that has many recipes.
Warranties
Vitamix 7500 comes with a 7-years full warranty and it is very durable. Without any issue, you can use this blender and if you search online about this blender then you can find that the users of these blenders are highly satisfied. And with proper care, this blender can last long.
Know more on Vitamix 7500 reviews
What's So Good About The Vitamix 7500?
Easy to clean
Vitamix 7500 has self-cleaning properties. You just need to add a few drops of dishwashing soaps and warm water and then switch on the blender. Wait 30 to 60 seconds and then rinse off the blender. Let the blender air dry.
Easy to use pulse control
The user of Vitamix can stay cool while using the blender as the pulse function is easy to control. And this function is very helpful when you make anything in the blender.
Very quiet (for a blender)
Compared to the power of a Vitamix 7500, the blender does not make any noise. Even though if you use this at a high-speed the blender will be very quiet. Rather than other Vitamix models, this is specifically designed to be about 40% quieter. And when your babies or housemates are still asleep, you can make your morning smoothies in this without any noise, this is an extra plus point of this.
Frozen ingredients
For producing any frozen alcohol or snow cones, it doesn't need to add any liquids because the machine can easily mix ice under 30 seconds.
Smoothie
If you are a smoothie lover then you can make your favorite smoothies in the Vitamix 7500 and from this, you will get your desired texture. On your smoothie, you can also add any frozen food blocks, hard cheese or nuts, and this will give you a perfect silky smoothie. Also, you can make any green smoothies in it, and in your drink, this blender won't leave any chunky fibrous fragments.
Nut butter
At home, you can make high-quality and delicious nut butter in your Vitamix. You can make almond, cashew, and peanut butter. To make butter first you need to add nuts into the blender and then you can pulse them for a couple of times or you can start slowly and then to make a smooth butter, speed up the blender.
Making Soups
Vitamix 7500 is very powerful that can make soups for you. In the container add your favorite vegetables and water and then for 3 to 6 minutes blend them (you can follow the cookbook that comes with the blender). Within 10 minutes you will get your hot soups ready.
Vitamix 7500 Issues – Nothing's perfect
Black flecks
Some user complains that when they made food with 7500, they could see little black flecks in the food. But this is normal and they are not harmful.
Container, not dishwasher safe
You must use detergent and water to clean your Vitamix 7500 because this is not dishwasher safer.
Pricey
Compared to other Vitamix blenders, it is expensive.
Final Words
Even though Vitamix 7500 is pricey but we bet you this is worth buying. In fact, when you will use this blender you will find the blender is very helpful and easy to use. In any kitchen, this blender is easy to fit. This can do a lot of jobs well as this a multi-functional and extremely versatile blender.