Not everyone has the time — or the inclination — to shop for new bedding. From comforters to pillows, bed skirts to accessories, it can take days or even weeks to find all the components you need to turn your master bedroom into a haven that you'll long to retreat to at the end of the day.
The good news is that you don't have to relinquish your valuable free time to achieve the comfort and style you crave. At Latest Bedding carrying a broad selection of indulgent king-size comforter sets from all your favorite designers. From the sleek and modern to the bold and fashion-forward choices for getting a delightful night's sleep.
Tribeca Charcoal 4-Piece Comforter Set
Created by renowned bedding designer J Queen, this four-piece king-size comforter set has everything you need to lounge in your bedroom in style. Damask is a popular look for 2021, so it's no surprise that this pattern is regularly cropping up in the world of bedding.
You will be especially enamored with this textured charcoal design, which gets extra oomph from the matching pillow shams. A coordinating bed skirt completes this look that's as bold and on-trend as it is stylish. It's a great option for those seeking to create a chic bedroom that would look at home on the pages of any fashion magazine.
Palmer Teal 4-Piece Comforter Set
Do you love your bedding with a little added drama? If so, this J Queen four-piece set is sure to make you smile. Perfect for anyone who appreciates elegance, the woven chenille comforter features rich shades of navy and teal along with gold accents.
Recognizing that comfort is king, the designer embellished this piece with solid indigo silk, so it's sure to feel luxurious against the skin. The set comes complete with a comforter, two matching shams, and a coordinating striped bed skirt.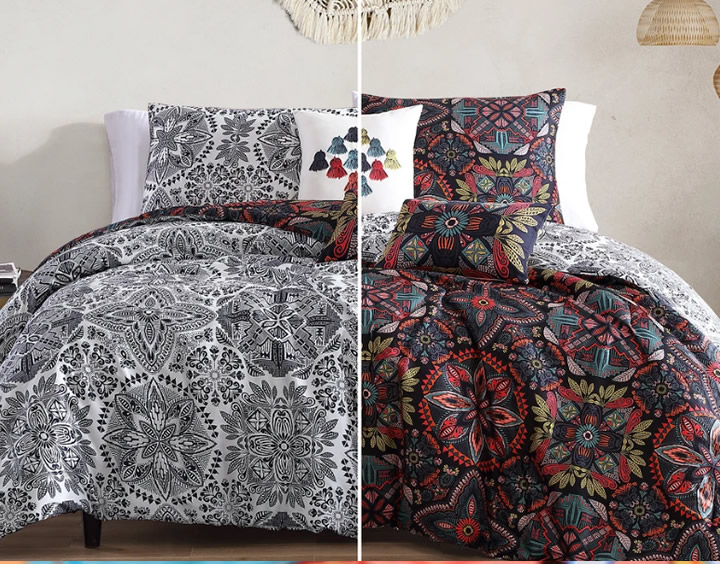 Bebejan Vivvie Printed 5-Piece Reversible Comforter Set
A new addition to the Latest Bedding line, designer Bebejan has built a well-deserved reputation for excellence. For a king-size comforter set, you're sure to adore, opt for this tribal-inspired collection.
Offering a fun, boho feel, the comforter features a navy and white pattern that's guaranteed to mesh well with your existing decor. And because it's reversible, you'll always have a way of switching up your bedding look. Along with a comforter, the Vivvie set includes two embroidered reversible shams and a set of decorative pillows.
Garden View SPA 4-Piece Comforter Set
Don't settle for bedding that fails to spark joy. If you dream of drifting off to sleep surrounded by soothing shades, this spa-inspired set may be a perfect choice.
You'll imagine you're staying in a high-class spa as you snuggle down in this textured comforter that features delicate floral embroidery. The oversized set comes complete with pillow shams and a textured bed skirt featuring split corners.
Additional pieces from this line are available for an added cost, so you can complete your shopping in one location.
Bebejan Delphine Printed 5-Piece Reversible Comforter Set
Is decision-making a challenge? For the shopper who changes their mind on the regular, a Bebejan reversible comforter set is the perfect purchase. This youthful style features a navy floral print on one side and a faux denim texture on the reverse.
With accents of white and olive, this set coordinates perfectly with a wide range of bedroom furniture and accent pieces. Two reversible shams and a pair of printed pillows complete this unforgettable look. Give this king-size comforter set a try if you love modern styles with a touch of the feminine.
Trinity Champagne 4-Piece Comforter Set
Does your bedroom design taste trend toward the royal? If so, the Trinity set by J Queen is a perfect option for giving your master the glam treatment. Featuring a glowing shade of champagne in luxurious woven damask jacquard, this comforter could easily make an appearance in a five-star hotel.
Even better, the oversized set includes coordinating shams and a bed skirt. For an added cost, you can pick up a window treatment set to tie the room together and save you from weeks of shopping. The end result is a bedroom that will soothe your senses and lull you to sleep every night.
Find Your New Favorite King-Size Comforter Set
When you choose Latest Bedding, you can rest assured that you're getting designer-quality bedding at a price that won't break the bank. Brand-named king size comforter sets come complete with a comforter, bed skirt, and coordinating pillow shams, with some boasting additional free items such as decorative pillows.
As a bonus, the Latest Bedding online store features plenty of complementary pieces, such as window treatments, to make your bedroom shopping easier than ever. Get started today and give your master bedroom the makeover you deserve.