Inflatable amusement has long enjoyed great popularity. Due to the expanding market demand, more and more inflatable product manufacturers have emerged. Have you ever thought about getting involved in this industry? However, it is not easy because not every manufacturer can own and operate its factories efficiently. Therefore, in order to solve the problem, OEM appeared.
OEM is short for Original Equipment Manufacturer. Some companies may require certain parts, or their factories cannot meet mass production requirements sometimes. OEM would use its own factory to make products or parts for these companies. For instance, Apple Inc. developed and designed iPhone. And there are many OEMs for iPhone in the world like Foxconn, Pegatron, and so on.
OEM is common in all walks of life, as the crystallization of socialized mass production and rationalizing resources. On the one hand, factories can keep their production lines busy and increase output by producing for themselves and other brands. On the other hand, for people who want to enter an industry, there is no need to invest vast amounts of money and set up their own factories.
As a result, OEM is highly recommended by many people, which is, of course, also suitable in the inflatable amusement industry. First of all, as mentioned before, OEM can use their factories to make products for you, such as Cheer Inflatables. Such large-scale production is conducive to the control of product manufacturing costs. So you can have a higher profit margin on your inflatable amusement devices.
Secondly, OEM equipment is generally more professional, which ensures the quality of the products. After all, quality is vital for inflatable amusement. You can also do quality testing. If you are a start-up, you don't have to worry about the cost of specialized equipment. OEM is beneficial for a new company to get on track faster.
Thirdly, the popularity of inflatable amusement products is related to the trend. So the industry is changing very quickly. If you have just designed a popular inflatable facility and want to take over the market as soon as possible, you can turn to OEM. Its mass production can help you become more productive and achieve your target output faster.
More importantly, for the company that wants to enter the foreign market, OEM is essential. Companies spend a lot of money on sales because of different locations and business habits. But if we cooperate with foreign inflatable manufacturers, it will be much more convenient and save some money.
However, as every coin has two sides, OEM has some drawbacks in the inflatable amusement industry. Some OEMs have a limit on minimum production. And generally, the more orders, the better the price. The unit price of 1000 pieces of the same product is higher than that of 3000 pieces. So you may run the risk of having unsold goods in stock after you place a large production order.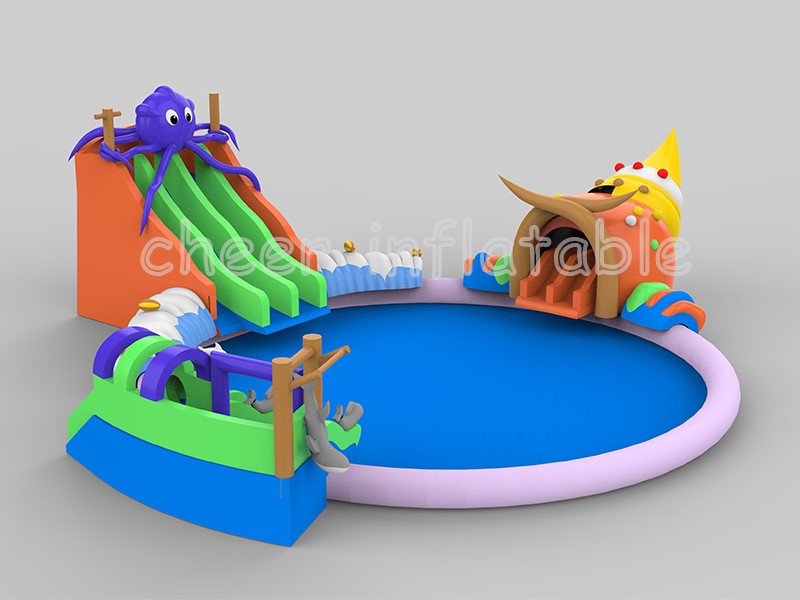 Combined with the above advantages and disadvantages, OEM is widely chosen in this industry, not for no reason. In general, it can not only achieve high-quality mass production but also save costs to some degree. It can help you quickly take over the market and even enter the international market, especially in such a fast-growing industry like inflatable amusement.
If you are a start-up or overseas company that needs OEM, you may consider Cheer Inflatables. With seventeen years of OEM experience, it has become one of China's leading inflatable product manufacturers. All products are guaranteed in reliable quality, in line with the latest European standard and the United States standard. At the same time, its delivery speed and considerate service are praised by many customers.