More often than not, wall arts are usually the last thing on an interior decorator's list when doing their job. It usually comes right after the walls have been painted, and the furniture is already in place. However, it should not be that way.
Unknown to most homeowners, metal wall art actually breathes new life to barren areas in any home. Hence, it should be given the same thought and attention as one would with furniture and other decorations. If those reasons are not enough, here are a couple more:
Aesthetics
With the right materials, and majestic, creative hands, metal wall art forms a natural beauty that everyone can and will adore. Strategically placing a unique metal masterpiece into a room would create a focal point that immediately draws attention.
While there are times when people opt to paint over metal, it also comes in different types of metals which also has various finishes. Generally, these finishes are often overlooked. However, when paired with the right mixes, it paints a different aura into any room it is in.
Another beauty of metal wall art is that each one is as unique as the other. Since most of them are handmade or require manual assistance at some point, each piece is unique and no two are exactly alike.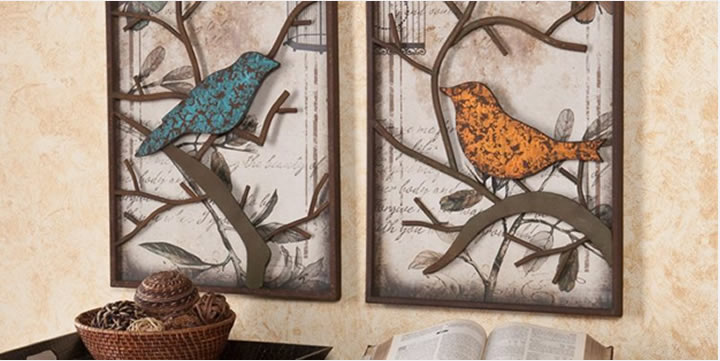 Image Credit: Art&Home
Durability
With the fast-pacing world of today, no one really has the time to purchase anything that's high maintenance. For that matter, metal wall art is the trend these days. It does not need that much attention (except for the first time that guests enter the room!), and it will survive.
Aside from some dangers of rust, metal wall art is sure to last more than four lifetimes.
Flexibility
According to https://www.creativemetalmd.com/, when it comes to metal wall art (or any metal masterpiece for that matter), one's imagination is the limit to what a simple piece of a metal sheet can become.
Hence, almost anything that the homeowner desires (as wall art that is) can be brought to life with a few metal pieces. Not to mention that since there are a lot of types of metals and finishes out there, people also have the privilege to mix and match different types together to produce a more stunning masterpiece.
Therefore, metal wall art is not only flexible with its material per se, but it is also flexible as a design in general.
Versatility
Now that it is established that metal as an art material can be beautiful, durable, and flexible, it all boils down to this- versatility.
Metal alone is versatile, which is why it can be used for a wide variety of things such as a foundation for building construction, furniture, and as discussed today, metal wall art. It may also be the reason why it is a top choice when it comes to choosing materials for home or whatnot.
It is also versatile when it comes to adaptability. Unlike would which disintegrates over time when left under the sun for too long, or builds up mold when exposed to rain and snow, metal can survive all those. Hence, it is a material that can last both indoors and outdoors.
Of course, like all things, metal is not permanent. It would still rust, or disfigure when exposed to external factors such as sun, rain, and snow. However, compared to most materials out there like wood and plastic, it still is more durable than the rest.
However, it might still require some maintenance at some point such as a clear coating once every few years.
Affordability
With the elegance, durability, and versatility it brings, it usually does not occur to homeowners that metal can, in fact, be affordable. Granted that initially, it might be a little more over the budget compared to plastics or even wood, metal still saves more pennies in the long run.
Think ahead when it requires less maintenance than the others, fewer chances of having to replace it every year, fewer repairs, and all, it still is the real deal when it comes to wall art.
Should You Have It Custom Made or Store Bought?
Considering that metal is flexible, and affordable, it is better to have it custom made. This way, clients have the freedom to bring their imaginations to life. At the same time, by having it tailor-made, homeowners can choose whatever piece resonates with their personalities.
Not to mention, you do not have to waste your time going around the store just to look for the perfect piece. Experts can help you figure out the most ideal metal wall art that fits not only your room but your personality as well. With the freedom to choose what type of metal and its finish, you even have the liberty to cap your budget!